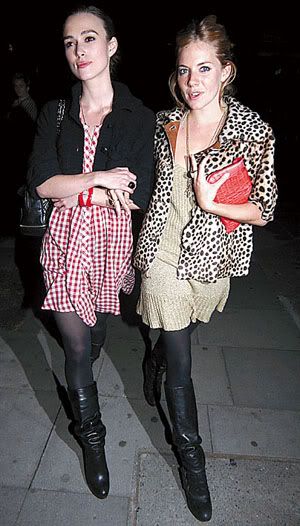 Sienna Miller and Keira Knightley went out to dinner last night in London along with their costar in the film The Edge of Love, Matthew Rhys, and Keira's boyfriend, Rupert Friend. Keira's boyfriend looks a lot less like a low-rent version of Orlando Bloom now that he's died his hair blonde and cut it short.
Sienna and Kiera wore quite similar outfits, with black tights paired with black slouchy boots and thigh-length loose dresses. They both used red accessories and overall it looked like they got dressed together before heading out.
The two have been filming their Dylan Thomas biopic in Wales, a small country in the south west of Great Britain. It is known for its beautiful mountains and picturesque seaside.
Keira and Sienna are said to love the area so much that they're looking for cottages next to each other so that they can vacation there together in the future:
We're told Sienna and 22- year-old Keira have become inseparable on the set in New Quay, Wales, so much so they are currently househunting for neighbouring cottages overlooking the sea there.

We're told: "Sienna and Keira feel it would be great to have homes there and go on joint holidays once filming stops, so they can keep up their friendship.

The source added: "They're actively hunting for the perfect cottages in the area."
Do you think they'll stay friends long enough to ever vacation there?
Thanks to This is London for these pics and story. You may have already seen the ones of them filming together as they're a bit older.