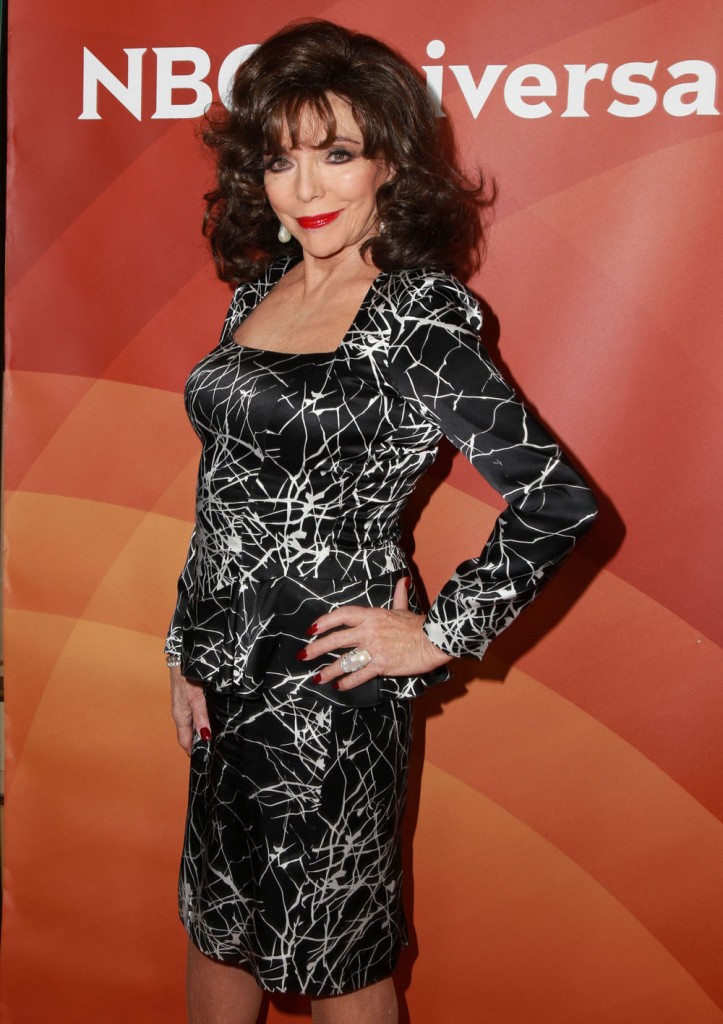 Dame Joan Collins has a new interview in Hello! Magazine complete with an extensive photoshoot, taken in her West Hollywood apartment. Collins wears various flowing lace, sequin, silk and jeweled gowns and loungewear while surrounded by tasteful opulence, including photos of herself and a portrait that Warhol made of her in 1985. Collins, 81, is also accompanied by her fifth and she claims last husband, Percy Gibson, 49. Gibson jokingly calls himself "CEO of Joan Collins, Ltd" as he manages their three homes in London, LA and the South of France. It all sounds and looks fabulous, especially in light of the dishy, bitchy interview that Collins gave Hello!
Collins was just named a Dame for her charity work, particularly with the children's hospice Shooting Star Chase. It's a cause that's close to her heart after her daughter, Katy, suffered a tragic accident at the age of eight. Here's just some of what she said and for more pick up Hello (or get it on Zinio). It's the one with Duchess Kate maybe expecting a girl this time. This profile is a great read and well worth the magazine price.
How did you find out about your damehood?
My agent called me in LA and said 'You have been asked if you would accept a dame hood – however, you should have replied a week ago.' The letter had somehow got mixed up with fan mail. I called the number on the invitation immediately and luckily it wasn't too late – I almost fainted and became very emotional.

You got involved with your main charity, Shooting Star Chase children's hospice, after your daughter's near-fatal accident
Katy had a dreadful accident when she was eight. She was seriously brain damaged and wasn't expected to live. If she did live, she wasn't expected to walk or talk again. It took many years but, luckily, we had the resources to be able to rehabilitate her. She is a miracle.

In 1983 you won a Best Actress Golden Globe for your portrayal of Alexis Carrington in Dynasty. What did you think of this year's awards?
I thought the best dressed was Amal Clooney. Jennifer Lopez and Meryl Streep also looked good. Otherwise I didn't think much of the fashion. There seems to be a certain sheep mentality among some of the actresses to look the same.

How has the red carpet changed when you first came to Hollywood?
Everybody wore mink stoles and gorgeous gowns at night. When I came here I was 21, which was still the golden age… these women, including Sophia Loren and Elizabeth Taylor, did their own hair and makeup and they always looked incredible.

What about body shapes?
Young actresses are extremely thin these days…

What does Percy have that none of your previous husbands had?
He's South American and I think perhaps Latin men have more of an understanding and appreciation of women. He has a lot on his plate because we have three homes and we don't want lots of staff.. One of the reasons a lot of actors are broke is because as soon as they get a bit of money or success out come the woodwork people, offering to be your PR, your full-time cook, your stylist – it gets out of hand so fast… instead of spending my money on staff, I put it in real estate.

You are famously anti plastic surgery
I don't want to look like a plastic Barbie doll. I saw a very famous actress the other day. You could see all the lumps under her skin from the fillers and she could barely move her face. It was horrific.

Have you ever been tempted?
I have thought about it. I pull my face back and think 'Wouldn't I look better like this?' But I am too scared. I like my laugh lines… and luckily I have good cheekbones.

I exercise and I have been careful not to get fat or too thin. I feel exactly the same as I did in my late 40s.
[From Hello! Magazine, print edition, January 26, 2105]
There's so much to dissect here I don't know where to start. First off, I don't believe that she's never had plastic surgery. She's freaking 81 and she has a tight neck. Makeup can only do so much. Of course she wears wigs, she has a wig company, but she's had a little nip and tuck too she just didn't go overboard. I also wonder whom she's referring to as the "very famous actress" with the "lumps under her skin." I think she was talking about Kim Novak. As for the best dressed at the Globes: Amal, Aniston, Streep and J-Lo: really? Apart from Lopez, all of those women were in black and white gowns. Amal wore a boring black gown with white gloves. Collins does love her black, white and solid colors. In the Hello! spread she's even wearing gloves in one shot.
Oh and Collins is costarring in The Royals with Elizabeth Hurley. It premiers on E! in March.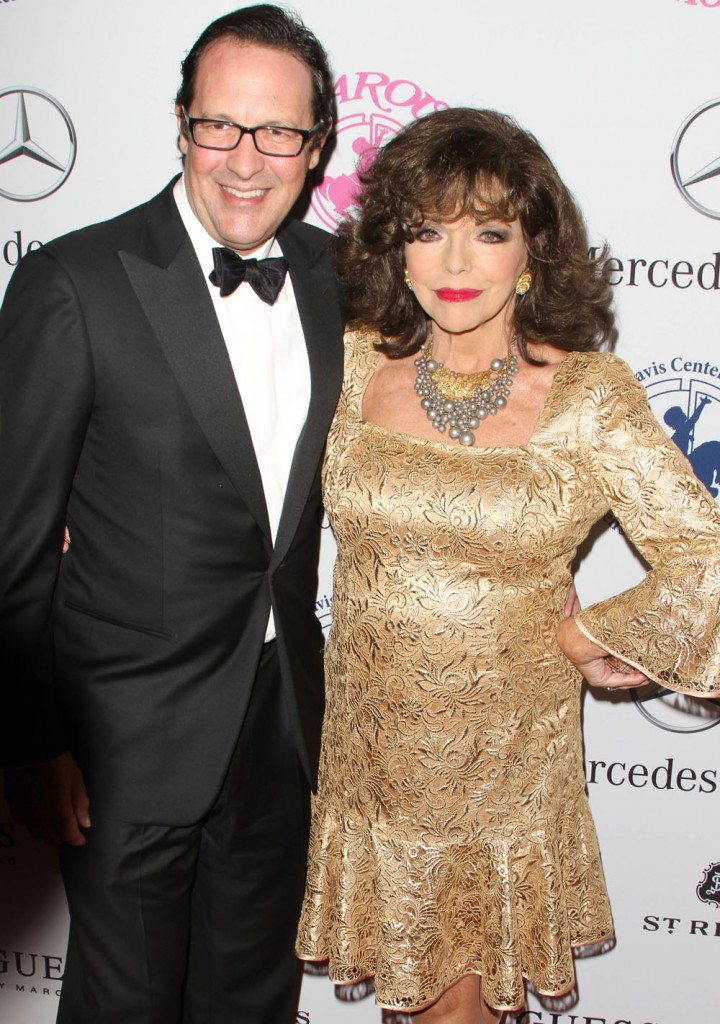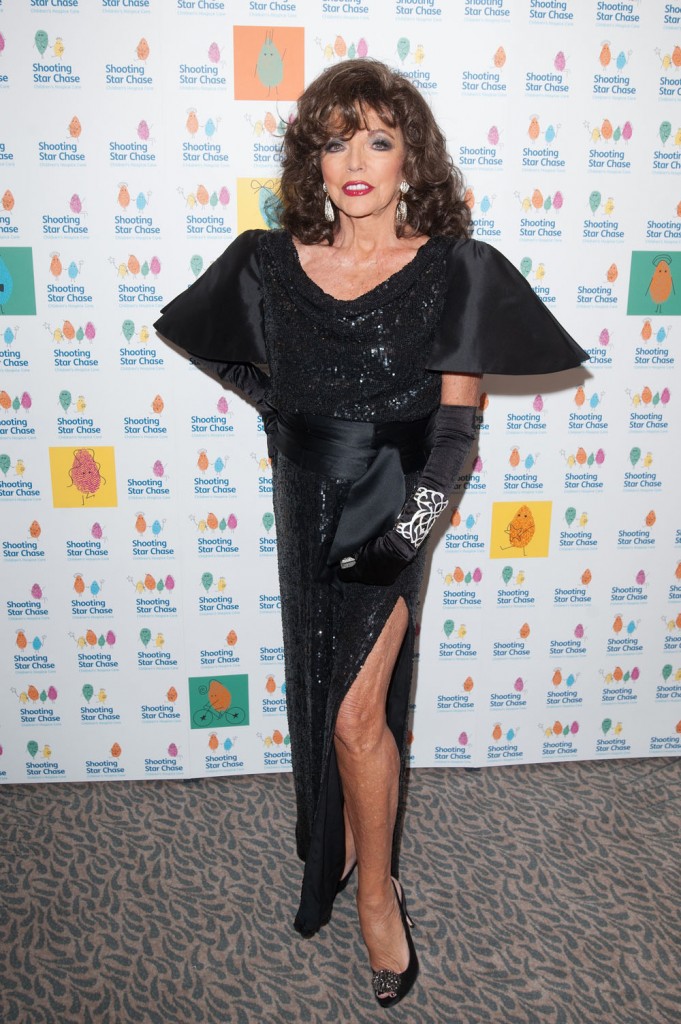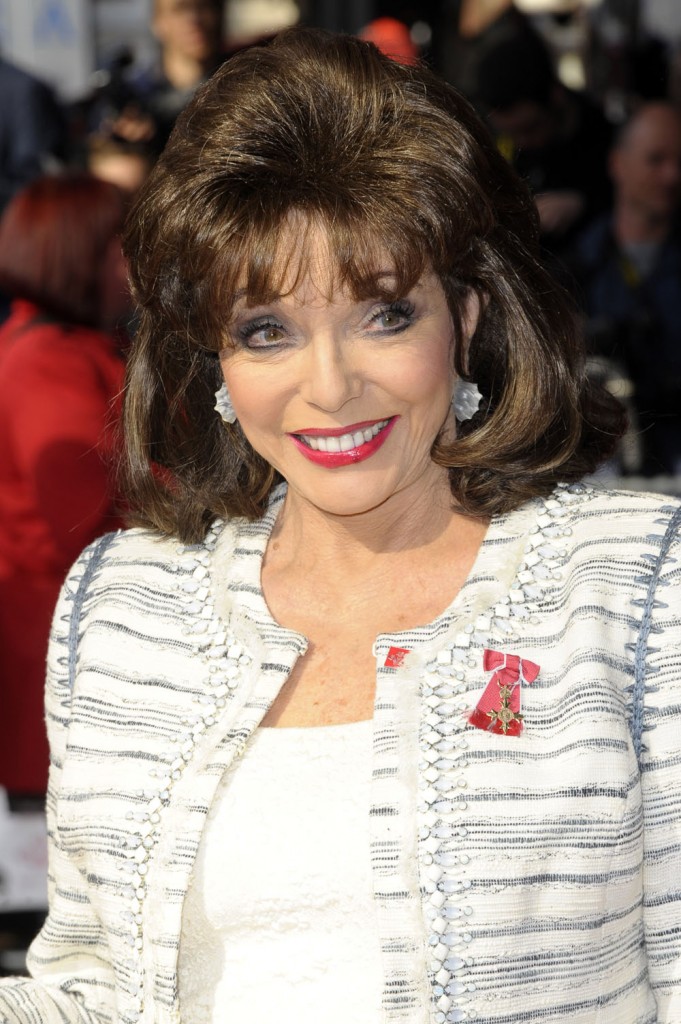 photo credit: WENN.com and FameFlynet