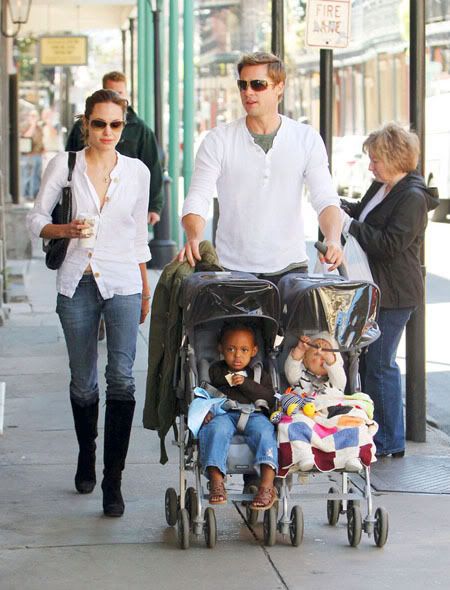 British rag The Sun is reporting that Angelina Jolie has secretly been visiting an orphanage in the Czech Republic capital of Prague where she's been filming her new movie. They say she uses decoy cars to throw off the paparazzi and that she's found a little boy she's about to adopt. Brad is said to have visited the child this weekend.
Brad, Angelina and their four children flew out of Prague yesterday, and The Sun claims they're taking a three week break stateside while the paperwork goes through for them to adopt the boy:
The Hollywood star, in Prague to film her latest movie Wanted, has been paying regular visits to a Catholic orphanage in the centre of the city.

And Angelina — who has already adopted nippers from Cambodia, Ethiopia and Vietnam — has fallen in love with one of the orphans.

Her partner BRAD PITT flew from Montreal, Canada, to Prague to meet the child at the weekend.

Now the couple are going through official channels to make their fourth adoption.

A source said: "Angelina celebrated her 32nd birthday yesterday and had told Brad she felt it was time to extend their family again.

"Her maternal instincts are in overdrive and she felt a bond with the kid straight away.

"She called Brad and said she had found a child who would fit in perfectly with the other kids.

"If everything goes smoothly, Angelina will have an Eastern European son to add to her brood…"

The couple have now flown to New York for a three-week break while Czech authorities complete the adoption paperwork.
Is this true? They keep saying that they want more children, and that they want to balance out the faces in their family, but it was speculated that they would adopt another African child for Zahara and have one more biological child. Angelina is taking a year off after she makes this film, so I guess she'll have time for all her kids and they certainly have the resources for help. They hired a translator for Pax and they are said to have one nanny for each child, although you never see them in photos.
Angelina recently told Marie Claire that she doesn't get enough alone time with Brad. She also told a cute story about Zahara saying that "daddy would cry" if she didn't get a cookie and said that her mom, Marcheline Bertrand, thought up the name "Pax" before she passed away.
I'm not buying this rumor until it actually happens, but since Angelina recently said that she will take a full year off after she wraps this movie, it could be true. I didn't believe they would adopt a child from Vietnam, either.
These images of Brad and Angelina with Shiloh and Zahara are older.