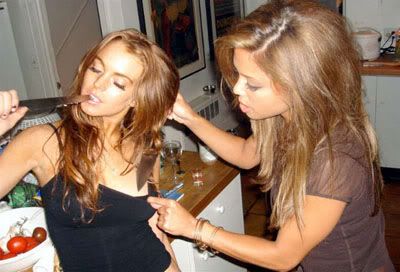 The older pictures of Vanessa Minnillo in sexy poses with knife-wielding Lindsay Lohan could hurt Minnillo's shaky career, the NY Post speculates. Given the way that sexy myspace style photos usually propel women to stardom, I'm doubting these pictures will do much damage.
Minnillo hasn't had much luck finding a new steady hosting gig since she left her post on MTV's Total Request Live. She was also a correspondent for Entertainment Tonight, but she was said to be high maintenance and supposedly made a bad impression when she covered the Grammys in LA. She wouldn't do interviews after the show and insisted on having her hair and makeup people and personal assistant flown out with her to LA.
Entertainment Tonight did not renew her contract in April. Vanessa did host the Miss Universe pageant at the end of May in Mexico with Mario Lopez.
She'll bounce back from these pictures and go on to host something or model for some clothing line. These pictures are a bit questionable, but they're not that damning considering all the deliberate nip and vag flashes we're used to seeing.
I didn't even recognize Minnillo at first as face is turned in the pictures. Commentor Jackie pointed it out to me.