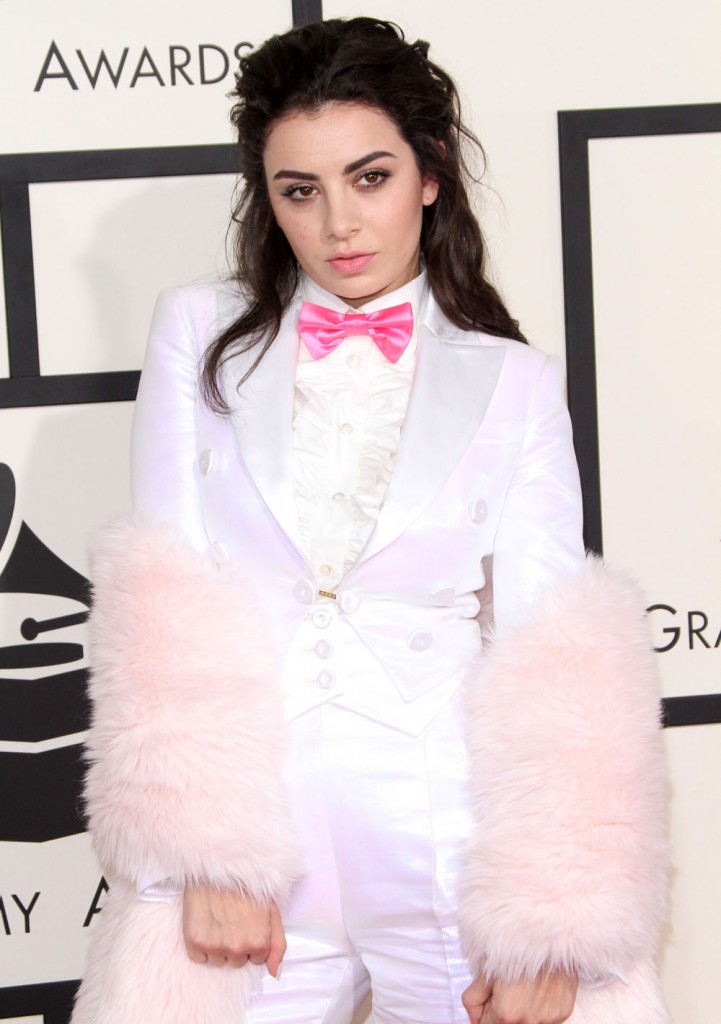 Charli XCX was one of many women rocking menswear last night, but she wasn't in black and she didn't show cleavage or much skin at all. She was in a full coverage Moschino white tux with a ruffled shirt, pink tie and light pink faux fur stole. Red Carpet Fashion Awards has a comparison between Charli's look and the runway, and she basically styled it exactly the same as the designer, down to the shoes. In her interview with Giuliana on E!, Charli said that she hates "boring fashion, so I wanted to do something '80s and fabulous." People on Twitter are pointing out that she looks like the caterers on that Starz comedy Party Down. (I keep meaning to watch that.)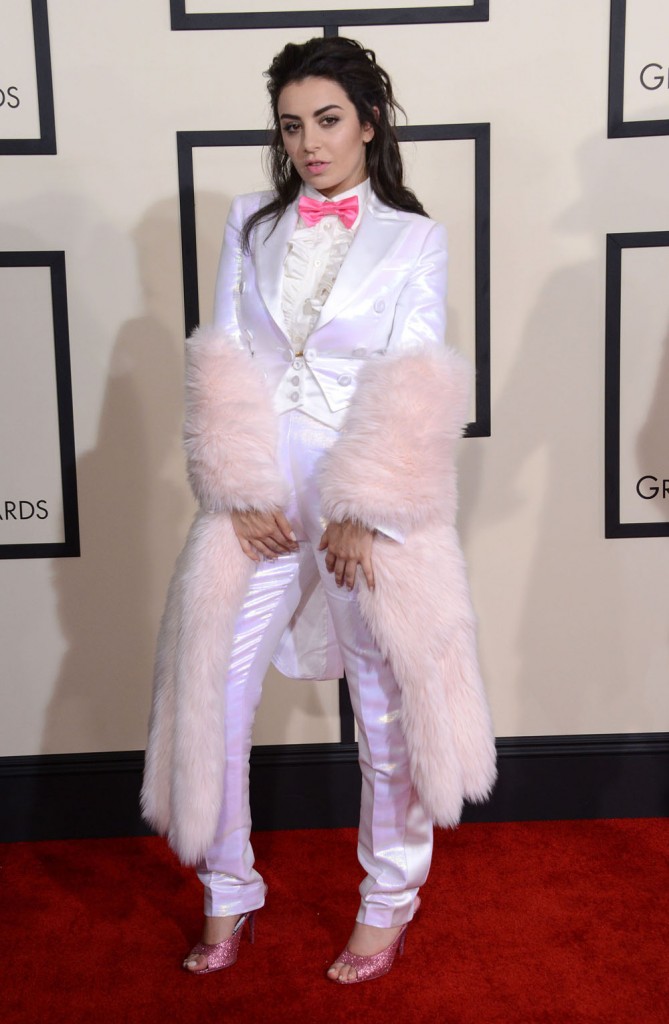 So is Charli XCX a big fan of Party Down or…? http://t.co/sljdeovcmH pic.twitter.com/ZsEqaLIoTX

— E! Online (@eonline) February 9, 2015
I guess the Grammys are the place to wear this, and I appreciate that it's just a white suit without giant logos all over it. When we're considering Moschino, it could have been much worse. They're the fashion house that has tributes to McDonalds, Barbie, Spongebob, et al.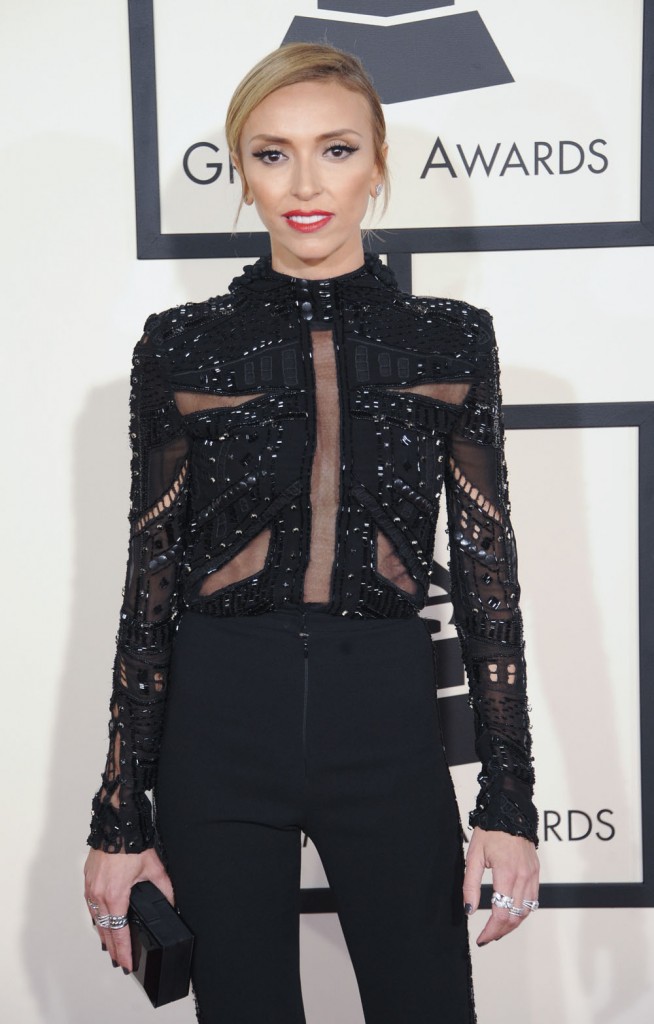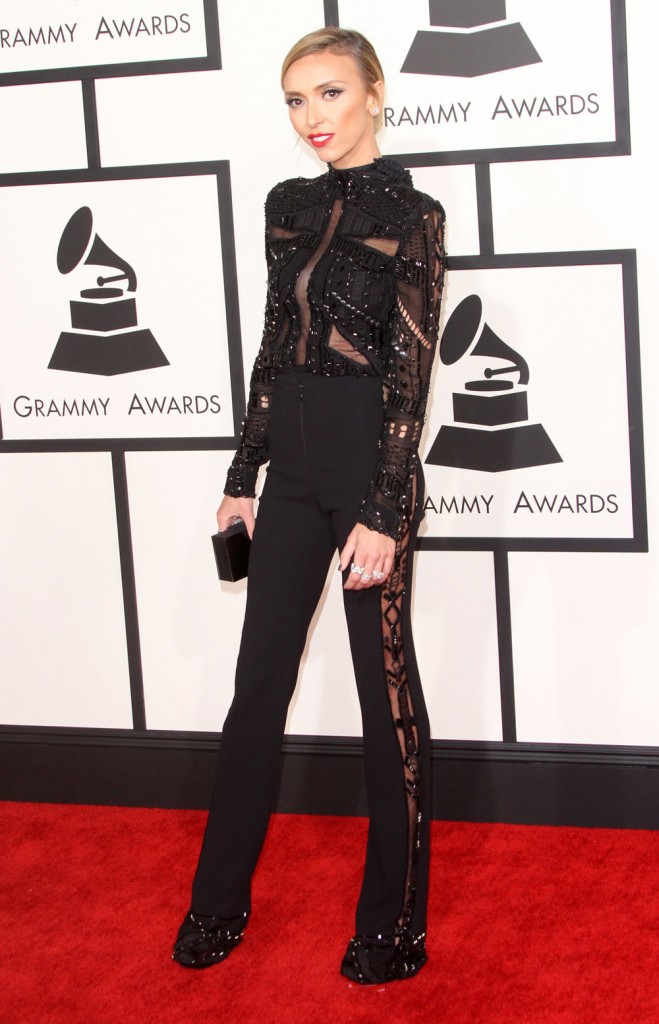 Speaking of Giuliana Rancic, she had on a couple of different black looks last night. Don't yell at me but I really liked Giuliana's outfits. I think she got the memo that she was looking emaciated on past red carpets so she decided to just cover it up in some modern black with strategic line cutouts. She looked good! Her main red carpet look was this Inbal Dror pantsuit with sequin details. At the beginning of the night Giuliana wore this Steven Khalil dress. I thought it looked incredible. Good show Giuliana. Also, did you notice how Giuliana was editing herself so she wouldn't gush over outfits she would later trash on Fashion Police?
Love this Steven Khalil dress! And pant suit @GiulianaRancic looks amazing tonight #LiveFromTheRedCarpet #GRAMMYs pic.twitter.com/f1uIE3FCse

— Daniela Hrabachko (@Daniela_Bachko) February 9, 2015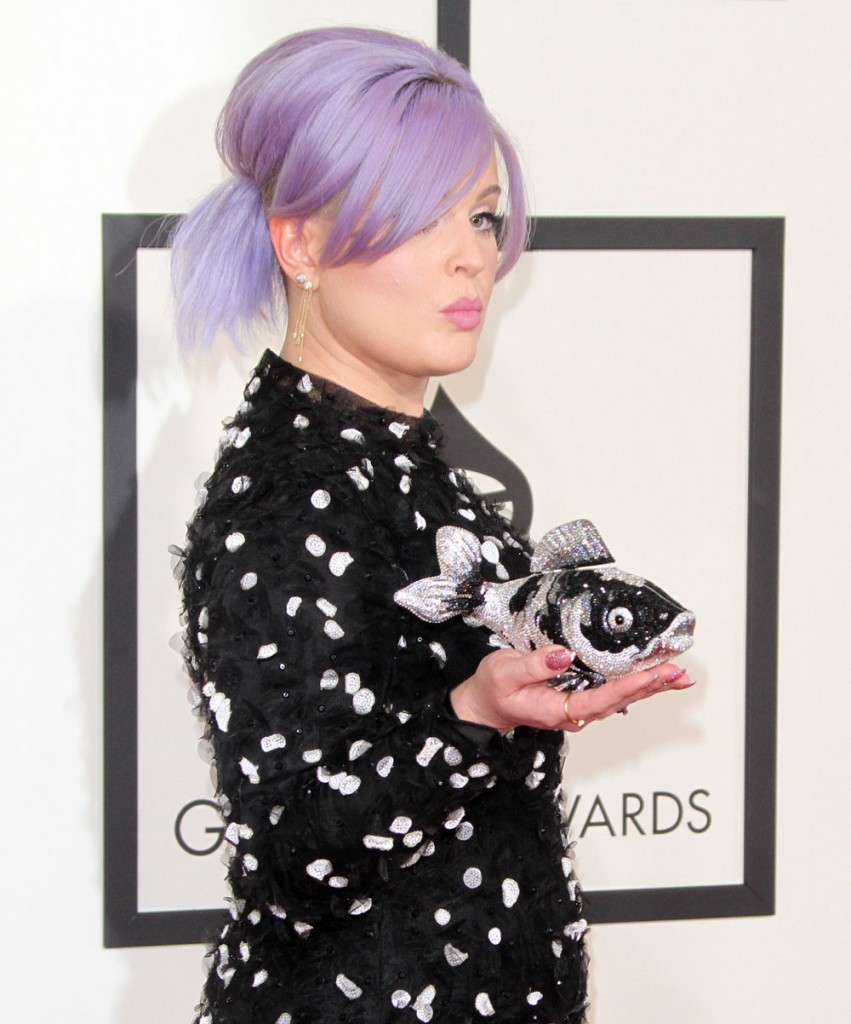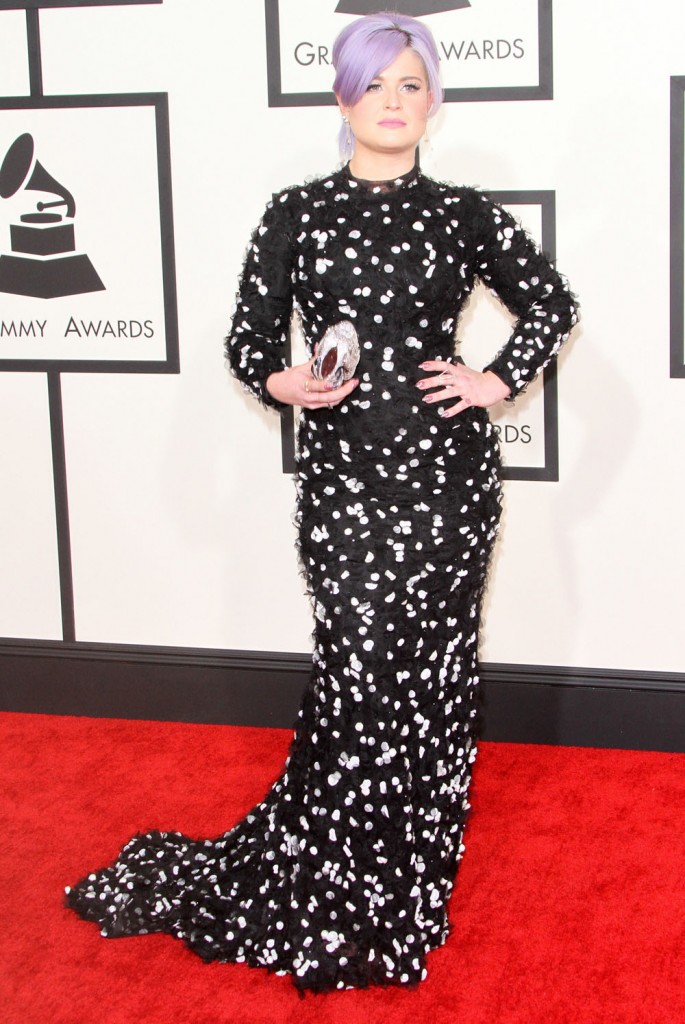 Giuliana's cohost, Kelly Osbourne, was in Christian Siriano. I feel like this dress would have worked if the fuzzy polka dots were confined to one area, like the bodice or the skirt. All over, it's kind of strange. The best part was Kelly's fish clutch, especially when she made a fishy face to go with it. So cute and fun.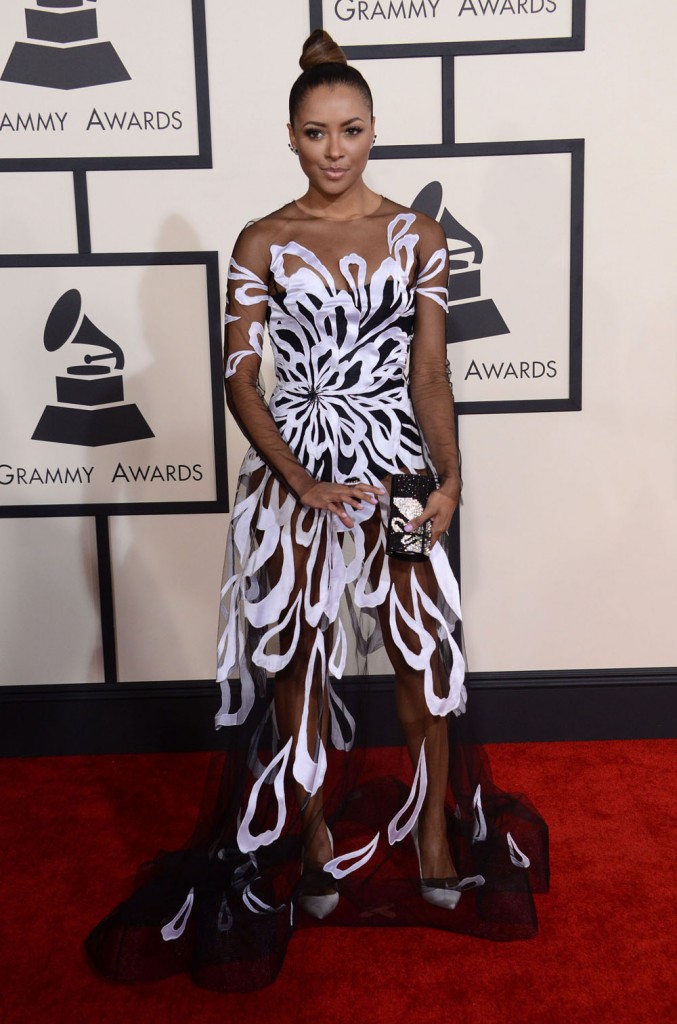 I'm throwing Kat Graham at the end here. She's in Yanina Couture. This dress is just try hard and it didn't look any better on camera. At least you can't see T&A under it.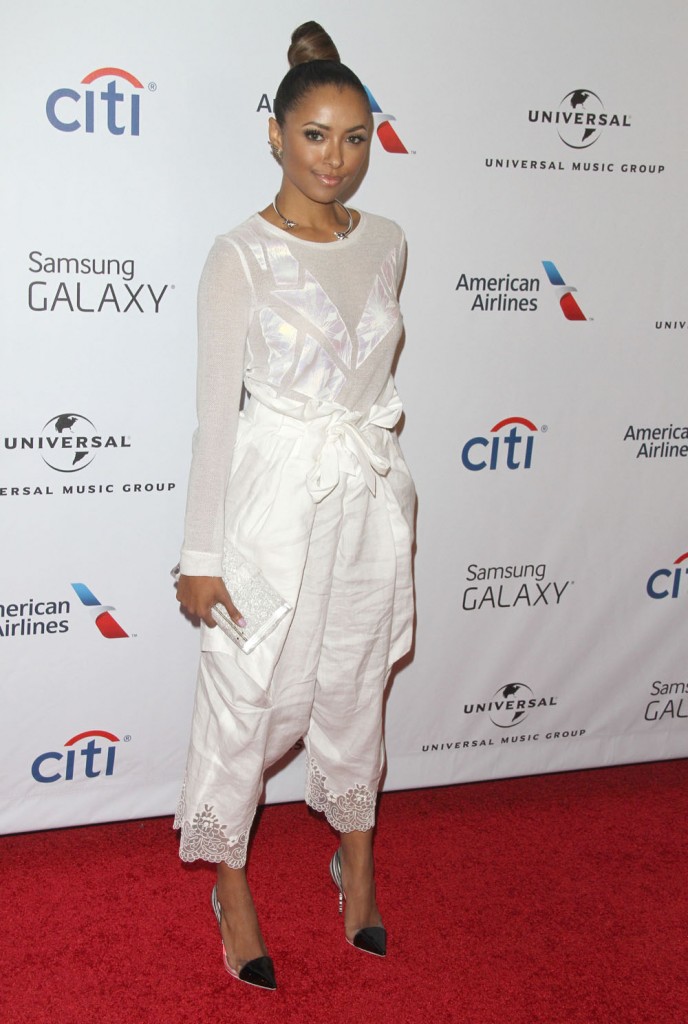 This is what Kat wore to the Universal Grammy after party. You can see why she's featured on Go Fug Yourself often. Something nice: it looks comfortable. That mesh dress was probably scratchy.