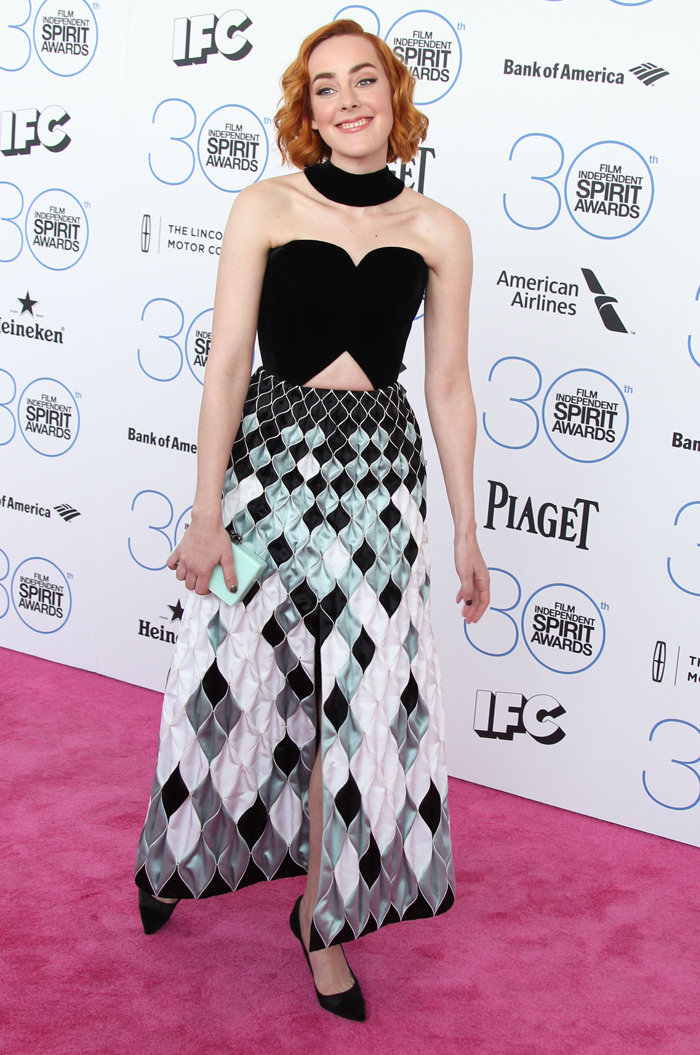 Jena Malone aimed to capture the spirit of the Independent Spirit Awards last night. Jena's always adventurous with her fashion choices, and this Ulyana Sergeenko couture dress is no exception. It reminds me of an upside down, sparkly chandelier. All eyes went to the silk waffle skirt with a reflectve mint, white, and black pattern. The sweetheart neckline is a bit too precious, and the belly cutout functions as the "too much" detail. Jena got matchy with a turquoise clutch. This look is SO busy and very try hard. Tell me I'm wrong, and it'll be okay.
One of the more interesting things about the Spirit awards is how stars get papped in the parking lot. So we got some photos of Jenna smoking alongside Paul Thomas Anderson. Not too classy.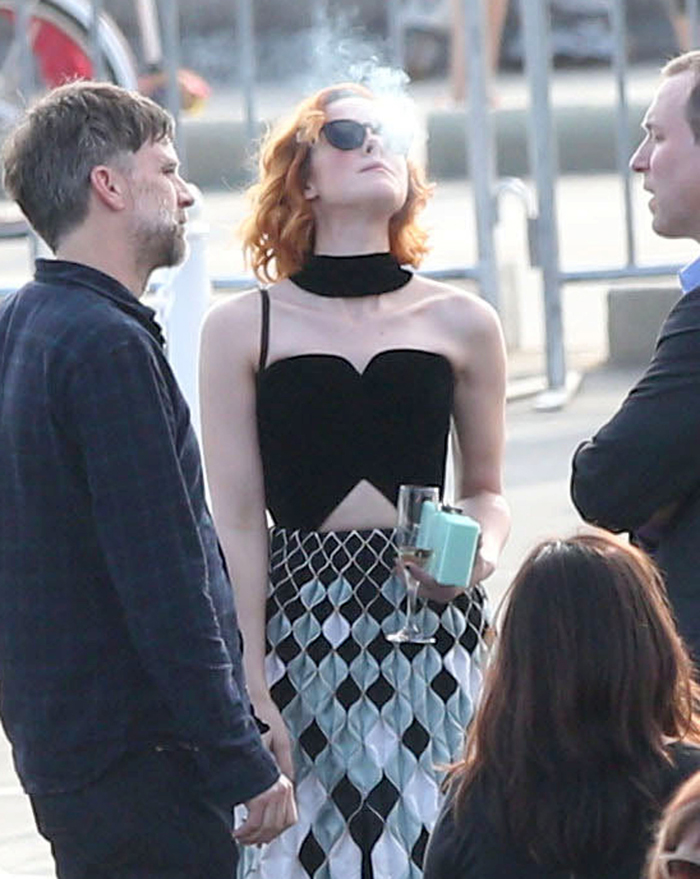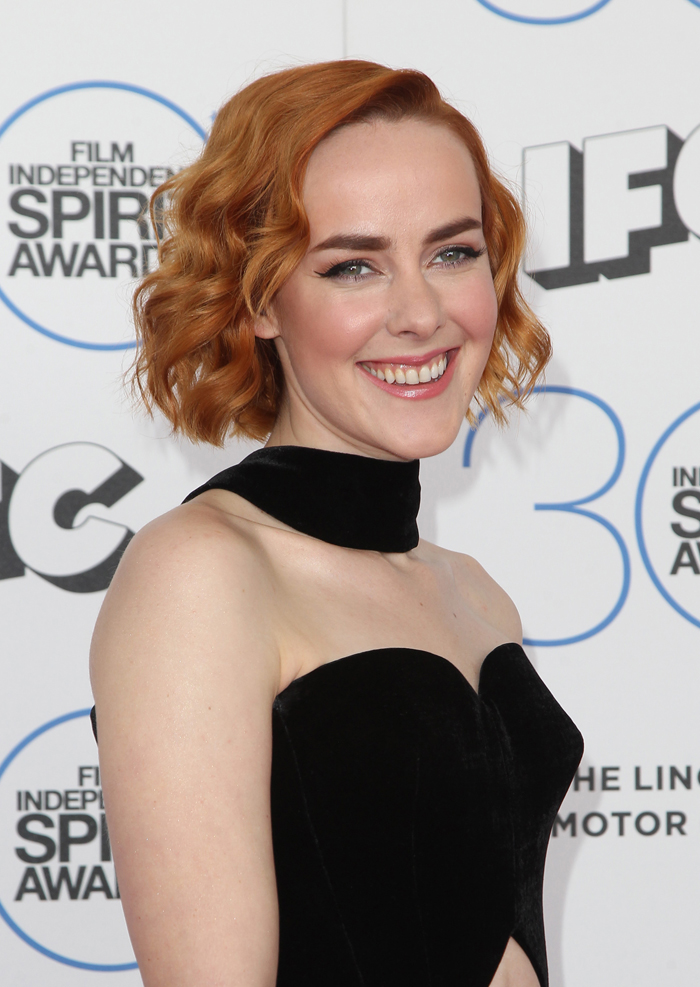 Olivia Munn wore a Prabal Gurung gown. She was escorted by hot Aaron Rodgers. From the neck up, Olivia looks lovely, but this look was full-on cruise ship glamour with a halter neck, sequins, chiffon skirt, and backless detail. Olivia's very good at being noticed, but this dress belongs on The Love Boat.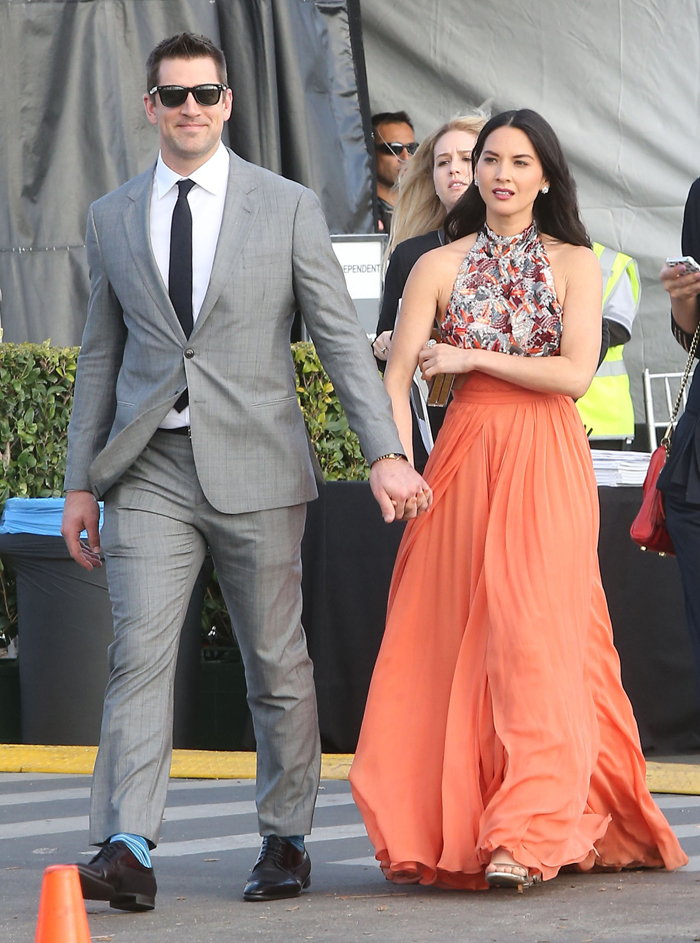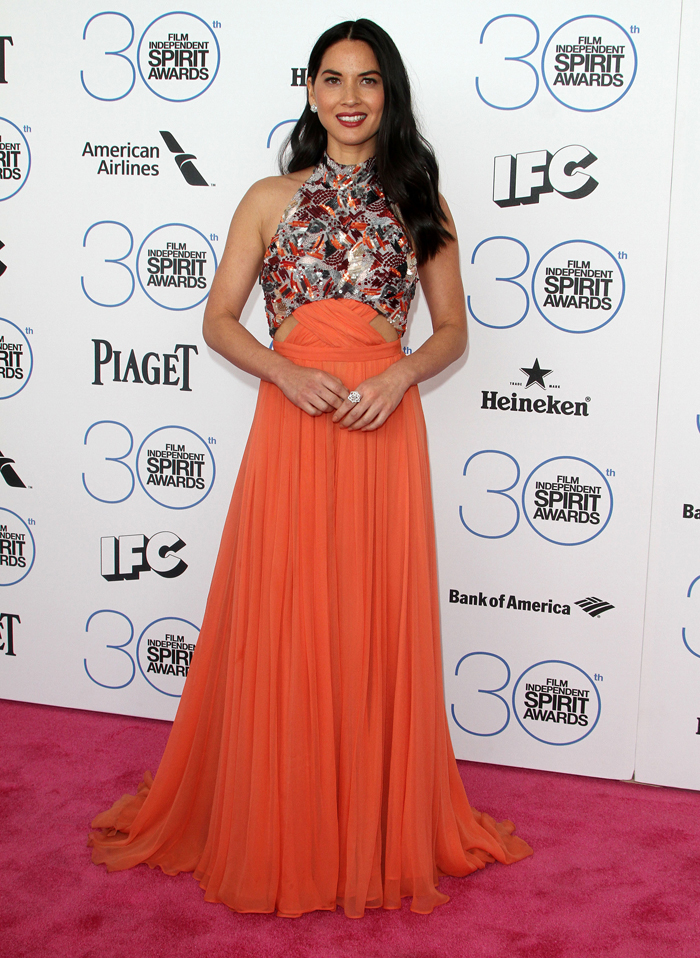 Kristen Wiig often evokes Jennifer Aniston on the red carpet, and this LBD does nothing to discourage that comparison. Kristen wore this black Yigal Azrouel dress with a peekaboo cutout. The white Bionda Castana shoes with mint-colored bows stop the look from being boring. Oh, and Aniston would never chop her hair into shag-inspired pixie cut, which is very cute on Kristen.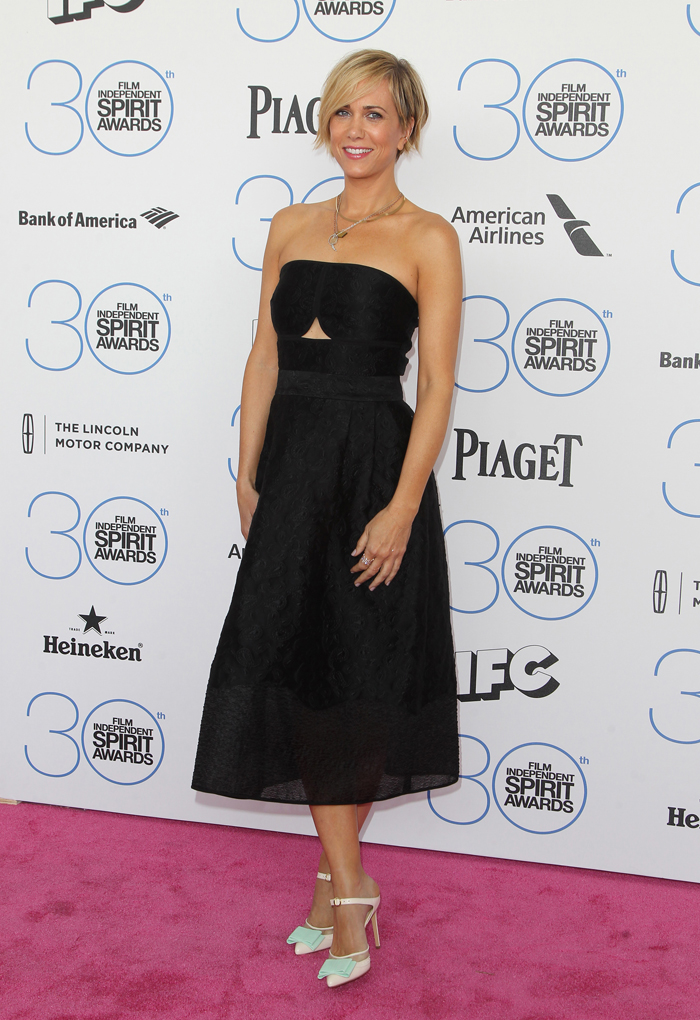 Jessica Chastain went for an LBD as well in this Saint Laurent number. I'd like to chop the crocheted sleeves off, and then it would be a nice, beachy dress. Chastain played it safe with black pumps and diamond earrings. Classic but dull.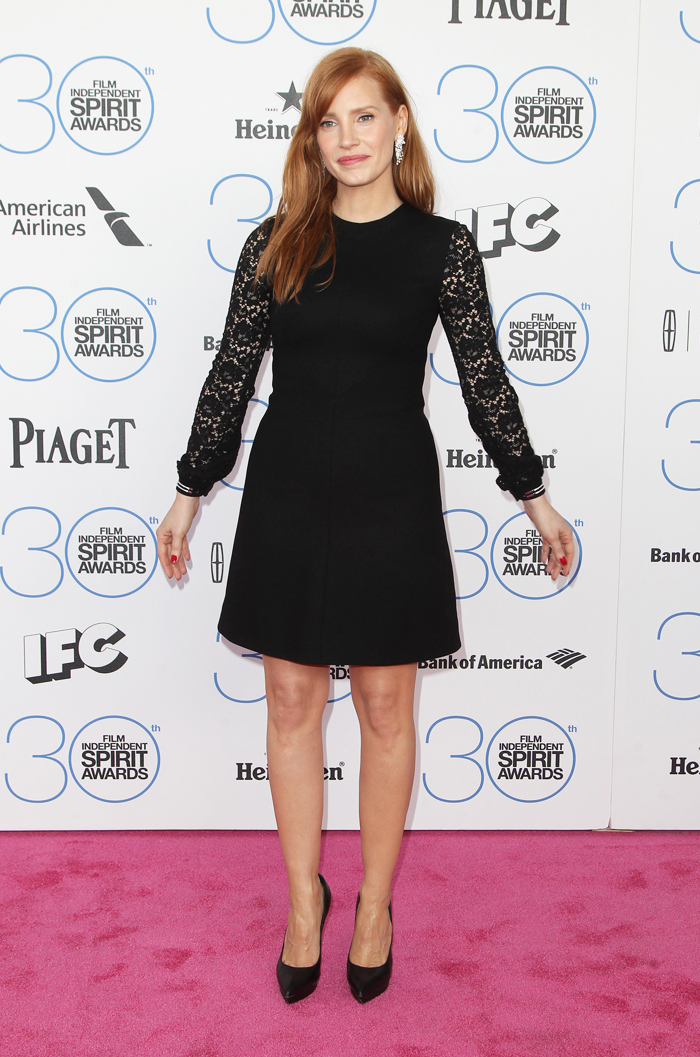 Rinko Kikuchi wore a Chanel resort dress. This is my favorite dress of the night. The runway version was more garish. Rinko pared the look down to essentials. The eastern-inspired print pops alongside her matchy eyeshadow. This would have been all wrong for a different awards show, but the Spirit awards are supposed to be fun.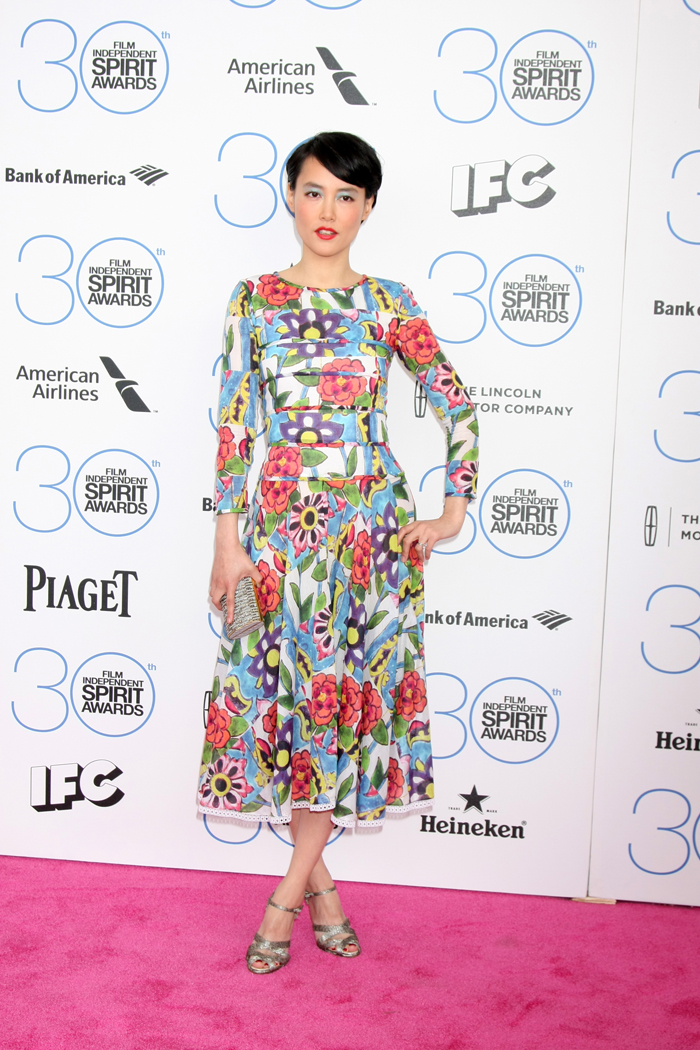 Here's Grumpy Cat herself, Aubrey Plaza in a Suno dress that took patterns way too far. This dress hurts my eyes, so it wouldn't surprise me if Audrey couldn't look in the mirror to do something with her hair.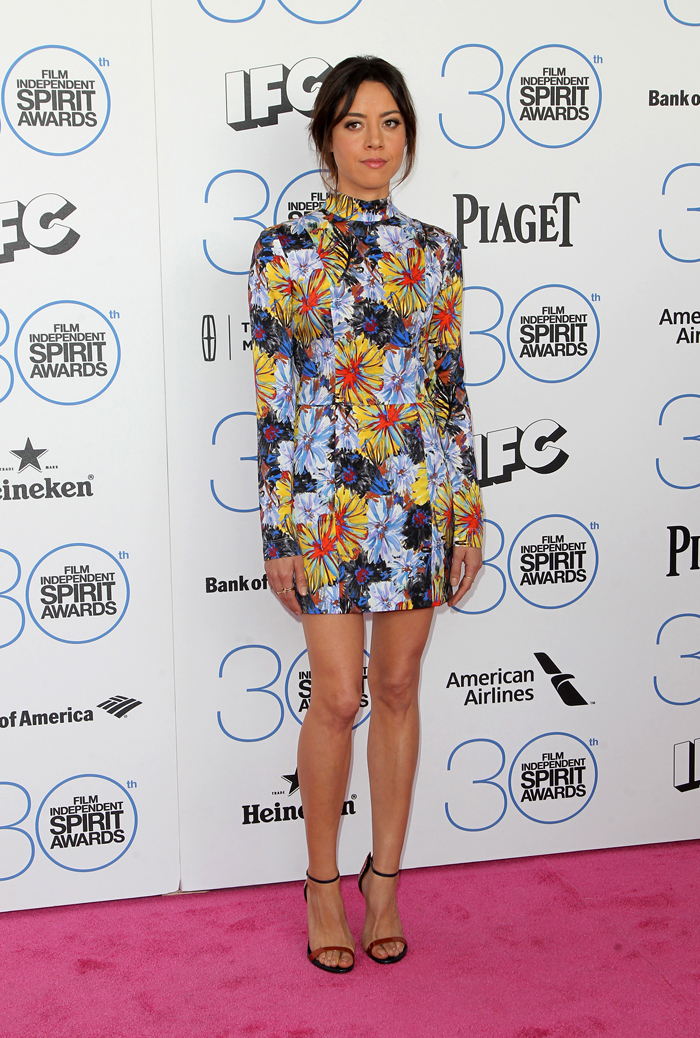 Jared Leto thought it was Grammys night. Rock on, man!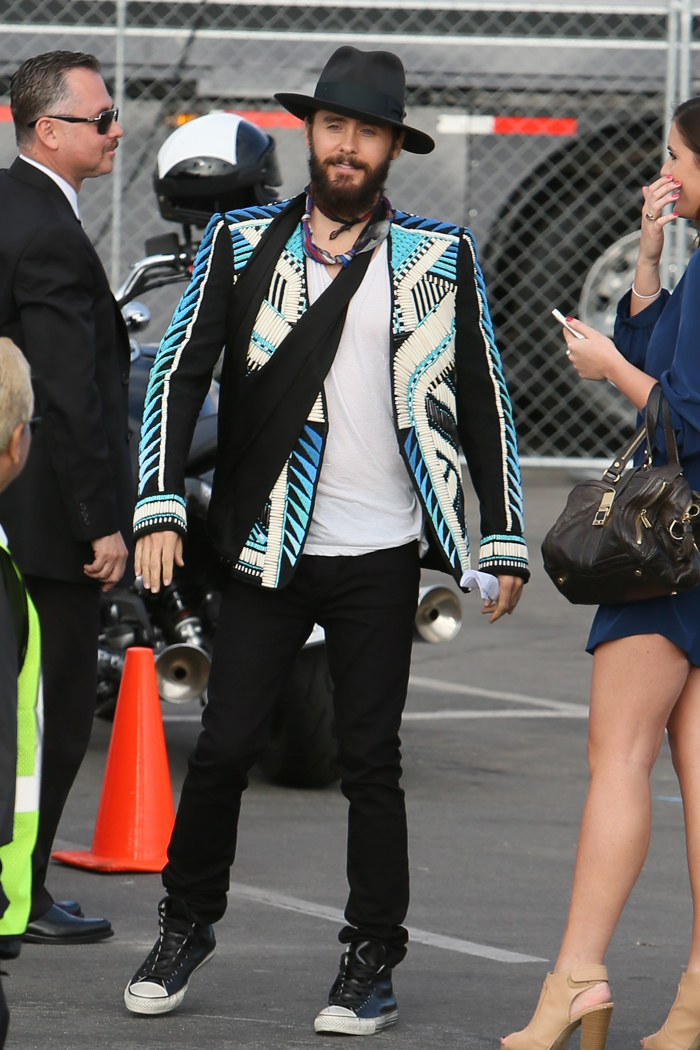 Photos courtesy of Fame/Flynet & WENN