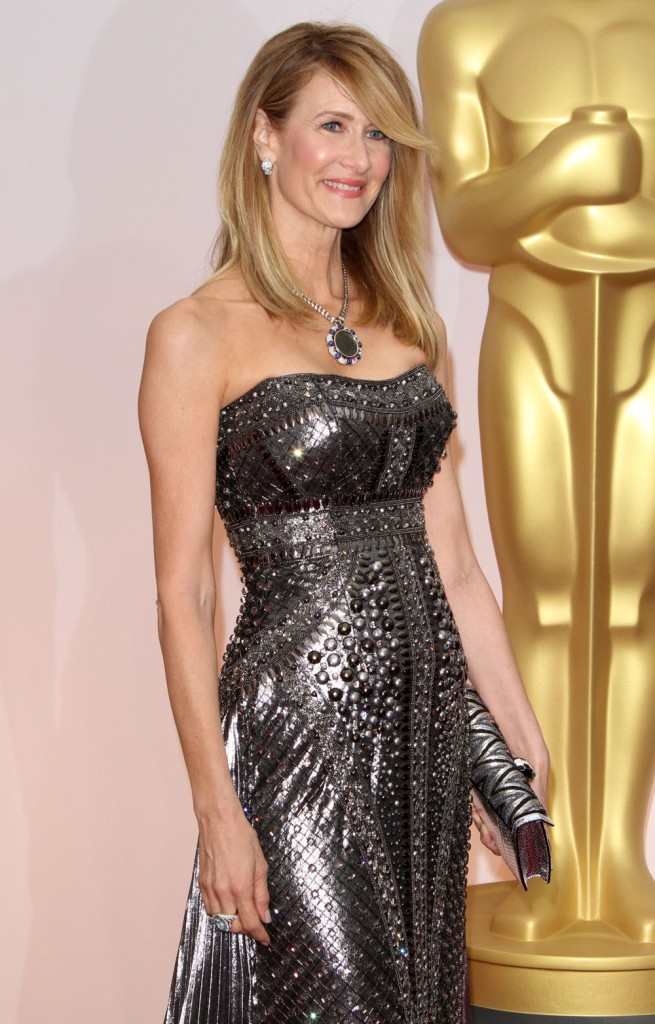 One of my favorite looks last night, and one that bucked the trend of off white and washed out pale colors was Laura Dern. Dern was on point in an incredible bronze strapless Alberta Ferretti gown featuring beading and sequins in a kind of intricate art deco pattern. It was interesting, it was lovely and she struck the perfect balance in a showstopper of a dress which didn't overwhelm her at all.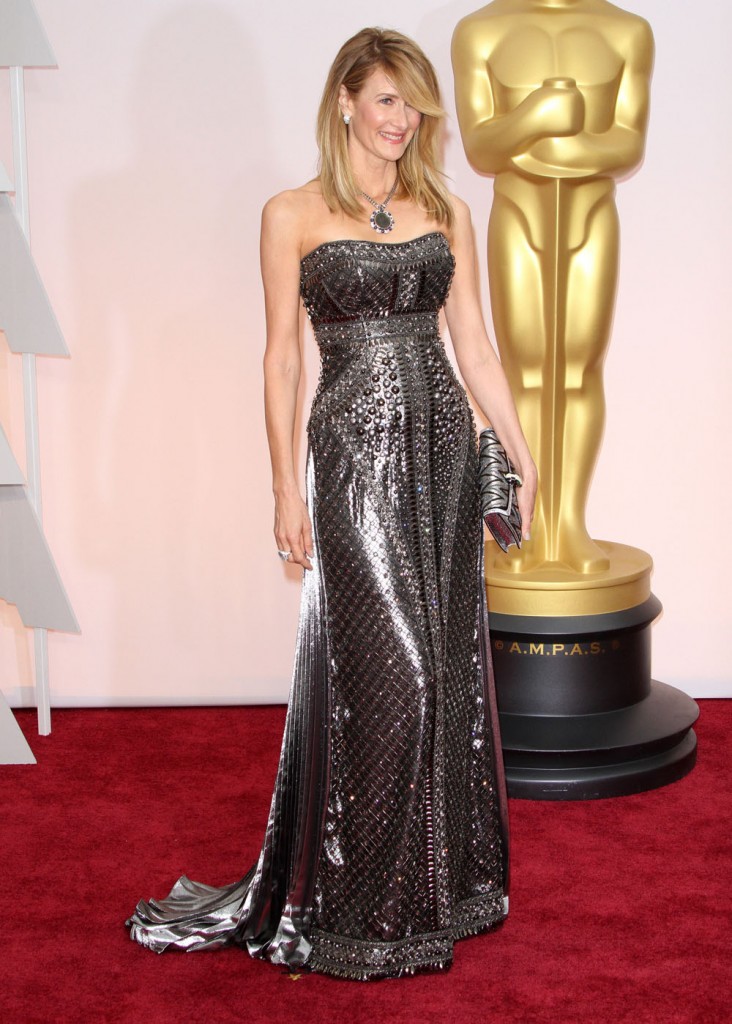 Nominee Dern attended with her son Ellery, 13, daughter Jaya, 10, and father, Bruce, who was nominated for Best Actor for his role in Nebraska last year. Last year, Laura came out to support her dad and this year he was there for her. He sounded very proud on the red carpet when he spoke of how many Oscar nominations they had in their family. (He said they had seven, so he's counting his ex wife, Laura's mom Diane Ladd, in there too. Laura has two nominations, Bruce has two and Diane has three.) Laura of course lost out on the Best Actress statue to Patricia Arquette, but everyone saw that coming and she looked proud just to be there.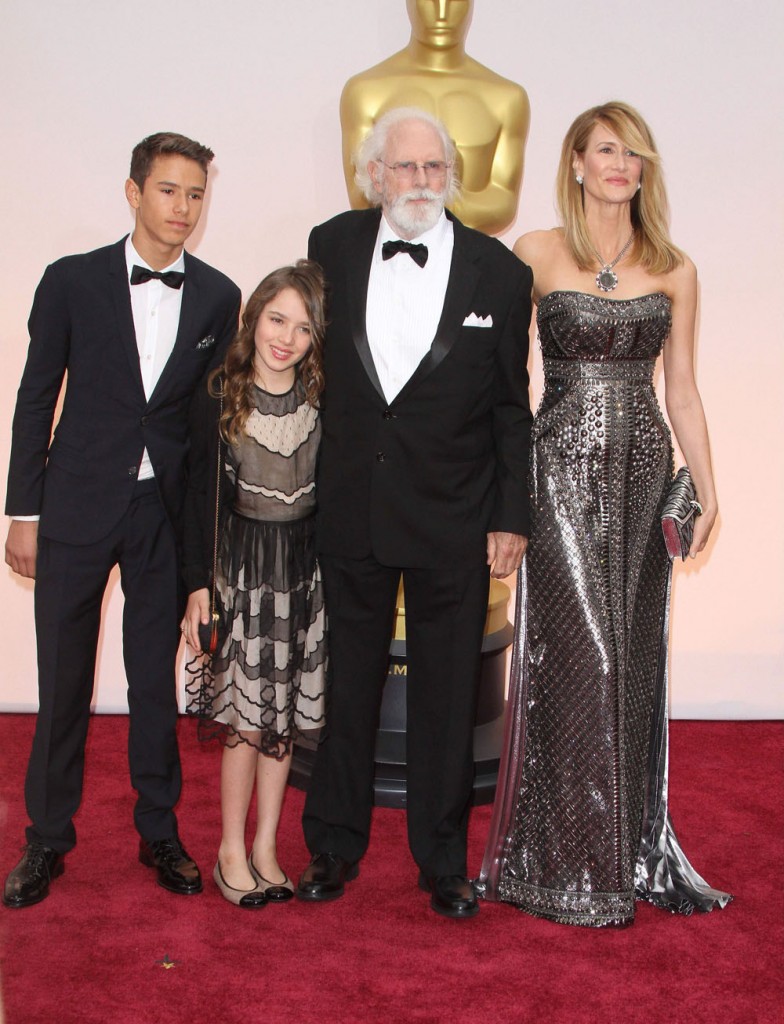 Also not following the trends we have Naomi Watts in Armani. From the front, I thought this dress looked cool, modern and different. I really like the beading and offset stripes on this gown, which give it a kind of snakeskin look. (We know that Watts loves snakes.) From the side, though, it cuts away to a sequin bandeau top which cheapens an otherwise high fashion avant garde gown. Also, Watts gets points taken off for not bringing Liev Schreiber. I always like to see him.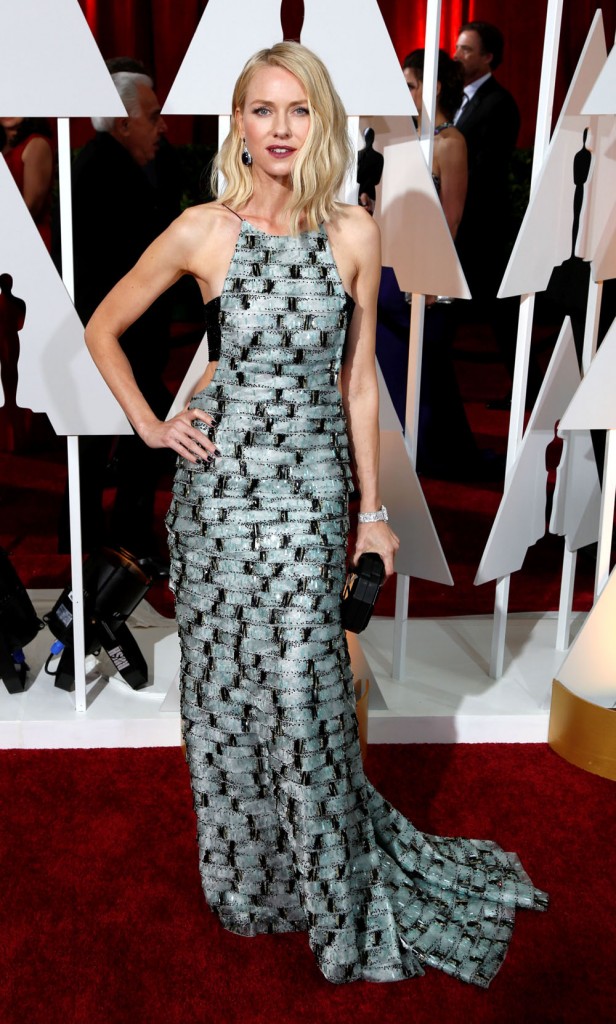 Watts was of course in Birdman, which won a bunch of awards last night including Best Director and Best Picture. I was really hoping Boyhood would win Best Picture, but Birdman was clever and had some killer performances, I'll give it that.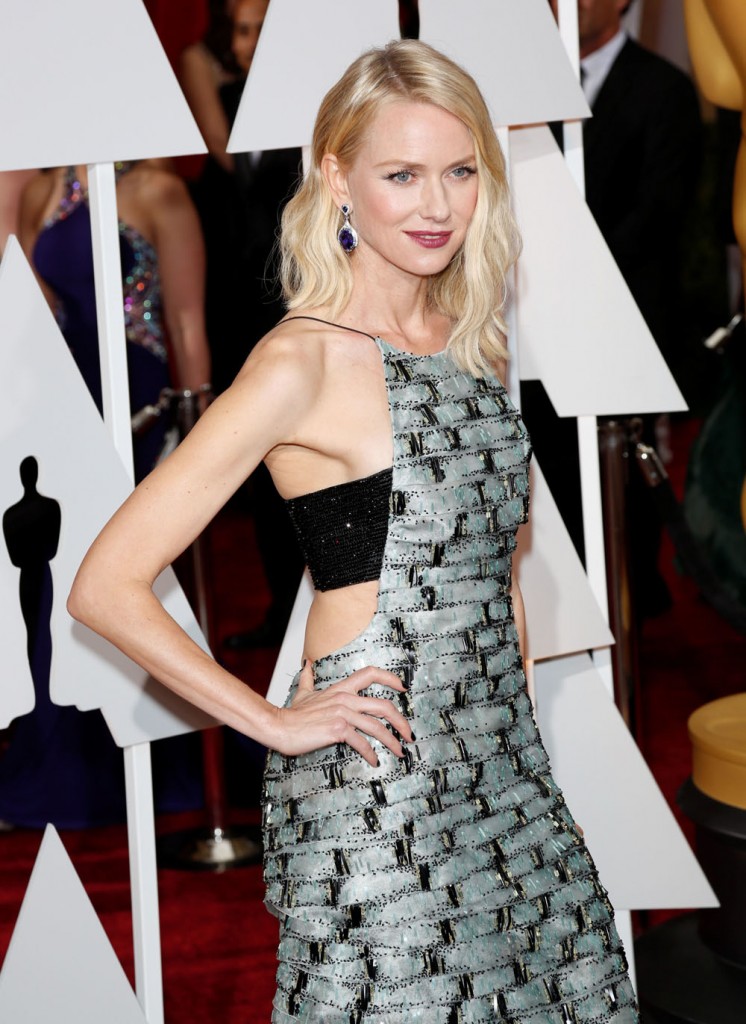 Moving on to one of the ladies in pale colors we have Faith Hill in a v-neck white J. Mendel gown. I love the beading on this dress, if you look at the top of the skirt and the bottom of the sleeves there are abstract swirls which are reminiscent of Van Gogh's Starry Night. I also like how the tiny beads kind of fade down on the skirt in lines that look like rain. That's why I love to consider the Oscar gowns, there's such craftsmanship, planning and thought that go into the dresses. Many of us dream of someday being able to wear something like this, if only pale imitations of these gowns. There's no shame in delighting in beautiful fashion, and #AskHerMore seems to make it sound superficial to talk about. These gowns are works of art.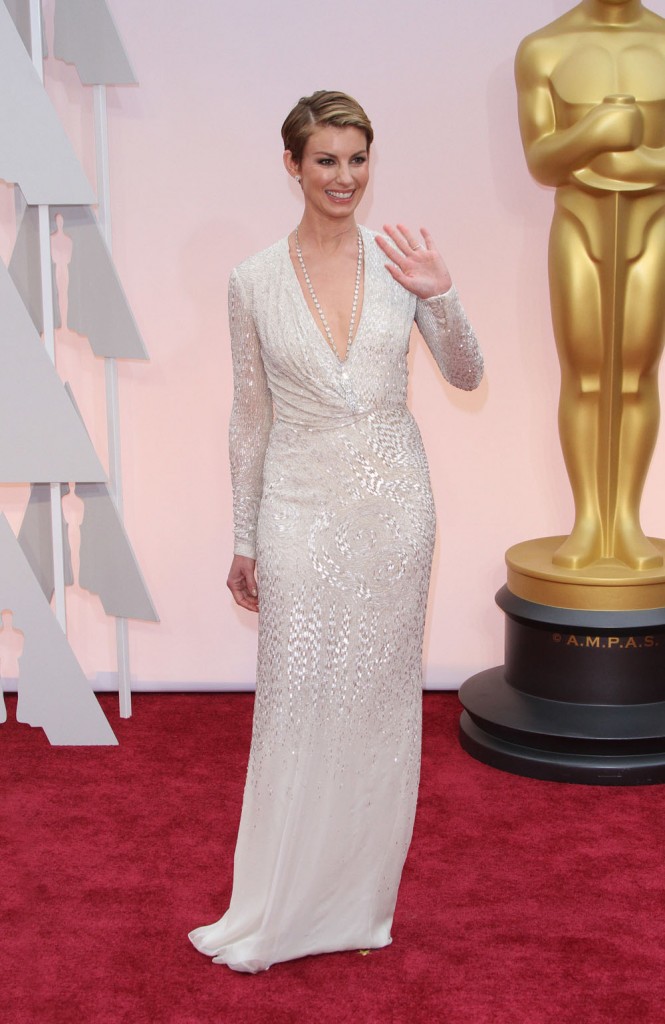 Here's Faith's husband, performer Tim McGraw, looking like he's about to eat her ear.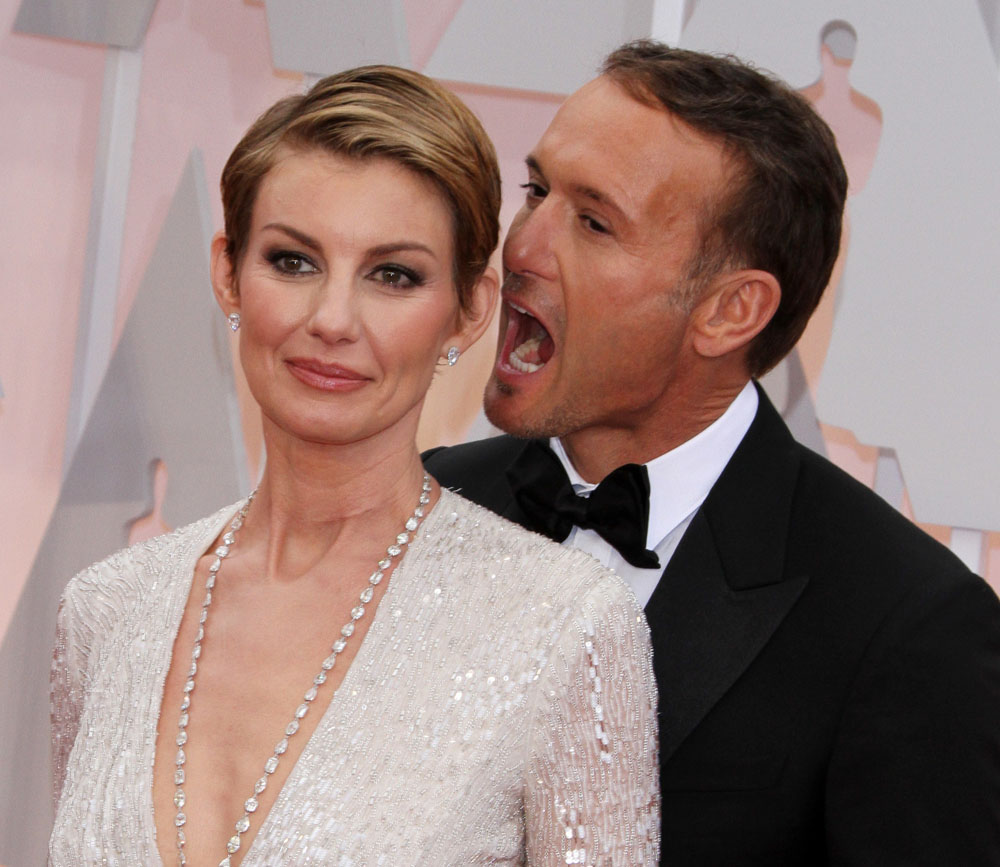 Oscar winner Octavia Spencer was in a pale blue Tadashi Shoji boat neck gown featuring a pleated v-neck overlay and feather-like beading at the waist. Spencer was called on throughout the show as host Neil Patrick Harris kept checking in with her to see if she was keeping on an eye on a locked box on the corner of the stage, which he claimed held his Oscar predictions. It was a stupid bit that went on too long and was arguably rude to Spencer, particularly when Harris told her not to neglect her duties by snacking. (Really?) The written "predictions" turned out to be a dumb parlor trick that went on too long and referenced many of the moments of the night, only a fraction of which were interesting. The Oscars need to cut out many of the secondary awards and hire new writers, but that's the story every year. At least we have the fashion. Don't try to take away our fashion.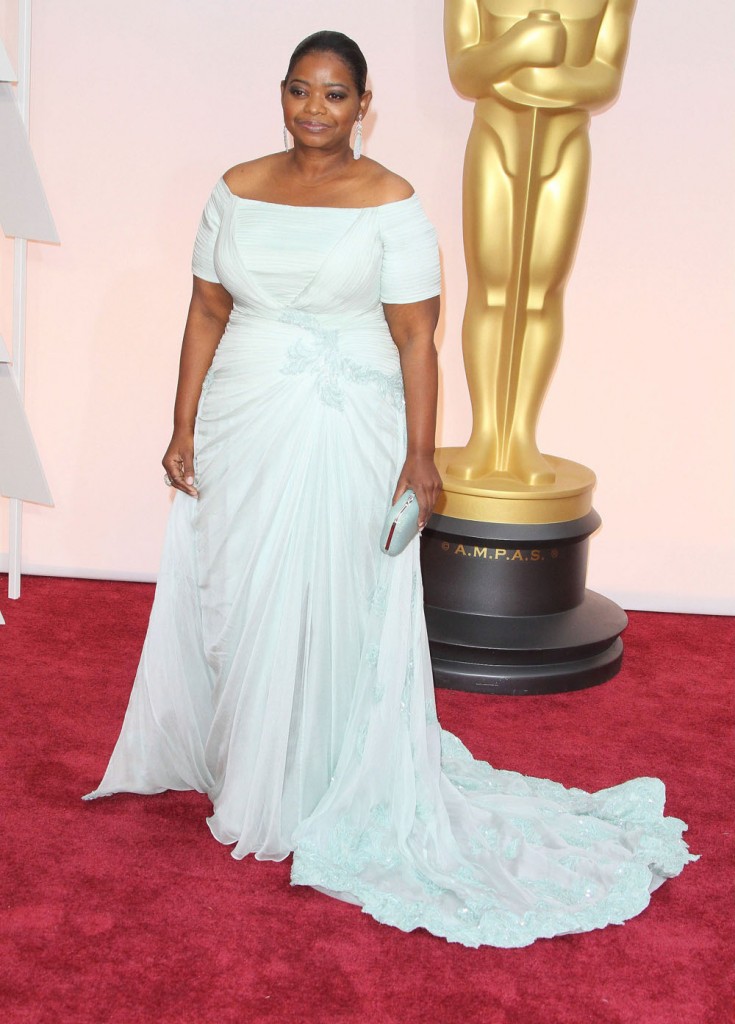 Photo credit: WENN.com