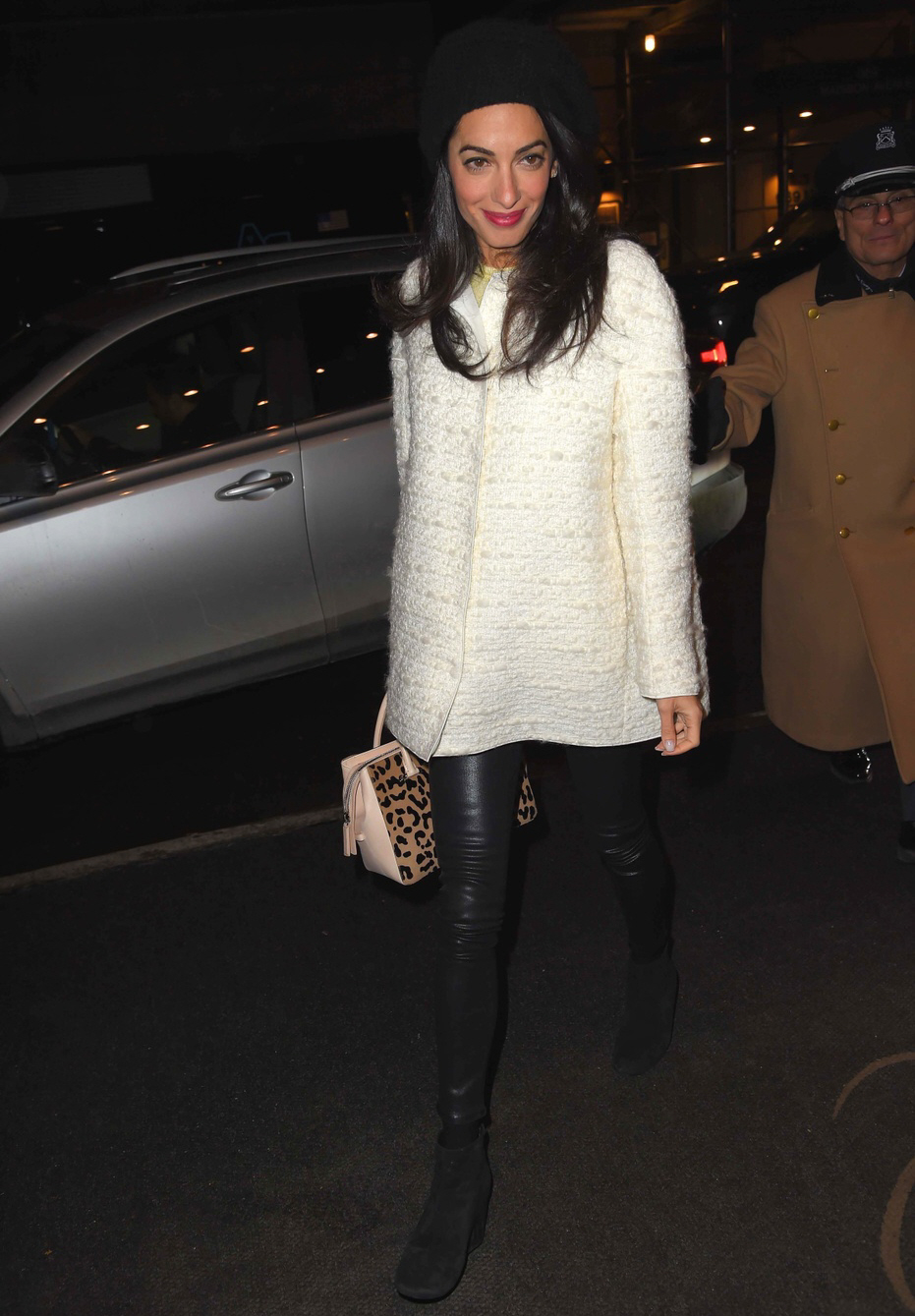 I'm sure this is just the effect of a loosely fit coat, but doesn't Amal Clooney give you some knocked up vibes in these photos? Amal was photographed out and about in NYC on Friday evening. She was apparently running errands in leather pants, a beret and this boxy, bump-hiding coat. Why does she look knocked up to me? Hm… I guess it's because the coat looks heavy and everyone looks heavier in a heavy coat. Also: Amal genuinely looks like she's put a few (just a few) pounds back on after her wedding thin-out. So is Amal knocked up? God knows. But it will be SO MAJOR if she is. Like, People Magazine will probably devote three consecutive covers to Amal and George if and when she gets knocked up. Update: Amal's bulky coat and cute bag are from Giambattista Valli.
What else is going on with Amal? Nothing much, she's just signing on for even more work! In addition to scheduling in about a million new cases, Amal has just signed on to lecture at Columbia Law School this spring. According to Page Six, Amal has been named a "senior fellow with the Law School's Human Rights Institute" and her lectures will be about human rights law (which she knows a lot about because many of her clients have been despots). Amal released a statement about it too (she's using the name "Amal Clooney" professionally all the time now).
"It is an honor to be invited as a visiting professor at Columbia Law School alongside such a distinguished faculty and talented student pool. I look forward to getting to know the next generation of human rights advocates studying here," Amal said.

Amal served as a senior adviser to Kofi Annan when he was the UN's envoy on Syria, and she represented WikiLeaks founder Julian Assange in extradition proceedings. She has also handled cases before the International Criminal Court, the International Court of Justice, and the European Court of Human Rights, as well as in domestic courts in the US and the UK.

"We are privileged to have an international human rights practitioner of Amal Clooney's stature join our faculty," said Professor Sarah H. Cleveland, the Louis Henkin professor of human and constitutional rights and faculty co-director of the Human Rights Institute. "Her extensive experience advocating before UN and regional human rights mechanisms complements our existing offerings and will enrich the experience of our students."

At Columbia Law School, Amal will lecture in Cleveland's Human Rights course and speak about human rights litigation strategies to students in the Human Rights Clinic. She is also the author of the upcoming book "The Right to a Fair Trial in International Law," which will be released by Oxford University Press this year.

The announcement comes after newlyweds Amal and George moved to New York for a few months as he films the movie "Money Monster," directed by Jodie Foster, in the city and on Long Island.
Good for her. It doesn't sound like Amal is really going to be a full-on professor, grading papers and hanging around with office hours. She's just going to pop in to another professor's classes to give some lectures. It makes me wonder how long George and Amal plan on staying in New York. George will probably film in the city for a few months, I guess, and then what? Would Amal and George ever create a homebase in NYC? It would be much easier for her to commute to work if they lived in NYC (rather than LA). Plus, if George and Amal lived in NYC, then they really would be our new John-John and Carolyn.
But… there are still rumors about George's political ambitions, and if he does run for office, it would probably be in California. You guys know Senator Barbara Boxer (D-CA) is retiring from her Senate seat? The election to replace her is next year. Do you think Clooney is thinking about that?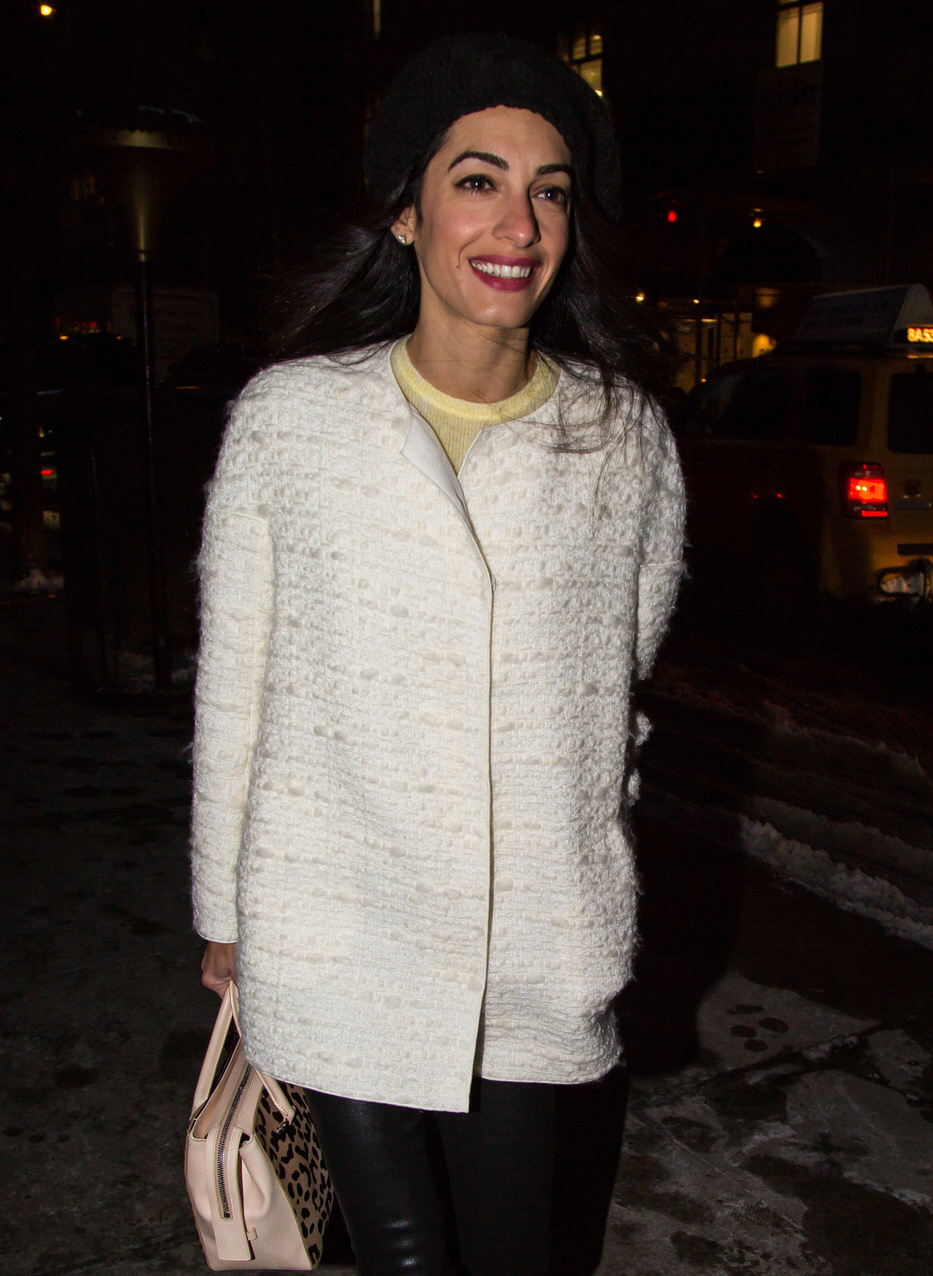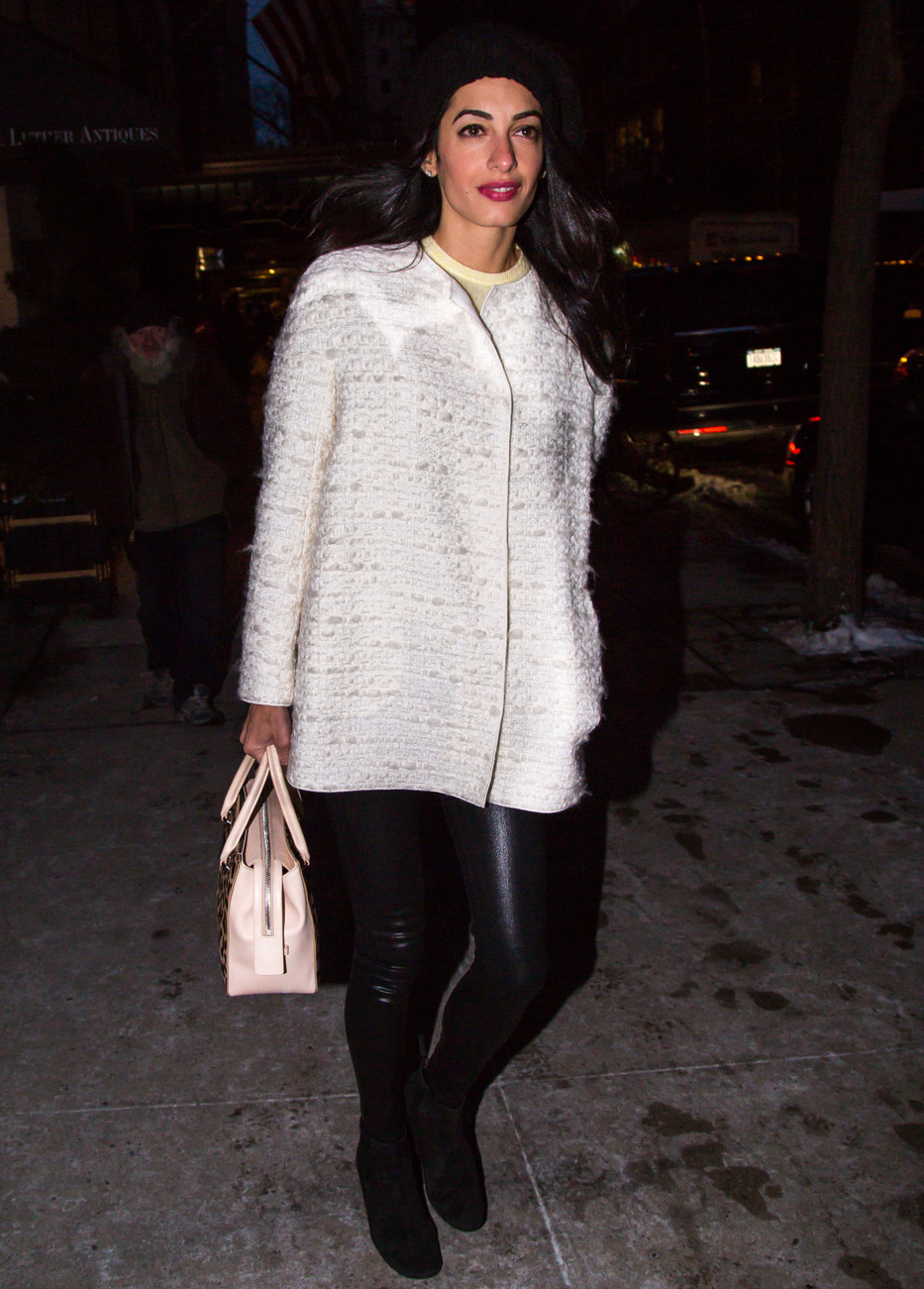 Photos courtesy of Pacific Coast News.