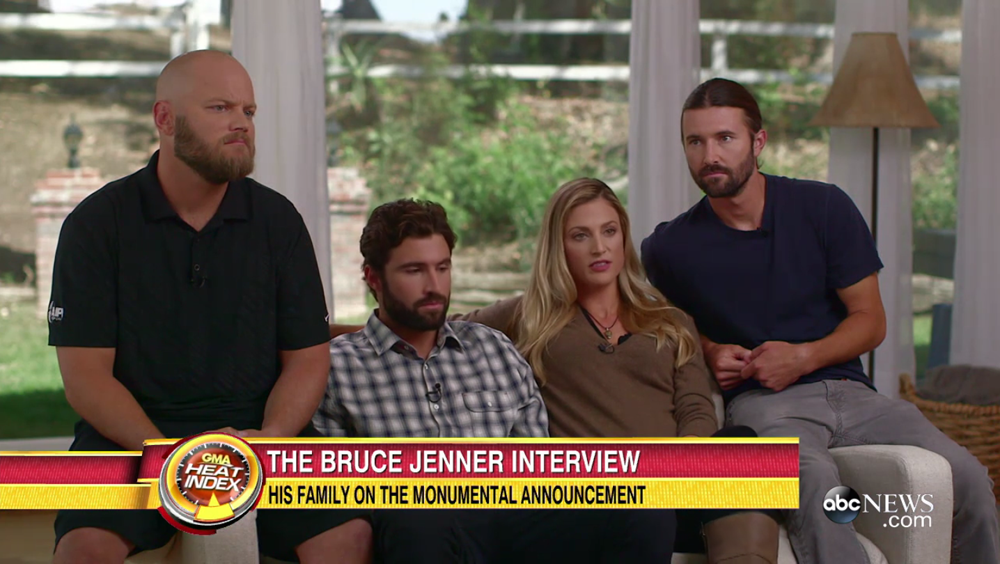 Bruce Jenner's four oldest children, from his first two marriages, appeared on his ABC special. They were all open and understanding, and Brandon was especially supportive toward his dad. I was so impressed by how much love all the older children had for Bruce. Good Morning America aired additional segments yesterday that weren't shown on the two hour 20/20 episode. (That video is available here.) In one segment, Jenner's adult children said that their dad was absent during much of their childhood and that it was hard to deal with. Bruce's daughter Casey, 34, said "He's disappeared out of our lives, especially out of my life. So I'm looking forward to this next chapter."
For his part, Bruce admitted that he wasn't present for their childhood and added "The big formative years for them, I was really struggling with these issues." Bruce said that he has apologized to them, and his kids said that they forgave him.
Bruce's absence was something that Jenner's second ex wife, Linda Thompson, also mentioned briefly in her essay for The Huffington Post. She seemed understanding, but she admitted that "after Bruce and Kris married, there were periods of several years going by without Bruce attempting to contact or visit his sons." Bruce didn't send birthday cards or Christmas presents and he didn't check in at all. That makes it all the more admirable how supportive his children and ex wives have been.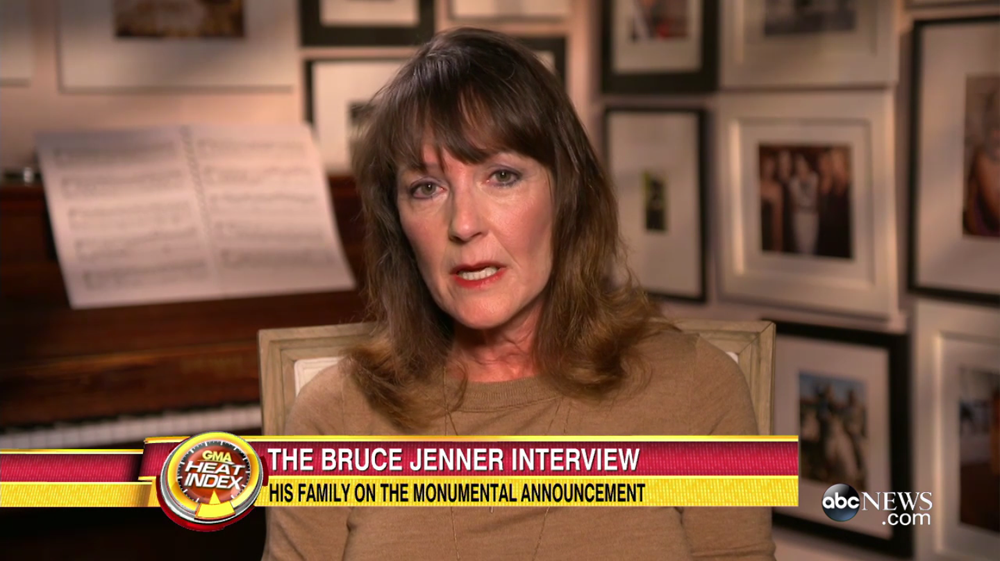 Bruce's first ex wife, Chrystie Scott, is also very open and understanding. She did an interview on GMA yesterday in which she said Bruce was with her when his 20/20 special aired. She was at a viewing party with Bruce, their friends and family. Chrystie's reaction to his interview was pain and sadness at what he's been going through. She said that she has known about Bruce's gender identity issues for decades as she was the first person Bruce opened up to. She called a "gift that he trusted me with something so intimate."
As for how Kris Jenner is coping, she's been somewhat silent and did not issue a statement for his special. She did tweet support to Bruce, calling him her "hero," and she also tweeted that she was viewing the special with him, presumably at the viewing party. Radar claims that Kris only stopped by the party for a few minutes, stayed apart from everyone, and then left.
Kris's friend Kathie Lee Gifford spoke for Kris on The Today Show yesterday. She explained that "The other wives… had a long time to get used to this. This was new to Kris. She's trying to get her act together. She's trying to be a good friend to him. Trying to still be a good parent. It's complicated in ways that we cannot even comprehend."
Meanwhile Bruce's documentary type special with E! is still scheduled to air. We heard last month that Bruce was reluctant to move forward with the show. It's still happening, will premiere on July 26, and will feature eight one-hour episodes. Kim, Brody and Brandon are said to have advised their dad to pull the plug on the show, lest it cheapen what he's trying to accomplish, but it's moving forward anyway. A source tells TMZ that the show will portray "the dark moments, the lighthearted moments and moments that are just plain hilarious" in Bruce's life. This includes him trying to play golf now that he has bigger breasts.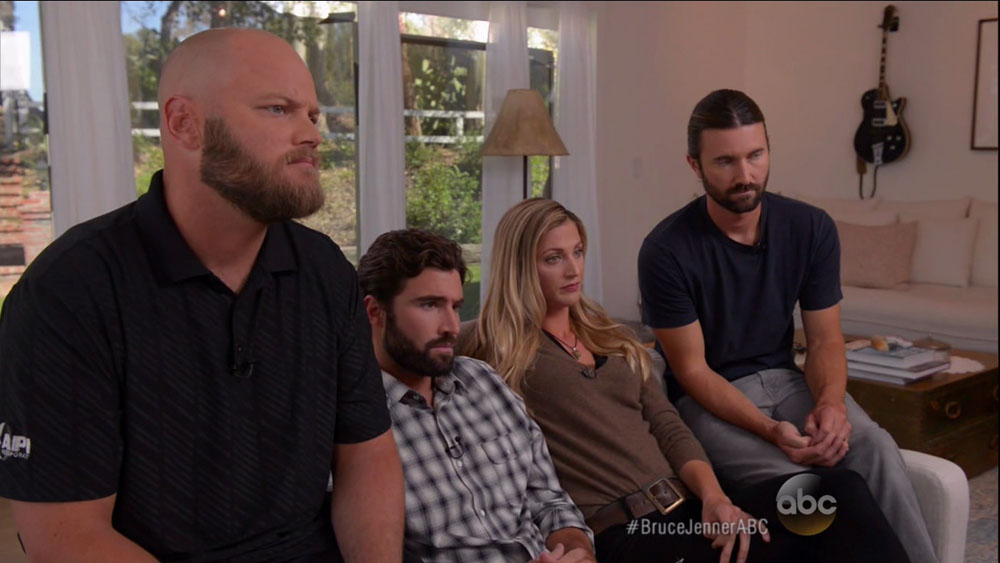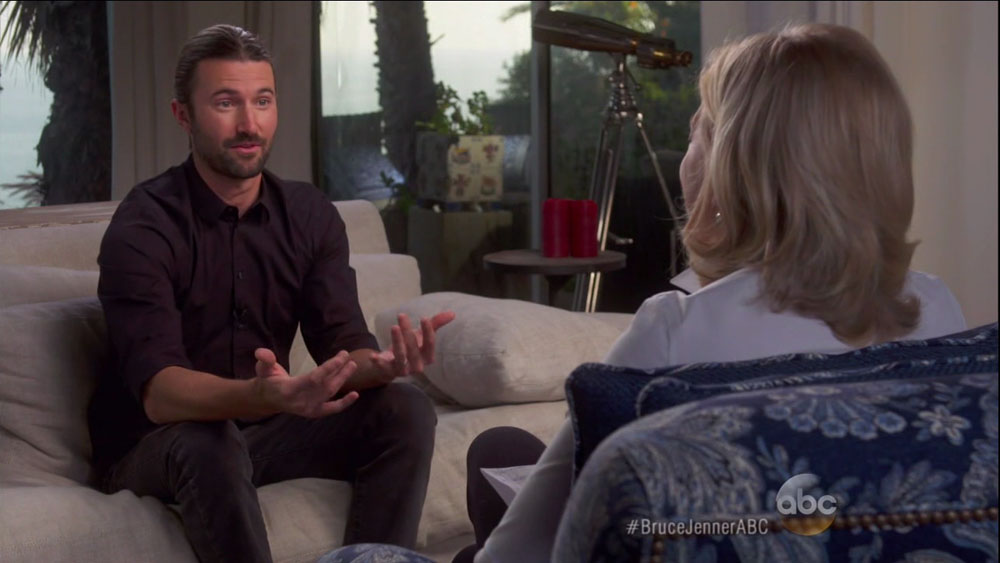 Photo credit: ABC and via WENN