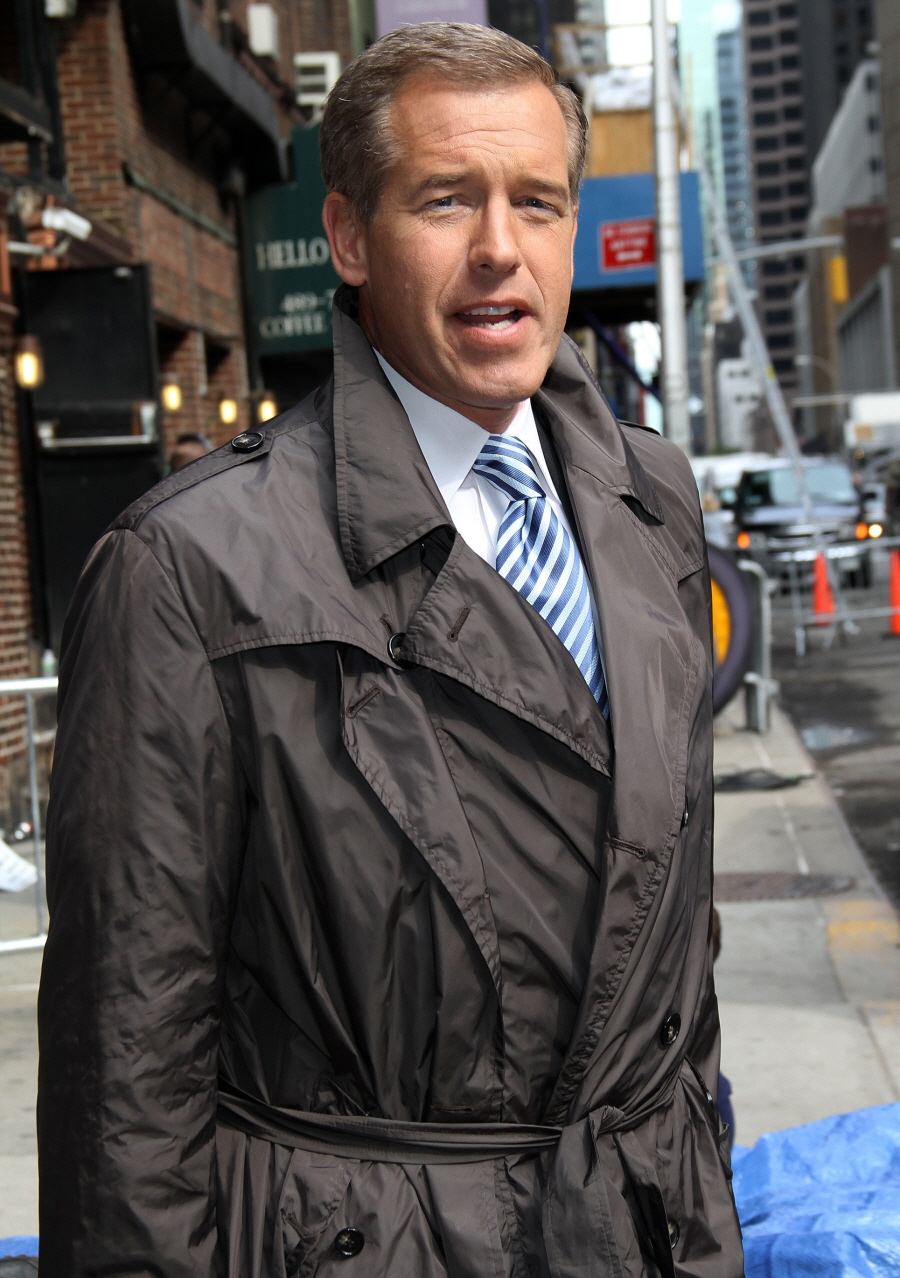 Part of me hates the gleeful way a Rupert Murdoch-owned media outlet has been reporting the on-going Brian Williams debacle. I mean, Page Six would never, ever go after one of the Fox News anchors this way, would they? Of course not, because they have the same corporate ownership. Another part of me thinks it's completely justified though, especially since NBC News is trying to leave Brian Williams twisting in the wind. Over the weekend, several major media outlets (including WaPo and the NYT) got strategic leaks about the in-house investigation into Williams' many, many lies. The investigation has found the Williams lied about several major events just in the past few years. I said a few days ago that of course NBC is going to fire Williams or buy out his contract or whatever. He just won't be coming back. But now Page Six's sources say Williams is not going to go without a fight.
This time, Brian Williams may not be exaggerating. Talks between the exiled anchor and NBCUniversal have recently become tense — with the 55-year-old newsman saying he will not have his "NBC Nightly News" job taken away without a battle, The Post has learned.

"Brian is saying he's not going down without a fight and [is] threatening to make it really ugly — worse than Ann Curry," a source close to NBC told The Post. In 2013, Curry departed NBC's "Today" in a downpour of negative publicity. She made a teary emotional on-air goodbye as co-host Matt Lauer looked on awkwardly. Curry and Williams are both represented by a pit bull lawyer — Bob Barnett at Williams & Connolly.

"They want Brian to resign," said one source. "If they have to fire him, they can't control him."

The tense state of the Williams-NBCUniversal relationship has become clear of late. On April 24, the newest findings from NBC's internal probe — which turned up 11 instances of Williams stretching the truth — were leaked. Three days later, a pro-Williams report surfaced saying NBC News boss Andy Lack was looking for ways to save his beleaguered anchor. On Tuesday, the anti-Williams faction seemed to fight back — telling the Hollywood Reporter that Lack is not convinced Williams can return. And so it goes.

Without a doubt, there is an increasing urgency within NBCUniversal management ranks to bring the prickly situation to an end. "ABC World News Tonight," hosted by David Muir, said Tuesday that for the last four weeks it led "NBC Nightly News" in total viewers — the first time that has happened in years. ABC also won for the third straight week in the key 25- to 54-year-old demographic sought by advertisers — though NBC is ahead season-to-date.

As talks between Williams and Comcast's NBCUniversal unit heat up, Williams is believed to be trying to ensure that he is entitled to a payout under the five-year $10-million-per-year deal he signed last year.

"They are not going to give him an opportunity to do an Ann Curry," said a source familiar with news management.

"NBC seems intent on damaging him," said a friend of Williams. "No one is speaking out in his defense."

Meanwhile, NBC News has said no decisions have been made about Williams' future and several staff tell The Post they are conflicted about their colleague, saying that he deserves punishment but also that he is a talented, popular professional. NBC star Lauer has had several dinners with Williams to discuss the situation and is supportive of his friend, a source told The Post.
I'll admit it – I love these kinds of insidery media stories where you realize that broadcast journalists are just the same as any other grasping, brand-protecting celebrity. And all this report made me feel was another wave of sympathy for Ann Curry. Yes, Curry was a terrible co-anchor at Today, but she got shafted in such a major way by NBC News and her transgressions were nothing compared to Brian Williams. BW needs to go, but NBC is going to have to pay him a lot to make him go away. But here's what bugs me: unlike the Ann Curry situation, NBC can FIRE Williams FOR CAUSE. What he did was awful and he shouldn't get some payday from all his ass-covering bros.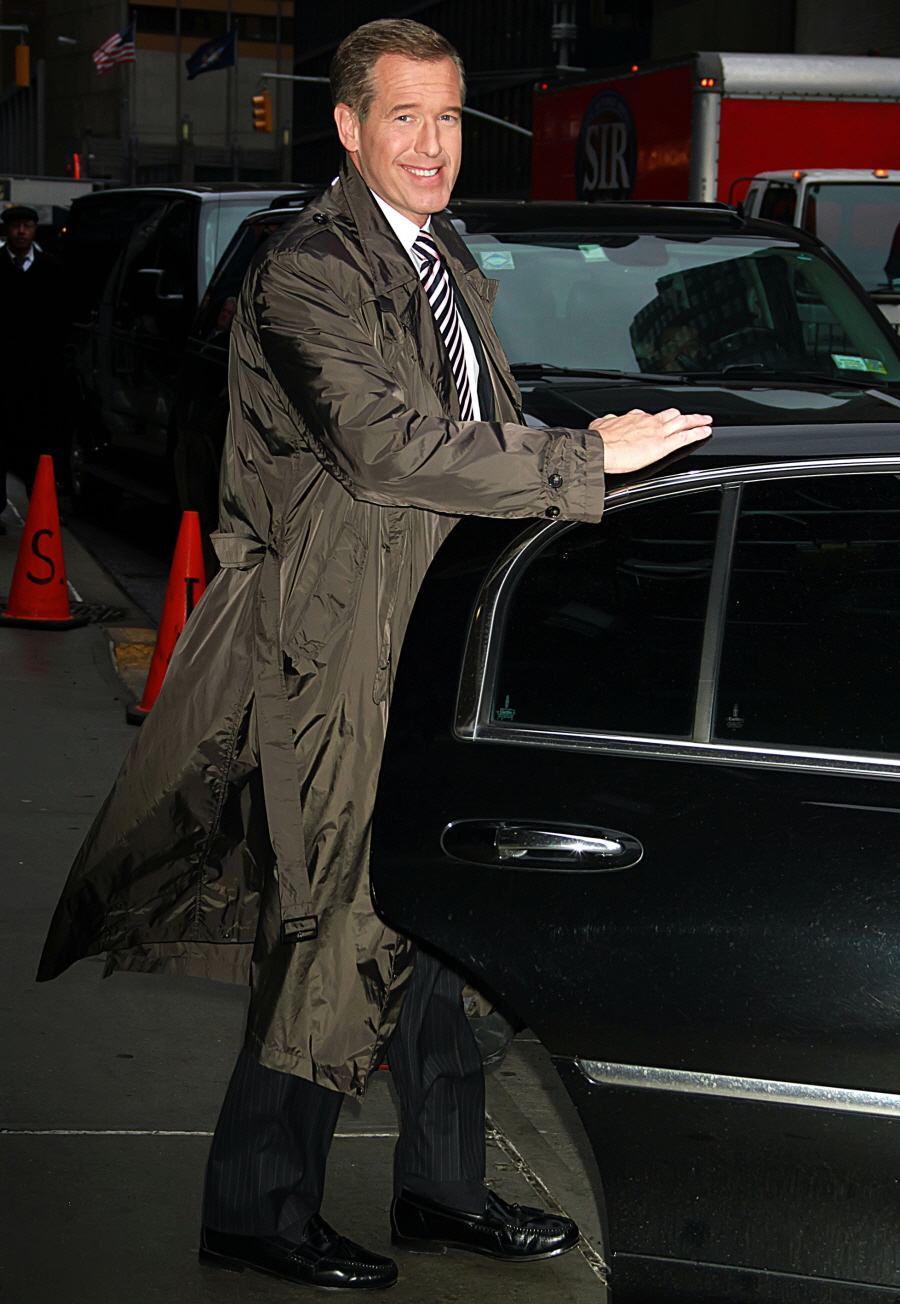 Photos courtesy of WENN.