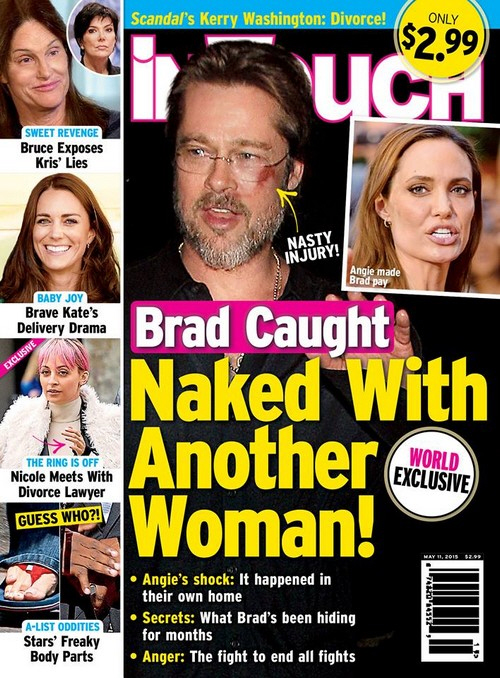 One of my favorite lines in Game of Thrones is "The North Remembers." It gives me chills just thinking about it, honestly. So I'd like to name this post "The Leg Remembers." The Leg is sick of Brad Pitt's shenanigans. The Leg is tired of his drama. The Leg will leave Brad's precious face bruised and battered! THE LEG REMEMBERS.
So, In Touch Weekly's cover story this week is all about how Angelina Jolie (The Leg of Doom) is pissed off at Brad because he enjoys naked hot tub parties with pot and sexy ladies. The Leg is not amused. A source told In Touch that Brad "enjoys smoking post, and hot tubs in the nude." A few weeks before his wedding day last August, he invited some good peeps around for a naked hot tub soak with some grass. He only recently admitted it to Angelina, "casually telling Angelina…as if it was no big deal." And of course The Leg RAGED.
"Brad casually told Angelina he was naked and shared joints with some friends in the hot tub, as if it was no big deal. Angie couldn't believe her ears. She still has a lot of wild child in her, but she's very territorial and jealous when it comes to Brad and other women," a source In Touch.

"She alerted their staff that she wants full reports on Brad she she's not around… she's livid that Brad is smoking marijuana and cigarettes again," despite the fact that she sneaks "the occasional cigarette, too."
I guess people want to stop short of saying explicitly that Angelina smacked Brad in the face, thus his noticeable bruise. We're just supposed to put two and two together, like Brad just told her about naked hot tub-reefer parties and she was so mad and… look at his face, man.
Brad's stoner ways also cover this week's issue of The National Enquirer. As with most Enquirer stories, there's like one kernel of truth surrounded by a lot of crap. The kernel of truth here? That Brad just can't give up cigarettes or pot. I believe that. I believe he still smokes a J every now and then, or he has a favorite bong in his "art studio" or something. I also believe he never really quit smoking cigs. What I don't believe? That Angelina is totally upset about it. I don't think she cares all that much. She smokes an occasional cigarette too, and she likes some wine or some vodka on the rocks (from what I hear). You can read the Enquirer's story here.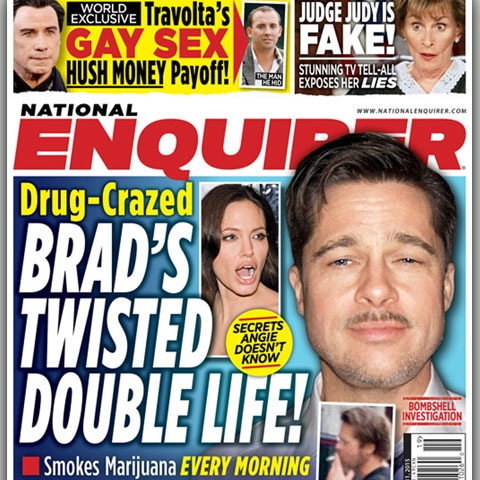 Covers courtesy of The Enquirer, In Touch, photo courtesy of Getty.