Over the weekend, rumors circulated about Hilary Duff being on Tinder. No one knew whether the account was real or fake, but I assumed it was a publicity stunt like Hilary's everchanging hair colors (she's been pink, green, and grey in a matter of weeks). She's harmless, but I think she's a little stuntqueeny with talk of her overwhelming fame. She's also usually more happy to see the paparazzi than she'd have us believe.
I'm giving Hilary a pass on this Tinder stuff though. This is an incredibly popular dating app, and she's getting out there after trying hard to make her marriage work. Mike Comrie humiliated himself and Hilary by drunkenly offering money for hookups, and now there shall be a custody battle. She could use a distraction. You can see Hilary's profile photo here (with a profile that reads "let's get pizza"). Hilary confirmed her account during a talk with Ryan Seacrest. She's been on a date already and is chatting with nine guys:
Yep, it's her: "It's totally me on Tinder. It kind of started out to be a joke with some of my girlfriends. I was like, 'Explain this whole thing to me because it's kind of blowing my mind.' We were swiping and it started out to be kind of a joke and then I was like, 'I'm gonna join Tinder,' and they were like, 'What?! No way you can't.' And I was like, 'Why can't I? Yeah, I absolutely can.' I never thought anything was really going to happen. I was talking to a few of the guys and they were really normally."

She went on one date: "We went bowling so we didn't have to talk too much, but we did talk a lot actually. He was cool. He brought a friend and I had some friends there. He used to be in editing for reality shows. Now, he's an actor and he just wrote a play. He's an interesting guy. To be honest, I don't really want an actor either … I think he has a few jobs."

Why she's on Tinder: "It's hard to meet people in this business and I don't want to date an actor."
[From RyanSeacrest.com]
Hilary told Ryan she didn't kiss this dude. I guess she didn't like him that much. E! Online adds that Hilary isn't into seeing "a shirtless, mirror selfie," but "the first thing is obviously looks, which sounds super vain, but that is what you first go for: natural chemistry." Hey, at least she's honest about going for looks first! Instead of "sense of humor" or "sweet." Those things are important, but physical attraction has to be there. Good luck to Hilary. Lots of guys would like a date with her. Hopefully she won't run into Leonardo DiCaprio.
Here's one more thing. Hilary had a mini-reunion with some Lizzie McGuire cast members (Lalaine and Jake Thomas). They went bowling!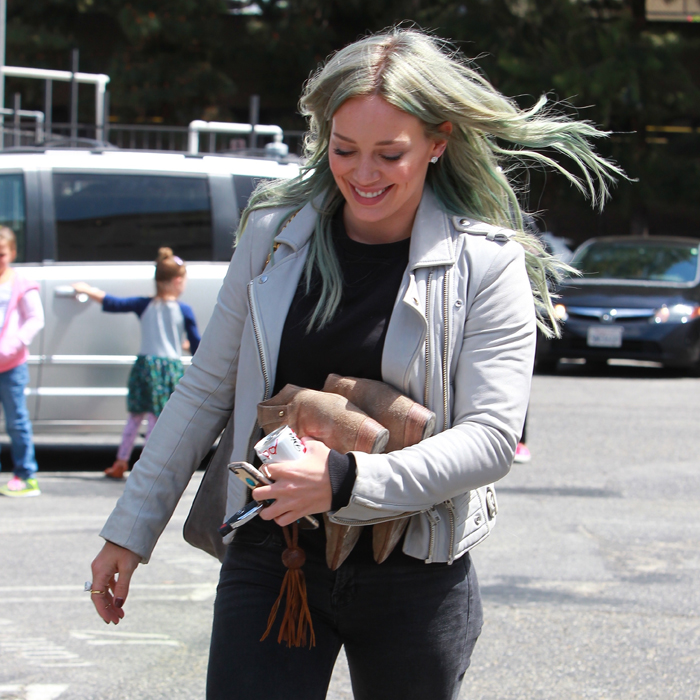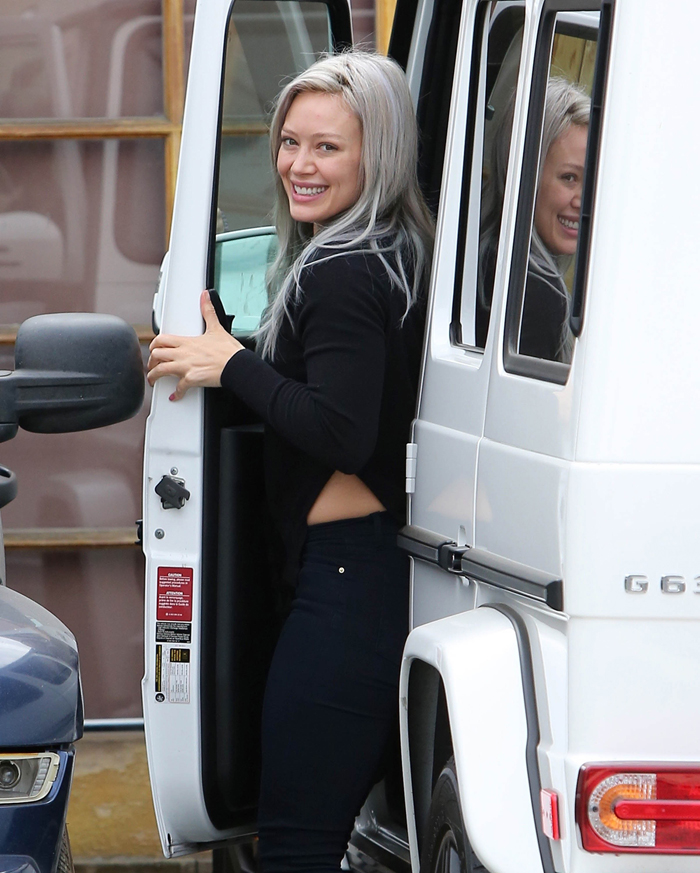 Photos courtesy of Hilary Duff on Instagram, Fame/Flynet & WENN