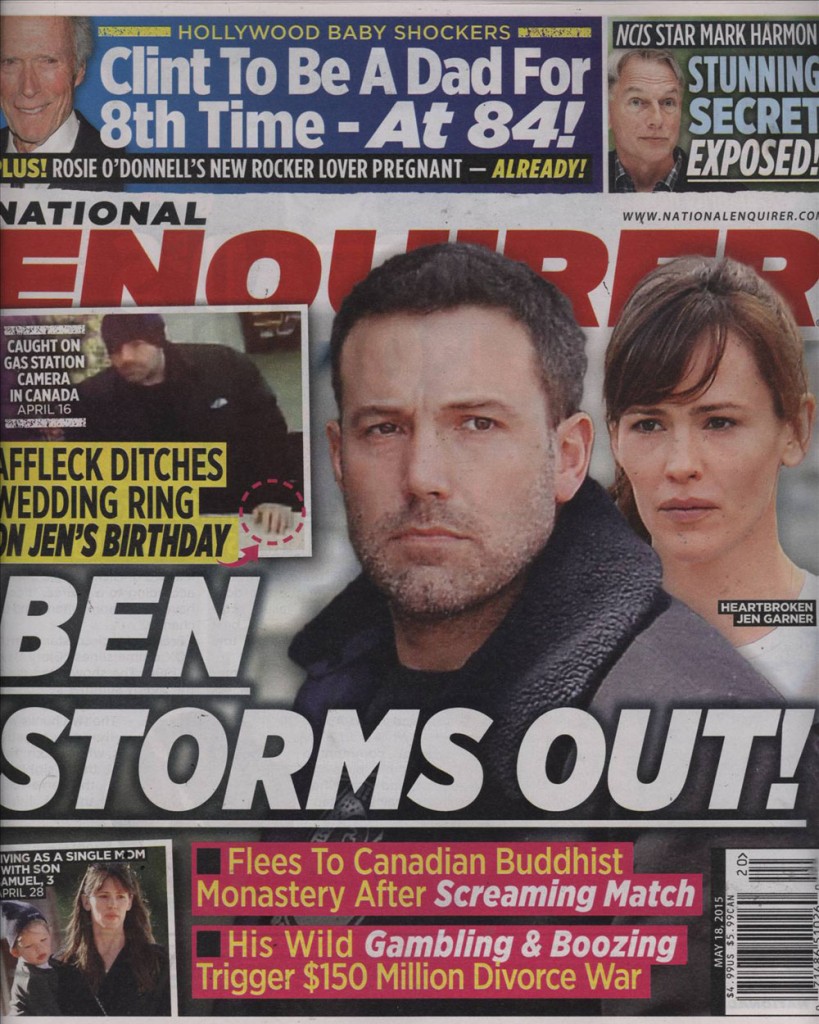 Above is the new cover of The National Enquirer claiming that Ben Affleck "stormed out" on Jennifer Garner and that they're in a "$150 million divorce war." The National Enquirer is basing this on the fact that Affleck was spotted in Cheticamp, Nova Scotia on the week of Garner's birthday. This was reported by local news outlets in Nova Scotia, we got a tip about it and mentioned it in a story a couple of weeks ago. The Canadian reports also posted a surveillance video of Affleck at a gas station. Locals claim that Affleck was quiet but friendly. There were rumors that he may have gone to a nearby Buddhist monastery and that he may have been scouting property, but none of that was confirmed.
Ben was spotted in Nova Scotia right around the time that the news come that he asked PBS to censor the fact that he had a slave-owning ancestor. However, from what I can find the story did not break until early in the morning on April 17th. The surveillance video was taken on April 16th and someone claimed to have seen Ben in the area as early as April 11th. He was in a remote area of Canada suggesting that he wanted to get away from it all, but it's a stretch to say that he knew about the negative press at that time. (The Sony emails weren't published by Wikileaks until April 16 and Ben's recent films have been distributed by 20th Century Fox and Warner Brothers. So he probably didn't take off anticipating some fallout.)
The National Enquirer turns Ben's alleged visit to a monastery to a marriage crisis. They claim that Ben "fled to a Buddhist monastery in Canada to 'get his head straight' after Jen accused him of cheating with a hot young co-star [Anna Kendrick] and falling off the wagon." Their report seems based on known details about his visit to Nova Scotia, along with quotes from a source about how Affleck and Garner are having problems. Plus, Affleck wasn't wearing his wedding ring in the video as he usually does. The print article does not claim that Ben and Jen are getting a divorce, just that they're trying to avoid one.
The Enquirer's source says that "Jen saw some emails from Anna and blew up. She demanded to know if Ben is two-timing her… they had a huge fight and Ben had a meltdown… the bottom line is that Jen can't trust Ben."
The Enquirer also claims [via Radar] that [Jen] "flew out of Los Angeles to 'convince him to return home,' according to a family friend — and was photographed looking distraught leaving LAX.
'Jen was worried enough that she dropped everything and flew to Canada to give Ben an ultimatum,' said a source. 'Jen said she'd give him one more chance to clean up his act.'"
I looked through our photo agencies and the only photos I can find of Jen at LAX are from April 14. The next day, she delivered books and read to children in South Carolina as part of her work with Save The Children. JustJared has coverage of that trip. It's possible that Jen was seen later at LAX, but if so I can't find those photos.
I don't doubt that Jen shouldn't trust Ben for various reasons, but I think she does. Plus I think he's having some kind of personal crisis over playing Batman. He was seen out gambling quite a bit last year, but he either stopped doing that or is doing it less publicly. I doubt he's flirting seriously with Anna Kendrick, she doesn't seem like the type. As to why he went to a monastery around Jen's birthday, I have no idea. I also don't know if she particularly cared that he missed her birthday (presumably, he could have jetted back by then). I'm around her age and I didn't even want to celebrate my birthday this year. At least he's going to a spiritual retreat in Canada and isn't gambling or partying with strippers. (Oh and I checked and there is a casino on Cape Breton Island, where Ben was seen, but it's a couple of hours away.)
Here are some photos of Ben and Jen, taken on 4-24, after the news broke about him censoring PBS. Not a coincidence.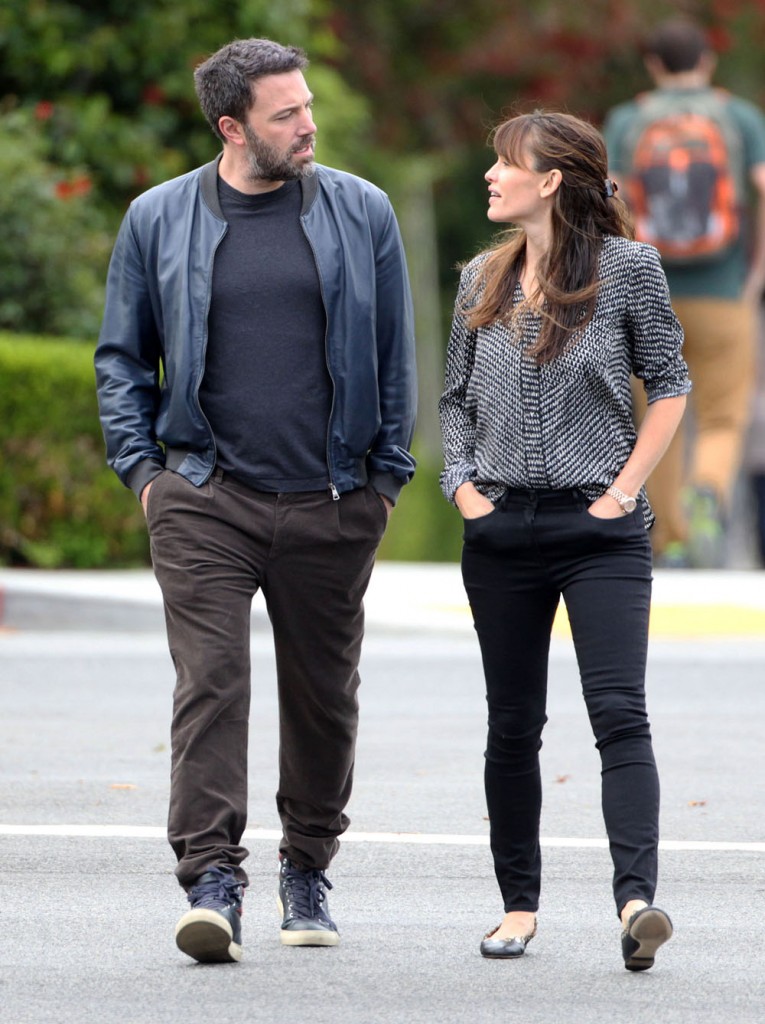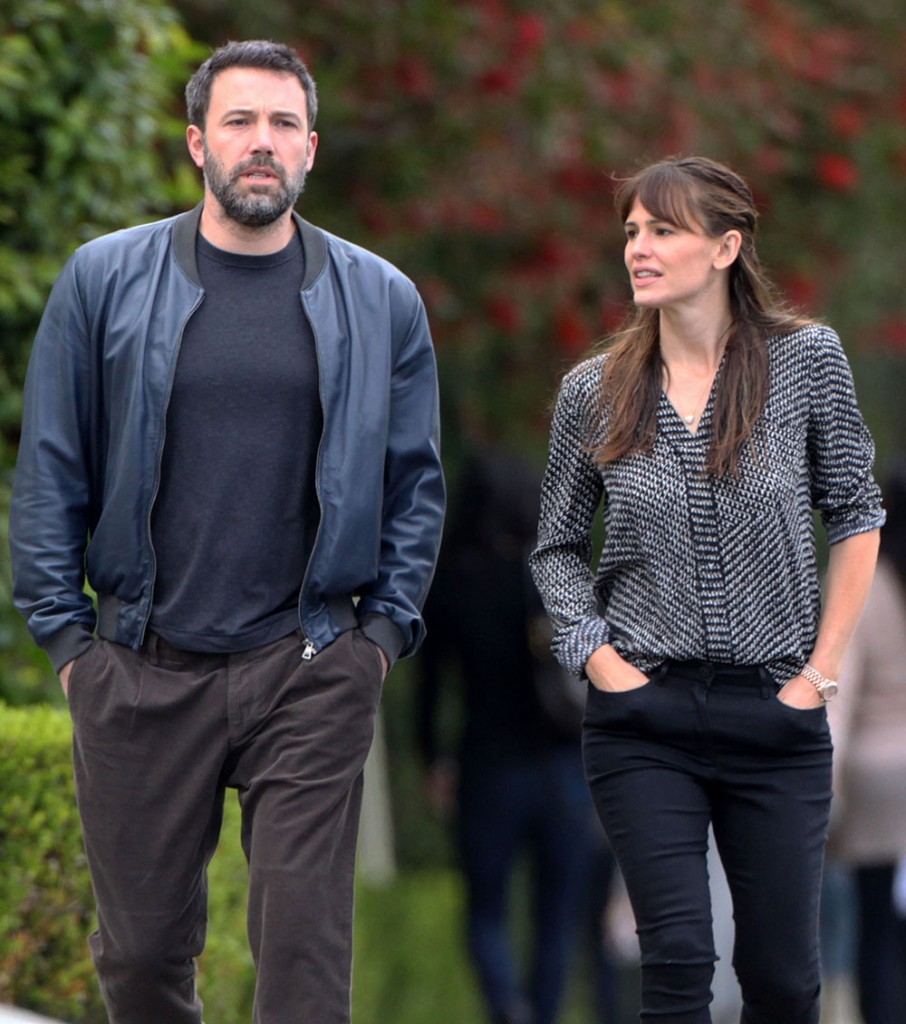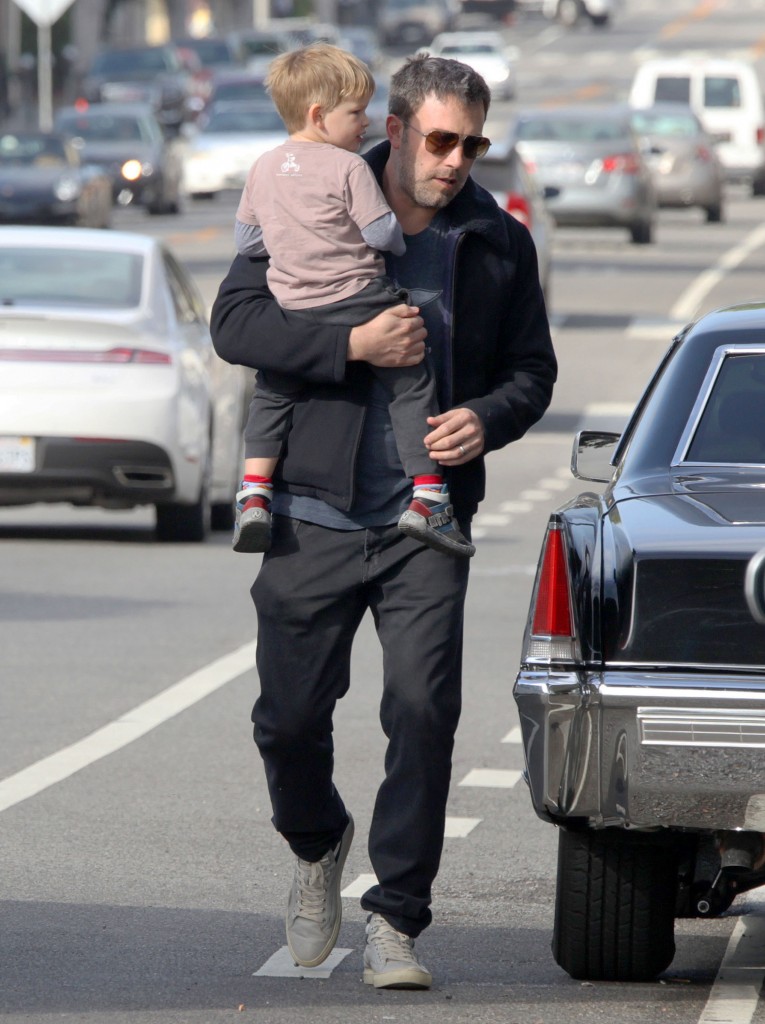 Affleck is shown taking his son out to breakfast on 5-7 and also at the Mayweather VS Pacquiao fight. Credit: FameFlynet and Getty