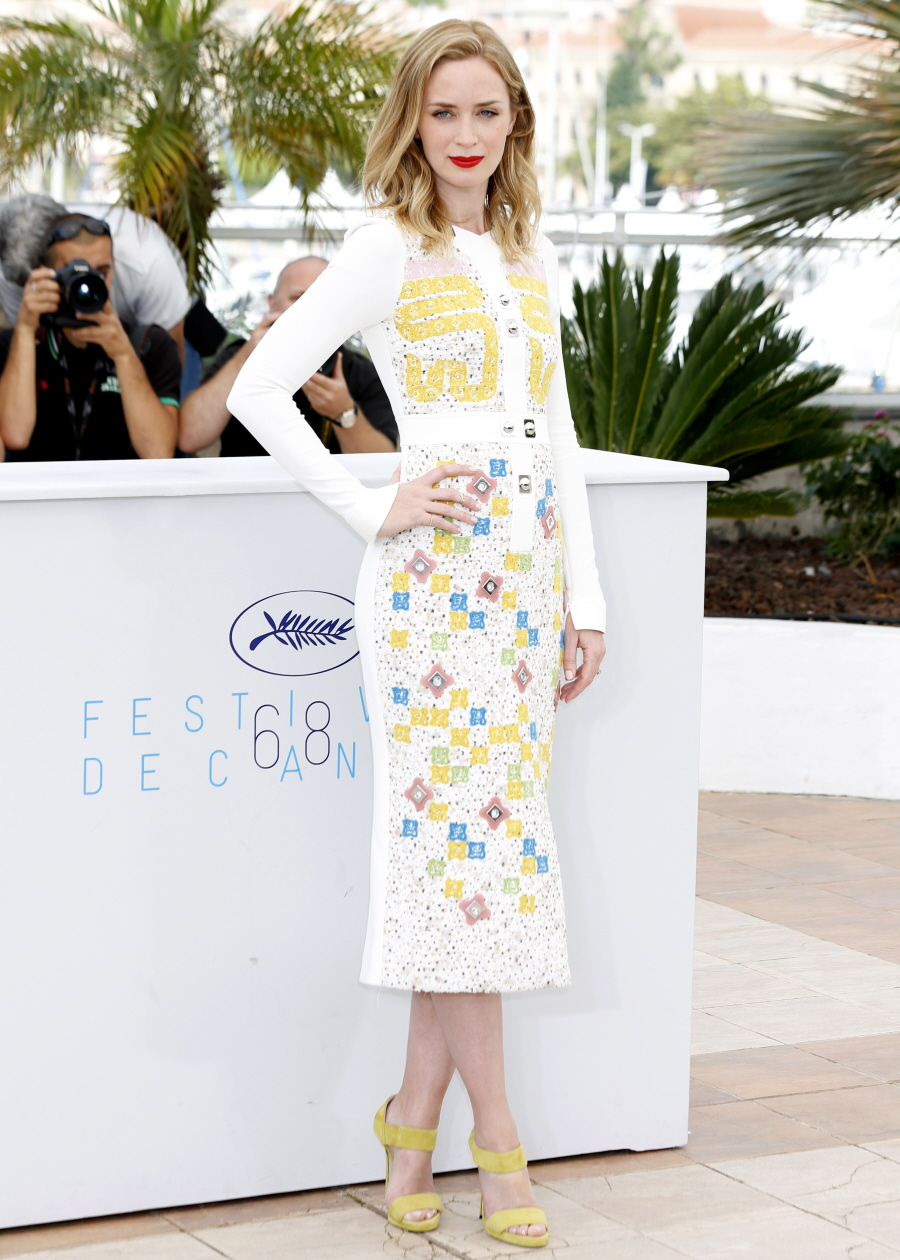 Here are some photos from the Cannes photocall for Sicario, starring Emily Blunt, Josh Brolin and Benicio Del Toro. Blunt wore this pretty, summery Peter Pilotto dress for the photocall. I like it, but that's mostly because I'm relieved to see something summery and season-appropriate at Cannes. Blunt caused a lot of headlines at today's press conference because she chatted about several hot topics. One, she talked about gender equality in films (the studio wanted to make her character into a dude). Two, she talked about Tom Cruise and how pro-woman he is (that's interesting). Three, she talked about how stupid it was for the Cannes Film Festival to ban flats on the red carpet. Did they seriously do that? Some highlighted quotes:
Blunt on working with a lot of dudes: "It's something that I've become quite used to in films. There aren't a ton of chicks around."

In praise of Tom Cruise: "I've actually worked with a lot of great male actors, like Tom Cruise for example. He is very empowering to females in a huge way. I thought [when I got to set], Oh it's going to be a boys club. But he was someone who was very much about my character being a girl. It was refreshing."

Playing strong characters: "I get [told] a lot, 'You play a lot of tough female roles,' but I don't really see them as tough. I think there are plenty of strong women out there and I don't think they can be compartmentalized as being one thing. 'You're tough.' What, because I have a gun? I found [my Sicario] character strangely quite damaged and vulnerable and she is struggling with this role of being a female cop. Certainly, the morally questionable things that she is having to experience with these guys. It's not safe. And you see this girl going through pretty much the worst three days of her life. And she is trying to maintain face through most of it."

The idea of playing a character that could have been male: "I wasn't really thinking about adjusting to making it more masculine. I think [the character] is definitely trying to survive in a male-driven industry. The F.B.I. agents that I spoke to sound like me. They sound like normal girls, and they go home and watch Gosford Park and Downton Abbey. They're great girls. You definitely want to have a beer with them."

The Cannes ban on flats: "I think everyone should wear flats to be honest. We should not wear high heels anyway. That's just my point of view. I prefer wearing converse sneakers. That is very disappointing. You kind of think that there's these new waves of equality and waves of people realizing that women are just as fascinating and interesting to watch and bankable."
Apparently, some women have been turned away from the Cannes red carpet for wearing flats. WHICH IS INSANE. Of all the crazy stuff that's "allowed" on the red carpet, Cannes organizers are taking a stand on… flats? RLY? As for the rest of it… I'm surprised at how she consistently defends Tom Cruise – they worked together on The Edge of Tomorrow and they seemed to genuinely get along. Which just goes to show you, Tom Cruise is definitely a nutburger and a central part of a dangerous cult, but he also inspires a lot of loyalty with his friends.
PS… Josh Brolin apparently just got engaged to his personal assistant. He and Diane Lane divorced a few years back, and I feel like Brolin is a major mess, but we haven't heard much about him lately. So I don't know what to say about it. I bet he's cheating on his fiancée though.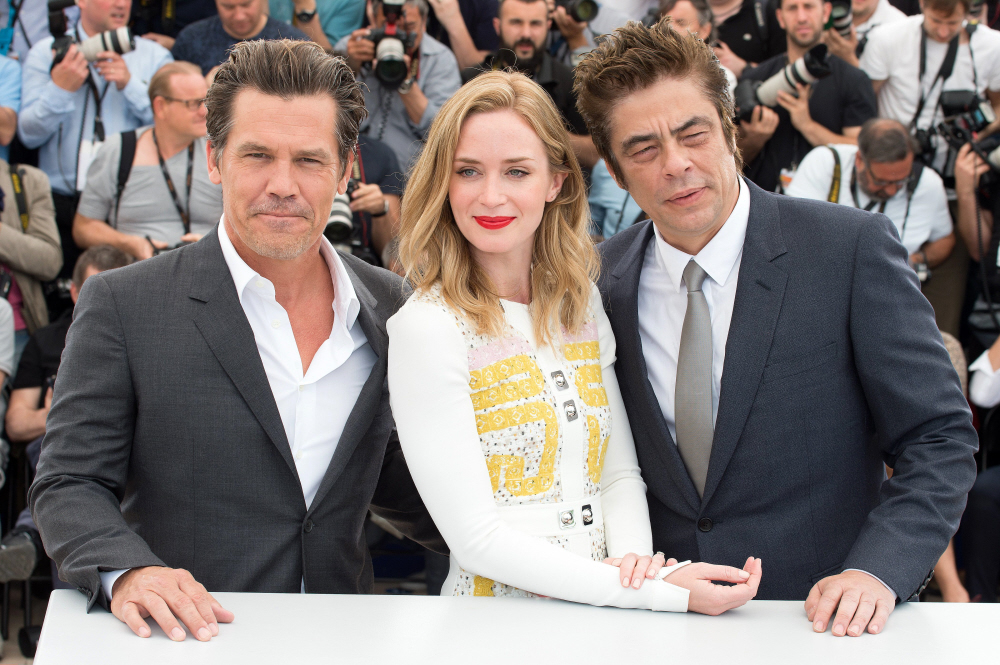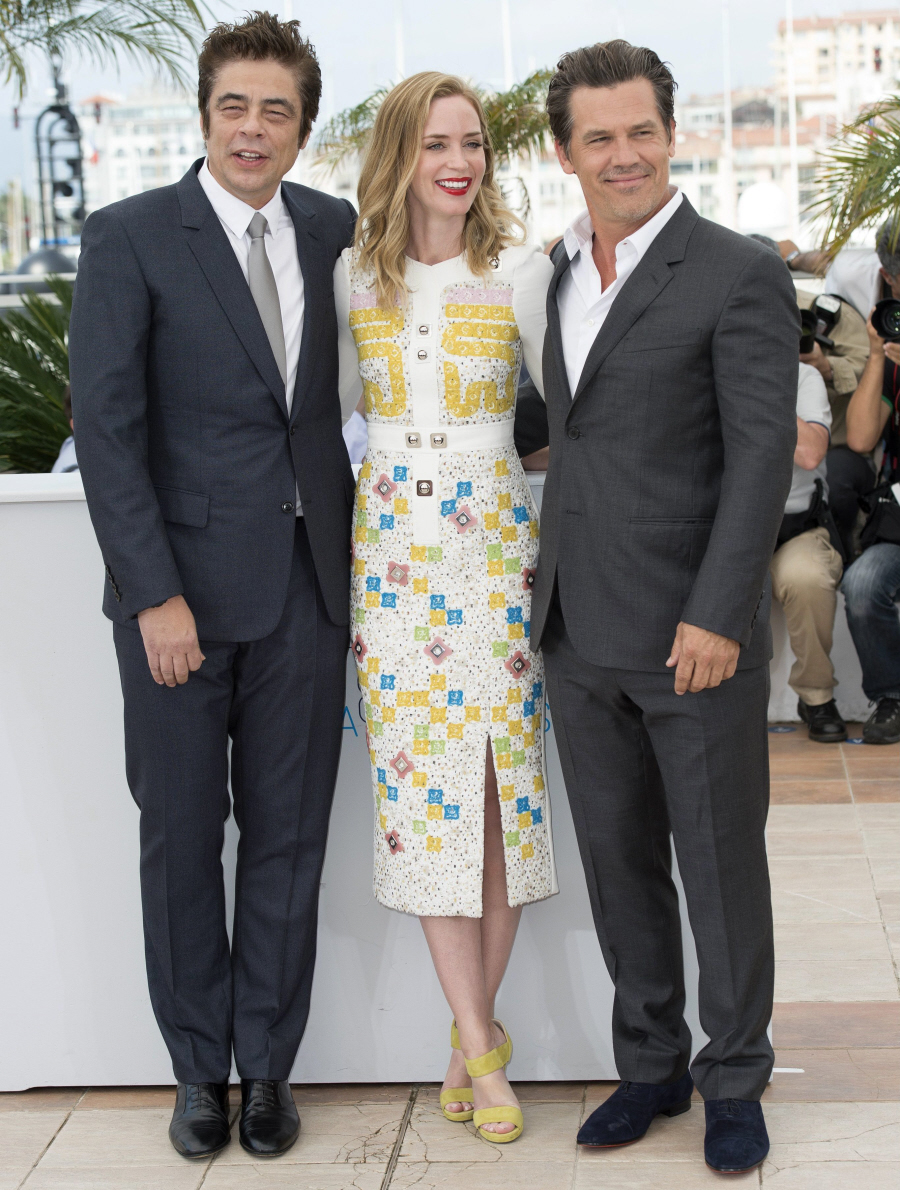 Photos courtesy of WENN.