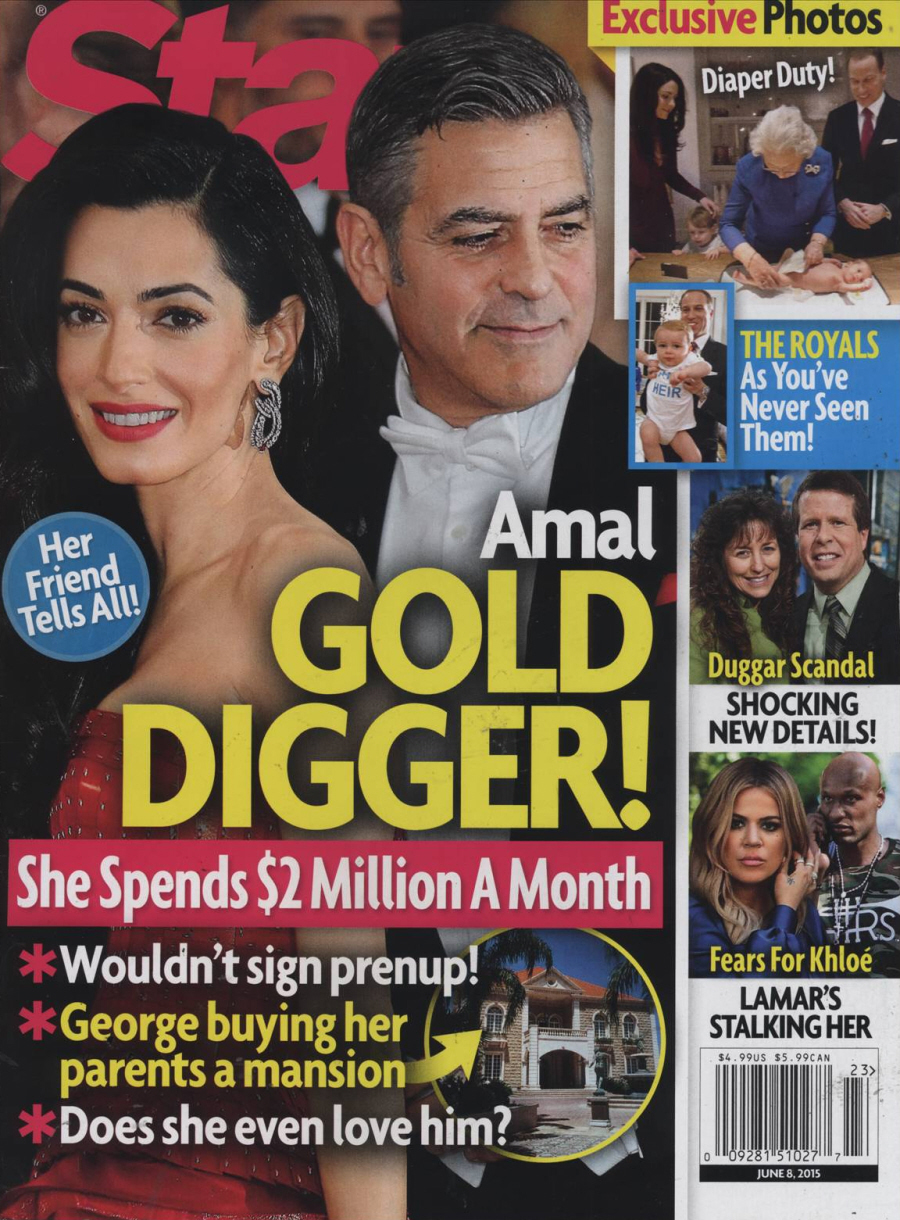 I love this cover so hard. I want to marry this Star cover without a prenup and have a cash-money baby with it. Amal Clooney is a golddigging hussy: yay or nay? Amal refused to sign a prenup! Amal is using George! Amal is forcing George to buy her parents a gold-plated mansion! Amal doesn't even love George! Well, that's one PR campaign that blew up in George Clooney's face. You know what would fix all of this? An Alamooney baby. God, you know that's next. Anyway, some highlights from my favorite Star cover story in months.
George is rich. While Amal was a successful lawyer before she met George, "money truly is no object for him and he lives a magnificent lifestyle." A lifestyle of private jets, mansions and couture fashion!

George's friends question Amal's motives. George is worth $180 million and she didn't sign a pre-nup. "George thinks Amal is the best thing that's ever happened to him and he can't give her enough… his friends just hope he made the right decision and that Amal will make him as happy as he's determined to make her. But some fear she could be a golddigger!"

Amal was withholding. During their brief, six-month courtship, George knew "fairly quickly" that Amal was The One – "he'd never met anyone like Amal, he fell in love right away and for him that's a big deal. But their relationship was very one-sided. Amal was so cautious about committing, he practically had to beg her to marry him!"

Amal didn't expect to marry him. A source says: "The proposal really caught Amal off-guard. She was aware of his reputation as a confirmed bachelor and thought marriage was the last thing on his mind. But she enjoyed living his lifestyle. From day one, George has treated her like a princess, showering her with gifts and flying her around the world."

Amal is a social climber. She comes from a family of prominent intellectuals, but was never wealthy. Star writes: "Many of Amal's friends viewed her as a social climber, which might explain her relentless pursuit of high-profile cases in her law career." A source says: "Amal likes the finer things in life, and all her friends know it. They've said she's only interested in rich men."

Amal settled. "She knew this [marriage] would be the end of any privacy she had, plus George's life is so different from hers. There would have to be a lot of compromises, but ultimately she felt that at 36, she should be settled down with someone."

Amal spends money like water. "Amal regularly spends thousands on designer clothing and accessories, eating at the best restaurants and drinking $500-a-bottle wines." Since the wedding, Amal has been "blowing through a whopping $2 million each month."

Amal is real estate-obsessed. George bought the $15.5 million estate in England for her and she's "been spending tens of thousands remodeling it. Everything is custom-designed and she's picked out rare art pieces that are extremely expensive."

George wants to buy her parents a mansion. He's looking at a $15 million mansion near Beirut to buy for her family as "a gesture of love and respect for Amal's family."

The pre-nup. George apparently brought a pre-nup and "Amal refused to sign George's prenup. And he was so desperate to marry her that he didn't force it." If Amal stays with George for another few years, she could score a major payday in a potential divorce.
[From Star Magazine, print edition]
Obviously, Gossip Cop's "source" says that the entire story is BS. But… I believe some of it. I believe she probably refused to sign a prenup. I believe that she's been spending a crazy amount of money on clothes and mansions. I believe she really, really enjoys George's jet-set lifestyle, just as she enjoys her pap stroll fashion shows and being invited to all of the big events with all of the important people. I also believe she was probably just withholding enough to "catch" George. That's a smart game for a clever girl. When he proposed, she probably hesitated for so long because she couldn't believe her game had worked so well and so fast.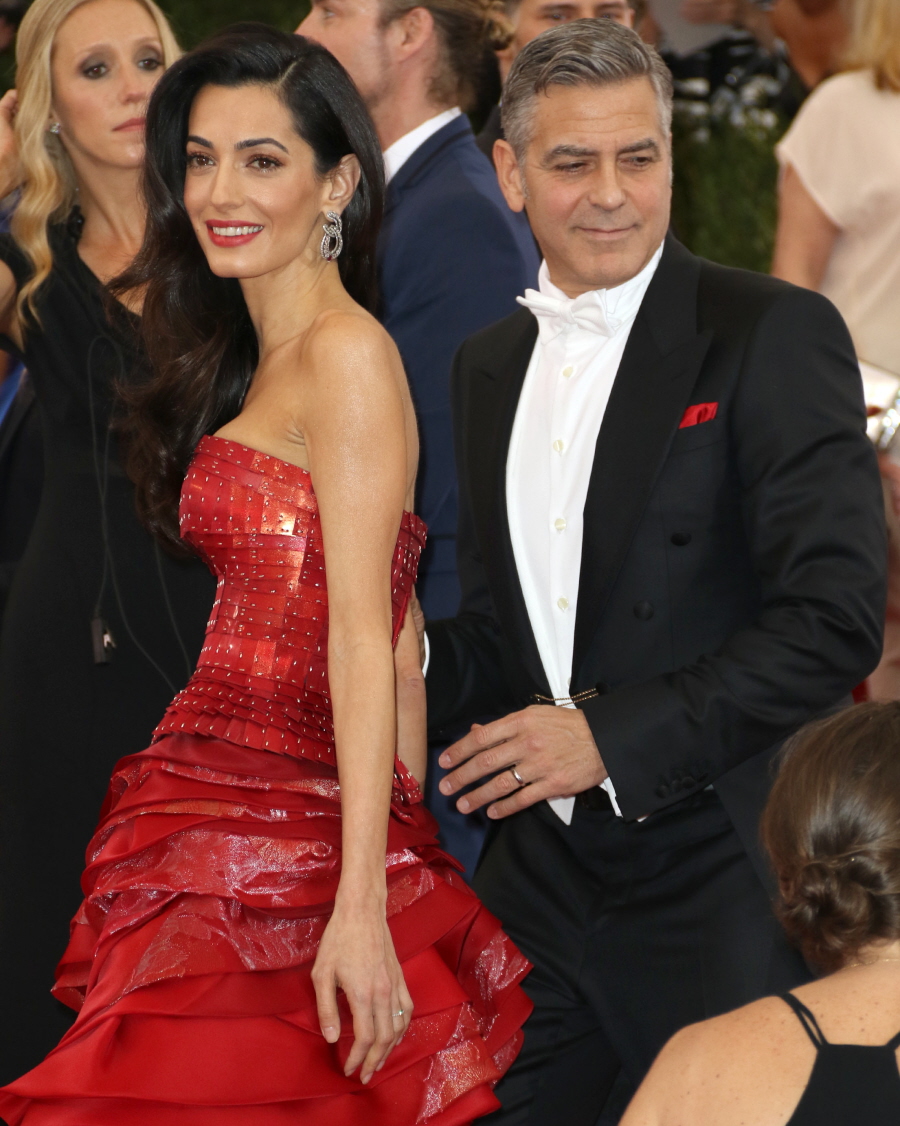 Photos courtesy of Fame/Flynet.