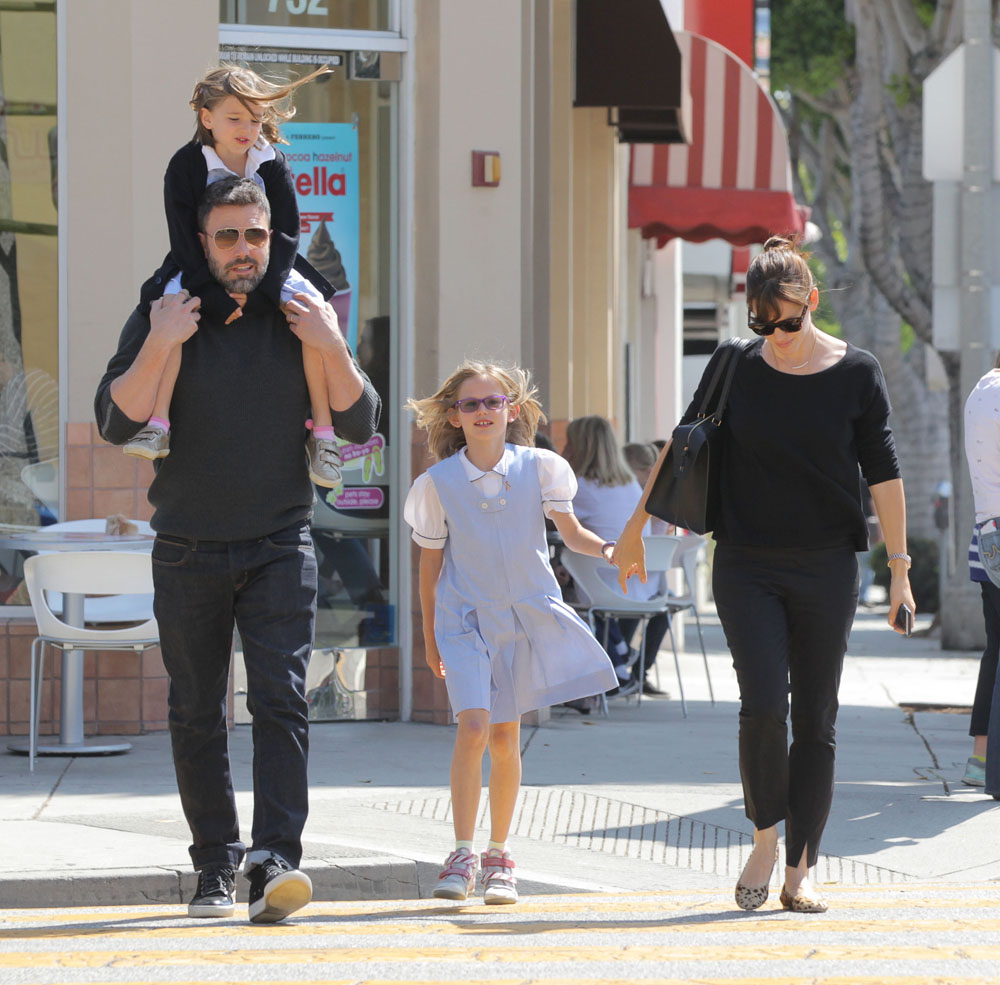 You guys called it. You said that Ben Affleck and Jennifer Garner would do a pap stroll to counter the stories that they're divorcing and you were right. These photos are from yesterday. Multiple outlets had them, so it's somewhat unlikely that they just happened to be caught out. (To be fair, there's always a lot of paparazzi interest in them and it's even more so now.) So does this mean that they aren't divorcing or just that they want to keep up the facade for now?
Earlier this week, Radar claimed that Ben Affleck was planning to announce a divorce from Jennifer Garner just before their tenth anniversary, which is June 29th. That would put Affleck and Garner under the mythical "10 year rule" in California. (There are a lot of misconceptions about the "10 year rule," and the legal interpretation of it may vary. It does not result in indefinite spousal support payments, however there are changes in law that may result in a financial hit to the wealthier party. Here is an article which explains it the simplest.)
Radar's evidence included details that these two had seemingly been apart for over a month, that Affleck has been gambling in Vegas, and that he was spotted in Nova Scotia, Canada, last month around the time of Garner's birthday. In a follow up story, Radar claims that Affleck wasn't even with the mother of his children on Mother's Day and that he was with his mom and brother instead. If this is true, it sounds very bad indeed:
According to an insider, Affleck, 42, opted to spend the holiday with his brother, Casey, and his own mom. Meanwhile, Garner's mother and father flew to L.A. From West Virginia to spend the day with her and her kids.
The more Radar pushes this "Ben Affleck and Jennifer Garner are over" story, the more persuaded I get. Plus, Lainey has a new blind item that pretty much cinches it for me. If you didn't know, Lainey of LaineyGossip is a Canadian entertainment reporter and (unlike other outlets) her blind items often pan out. So when Lainey has Canadian-centric gossip, it's even more convincing. She doesn't name the celebrity in this item, but many people think this is about Ben:
You remember when he turned up in a small, out-of-the-way-of-Hollywood town not too long ago, for no apparent reason? He was trying to go undercover. Because it turns out, he was there with a woman…a very attractive woman… who is not his wife. They were seen holding hands at the hotel. But can you ever really hide? No. Not even out of the country. Not even by the sea. He ended up getting busted by fans and the local media got a hold of it. And the thing is, he told his wife that he was somewhere else. He and his companion have been having an affair for some time…

Of course it's not the first time. He thought it wouldn't get back to her that time in Oklahoma and that didn't work out for him either. His wife forgave him then, as she always does, patiently supporting him as he works through his issues and compulsions. But he can't help himself. When things are going well, he will always find a way to f-ck himself up.
Bedhead pointed out to me that Ben filmed To The Wonder in Oklahoma. Ben was in Cheticamp, Nova Scotia in mid April. Cheticamp is right on the Atlantic Ocean.
Gawker has some analysis as to when Ben and Jen could announce a split. They're basing it on Radar's reporting so this all hinges on whether Radar is correct.
I'm still hoping that this isn't true; that the tabloids are hyping circumstantial evidence to get us through a slow gossip cycle. Maybe there's a grain of truth to it but it doesn't mean that these two have to be over at this point, right? Ben does self sabotage, but Jen puts up with it and I like to think that he's A) not cheating and B) that they'll work it out. These photos of their family outing suggest B) at least.
Here's a photo of Affleck in character as Batman on the Suicide Squad set in Toronto this week. (It's possible some of these shots are of a stunt double, it's hard to tell.) Update: this was Affleck's stunt double. Garner was said to be filming Nine Lives in Montreal, which is a five hour drive or short plane ride away. She's obviously back in LA at this point though, for whatever reason.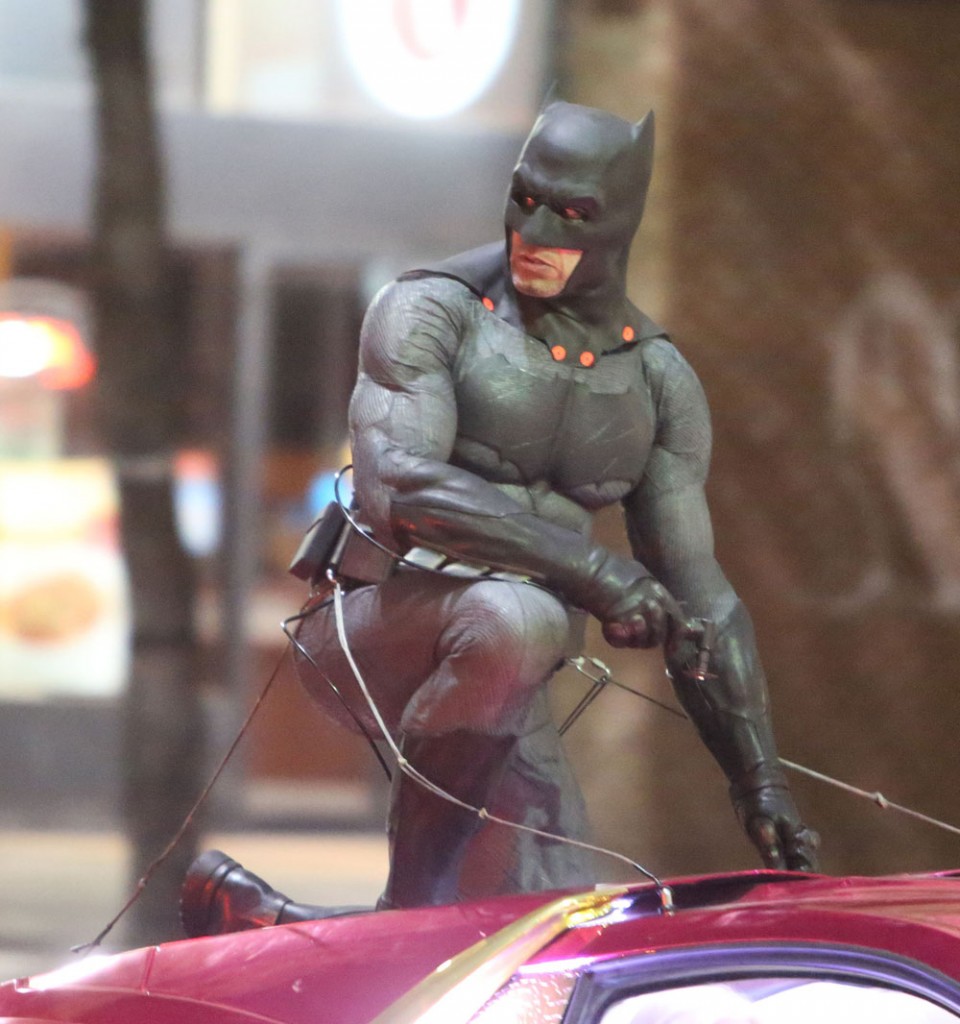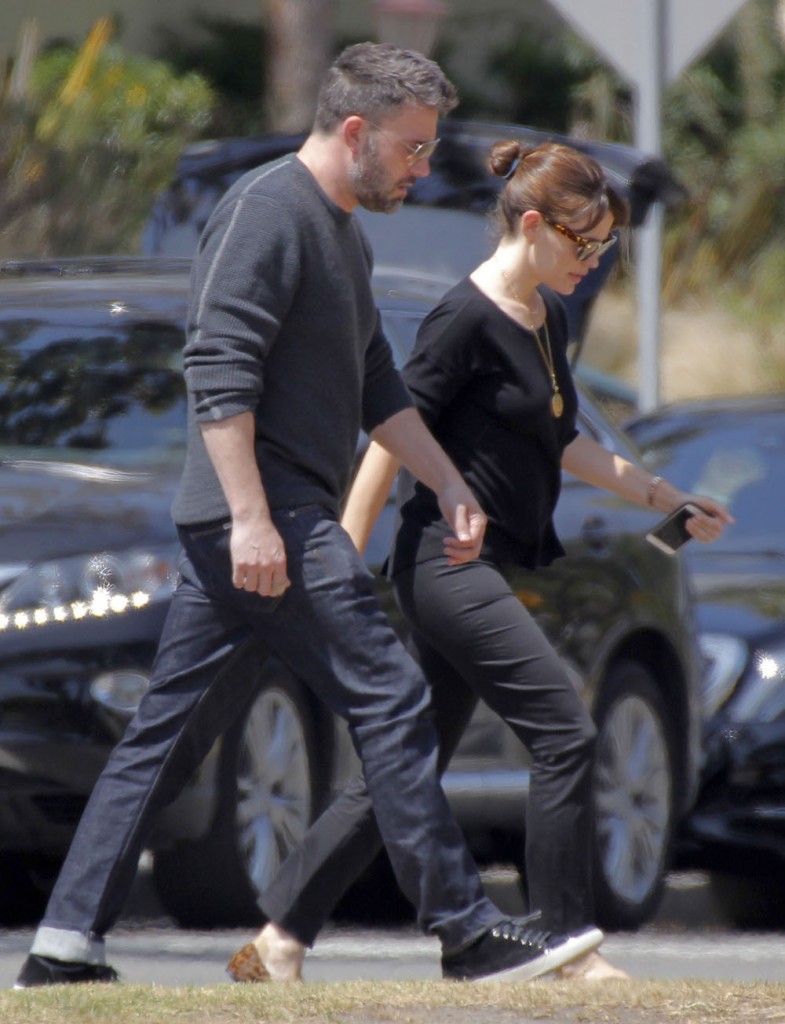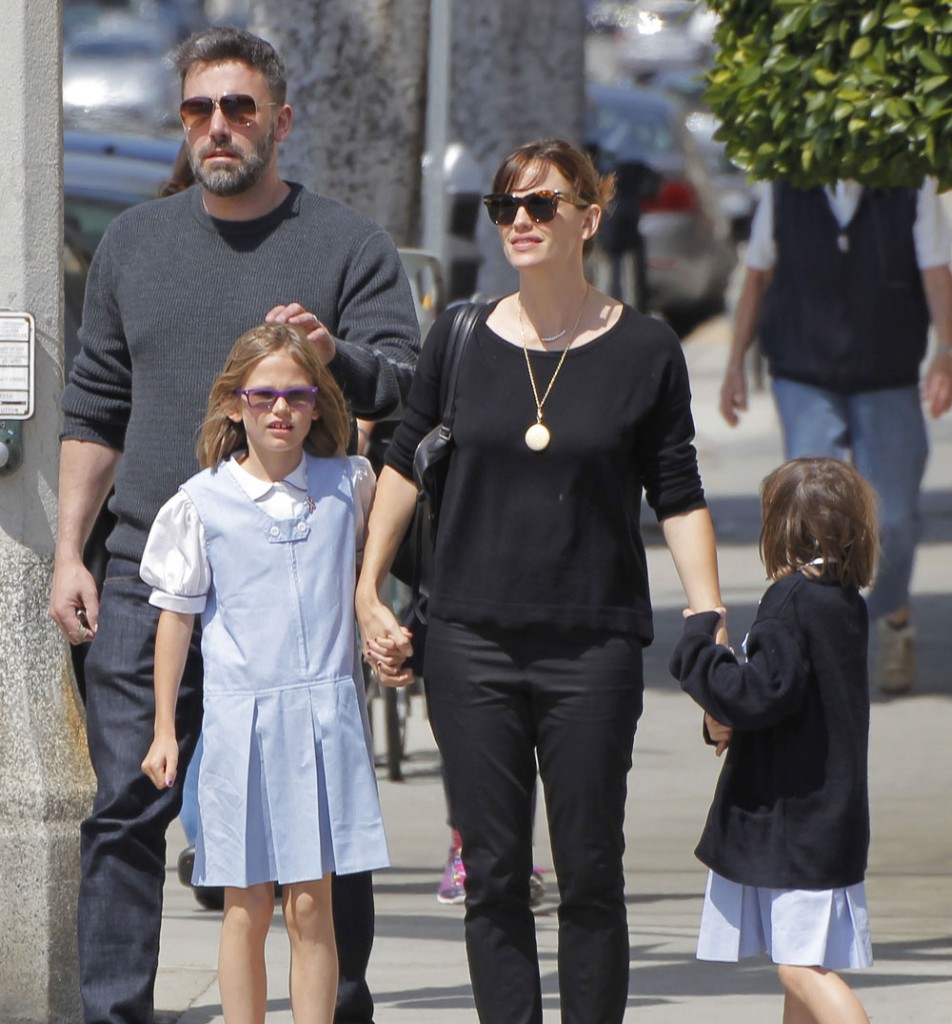 Photo credit: Pacific Coast News and FameFlynet