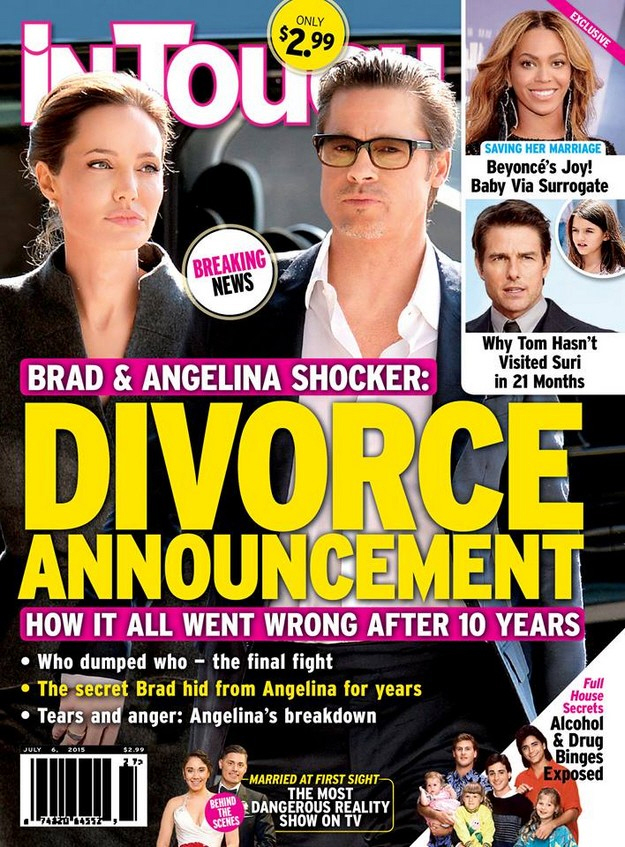 Well, we knew In Touch Weekly's Duggar family exclusives had to come to an end at some point. So when all else fails, why not just say that Brad Pitt and Angelina Jolie are getting a divorce? Sure. In Touch's reasoning for this utterly unconfirmed report is that Angelina brought Shiloh to some refugee camps over the weekend, when I guess Angelina was supposed to bring Brad? Brad is apparently "miserable," which we know because he just won't stop crying, storming out of the house and getting on his motorcycle so the wind will dry his man-tears. Some highlights from In Touch Weekly's cover story:
They once seemed like inseparable soulmates, but unfortunately their time together has run out, claims InTouch Weekly's July 6 issue. The report states that the warning signs were present almost immediately after Brad and Angelina were finally wed in Aug. 2014, starting with their time together on the set of the upcoming film, By The Sea. Sadly, a source claims that Brad and Angelina will "tell the world" they are divorcing by the end of 2015.

Believe it or not, the divorce is reportedly Brad's decision. "He's the one who's calling time on their marriage. He's told Angie they're over, " a source revealed to the magazine. "He's beyond miserable and wants out."

"He says she's controlled him from day one of their relationship," a source shared. "Although he liked her taking charge at first, he's come to resent the power he's allowed her to have over him."

But, don't fret — Brad and Angelina will keep up appearances throughout the year, the report states. Not only do they have a new movie to promote together, but it's possible the film will take them through another awards season. Angelina wrote and directed By the Sea, but they co-produced and co-starred in the film together.

"It's Angie's most personal film, and it means the world to her," a source told the magazine. "She's begged Brad to hang in until after it hopefully is the hit she believes it's going to be. He's reluctantly agreed."

Of course, production has long since wrapped, and In Touch claims the couple has "been trying to get back to a happier place for months, but it hasn't worked." The magazine rattles off a "laundry list of issues," but says "two particularly ugly blowups" happened on a hotel balcony in Australia, and after Pitt confessed to a hot tub dip with another woman.
There's more… Brad and Angelina go "days" without speaking and they've agreed to keep up appearances throughout the year and then quietly split and share custody. Gossip Cop says this is crap, and they didn't even bother to get a denial from "a source close to Brangelina" or whatever. It does feel like Brad and Angelina are probably okay, you know? And I'm personally hoping for lots of loved up displays – perhaps even a joint magazine editorial!!! – this fall as they promote By the Sea. Now, I'm sure By the Sea is going to be a bad movie. It just sounds stupid, and I'm saying that as I polish by Brangeloonie Badge. But I am looking forward to the promotional trail.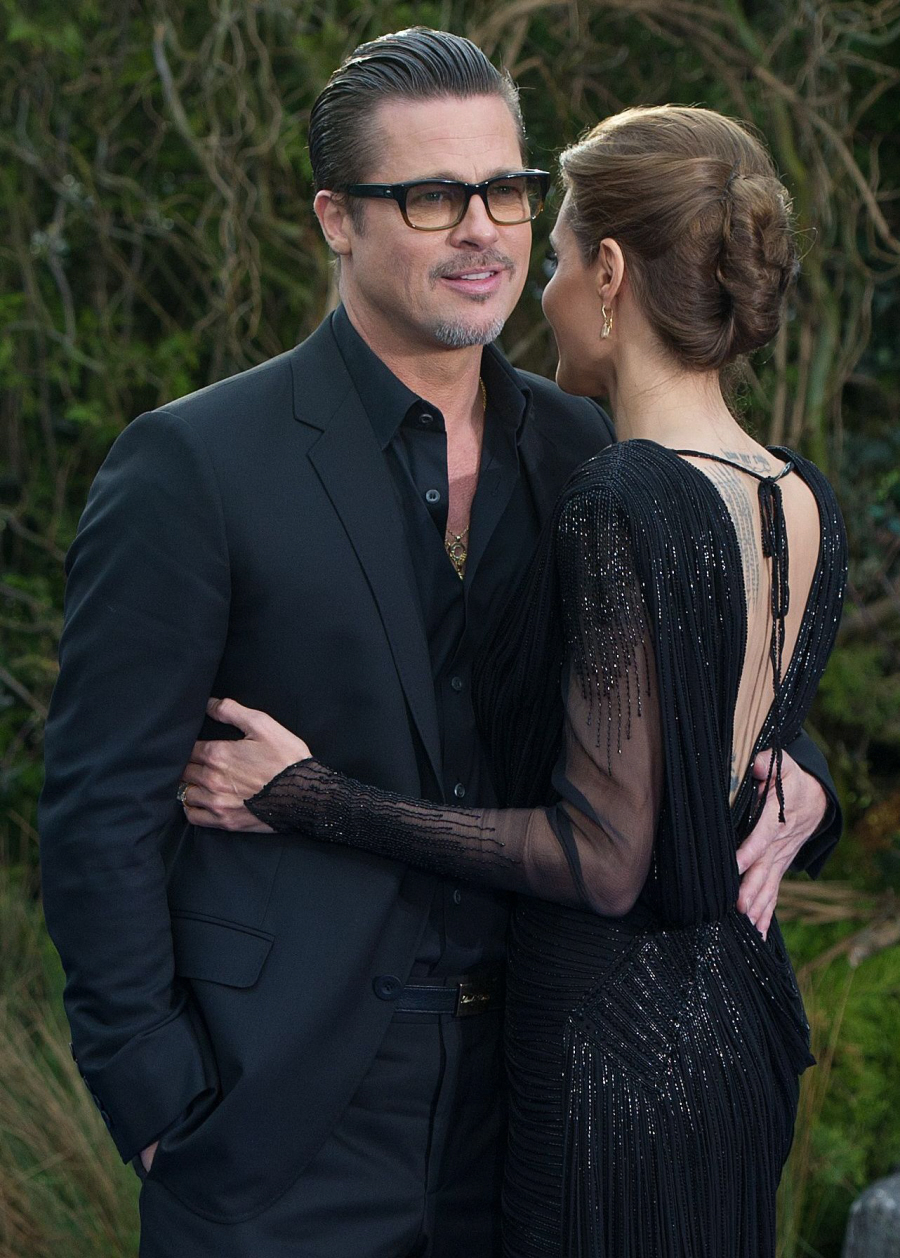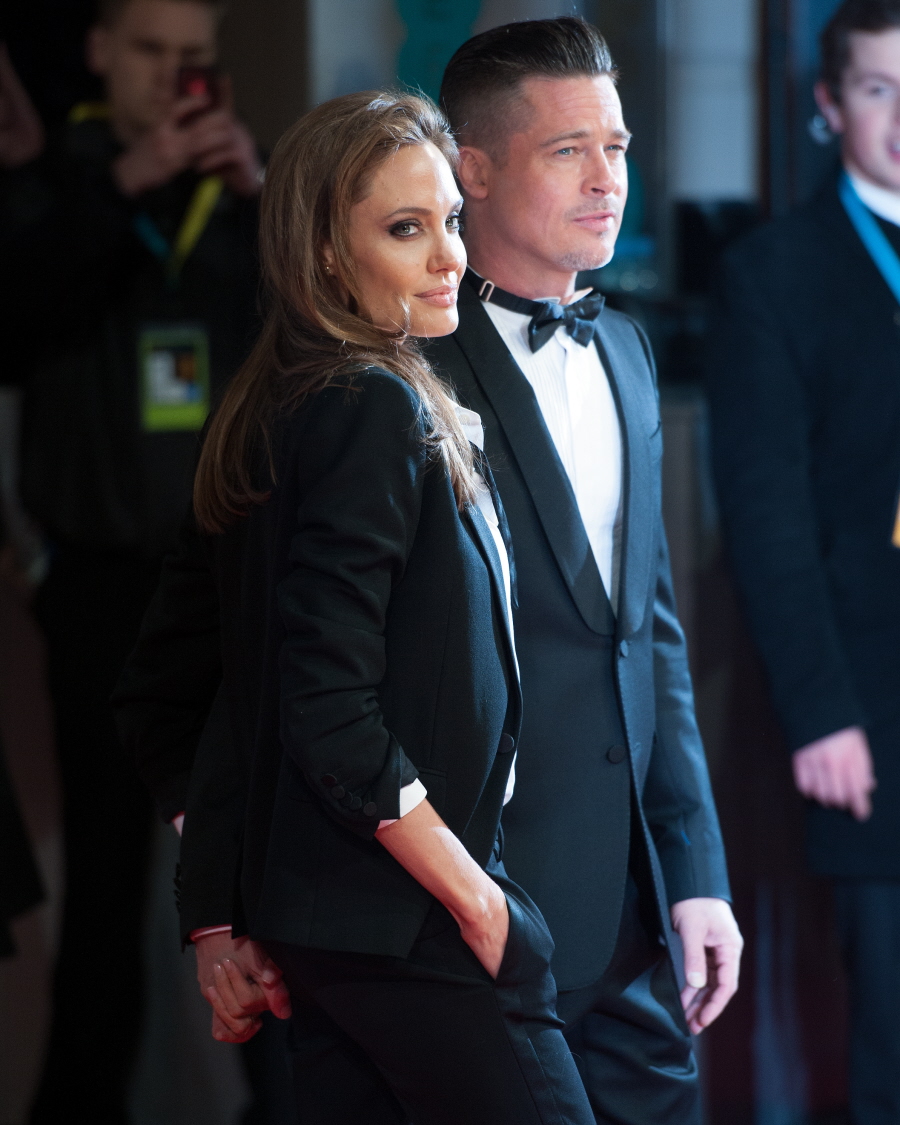 Photos courtesy of WENN.