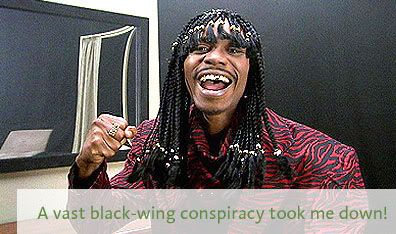 Dave Chappelle claims that he probably won't return to Comedy Central if they show the new material that he shot before his abrupt departure in May:
"I feel like it's kind of a bully move," Chappelle, 32, told the Dayton Daily News, which publishes near his Ohio home. "That's just how I feel about it. I don't know if that's the case. But if people don't watch it, then I'd be more than happy."
For his part, Chappelle is non-committal. Comedy Central of course wants him to return to his wildly successful show:
Not that Chappelle is completely shutting the door on the possibility of his Comedy Central return, as he warns: "I think if they air that stuff, I can't see how I'm going to be able to. That will damage our relationship."
In a statement to the Associated Press, Comedy Central said: "We are still waiting patiently for Dave to return to work, but we know that our viewers are looking forward to seeing the material he produced for the third season."
According to this website, Chappelle wasn't crazy at all, but was pressured by a cabal of powerful African-Americans, including Jesse Jackson, Oprah, and Bill Cosby, to step down. The site was later dismissed as a viral marketing campaign for a Chappelle show writer. I totally believed that shit, though, until I actually did the research for this post.
Update: "Dave Chappelle's Block Party" is supposed to be hilarious.