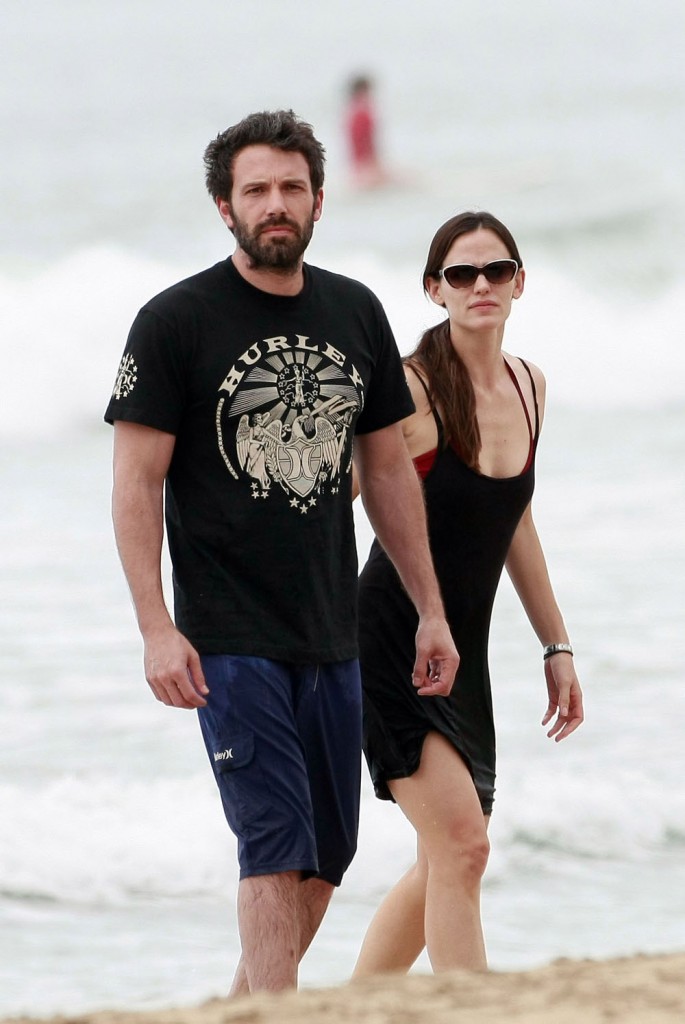 Photo above is from 2011. The photos in question are on People.com
As we've seen for a week now, Ben Affleck and Jennifer Garner are trying to control press coverage of their divorce to an almost absurd level. They're doing a very good to excellent job, don't get me wrong, but they obviously have a team of people parceling out quotes and information to the celebrity outlets. This time, though, they've gone too far. People Magazine has exclusive photos of them on vacation looking tense and breakup-y. Don't mistake these for long lens photos taken by a hidden paparazzo; People has been running exclusive quotes and stories from the Garner-Afflecks all week. This photo op was carefully planned to fit their narrative. (The photos vaguely reminded me of Brad Pitt and Jennifer Aniston's last vacation together in early 2005, but I just checked out those photos again and they're clinging to each other, so it's not the same.)
Here's part of People's report and you can see the photos on People's site. It's super bright out during Ben and Jen's serious talk on the beach but neither of them are wearing sunglasses, which is suspicious to me.
"The family felt it was important to be together and they were together. The family is united and, no matter what, will protect the kids."

Despite the tranquil setting – and their joint decision to prioritize co-parenting their three children – signs of their strained relationship were impossible to hide.

In a moment away from Violet, 9, Seraphina, 6, and Samuel, 3, Affleck – who was still wearing his wedding ring – and Garner sat on stairs to the beach together but had "no physical contact" while having a "serious" and somber conversation that lasted for only a few minutes, an onlooker tells PEOPLE.

Though Affleck, 42, appeared to be "distracted" during the conversation, he and Garner, 43, "seemed to be cordial to each other. They would look at each other and speak and then both look away in silence," the onlooker adds. "A lot of the time, they seemed to just stare off into space."

"These are two people who really tried to save their marriage and worked really hard at it," another source tells PEOPLE of the former couple, who privately separated months before their public announcement and are planning on entering mediation to ease the process of dividing their assets. "Ultimately they had grown apart and they did what was best for their kids."
Meanwhile, US Magazine has another article about this divorce, published yesterday, which mirrors the "Ben doesn't have many friends" story that we heard from People over the weekend. They also have the detail that Jennifer flew to Atlanta with the kids on Sunday to start filming her movie, Miracles from Heaven. Affleck left The Bahamas on Friday to go back to LA. He's due at Comic-Con this weekend to promote Batman v. Superman. Outlets are breathlessly reporting that Affleck is still wearing his wedding ring. (Which wasn't on when he was spotted in Canada a month ago.)
US's source: "Ben is distraught over the divorce and is having a very hard time. He doesn't have a lot of close friends to lean on right now, and Jennifer has always been the one he goes to…

"They've been married for a long time and tried to make it work for many years. They eventually realized this is the best thing to do for their family. They don't want it to be contentious. A lot of people say that, but they are doing things to ensure that it won't be. There is a lot of love there, but they are doing what is best for everybody."
In case you missed the Garner-Affleck talking points, which have already been established: Ben is "distraught," he has no friends "to lean on" (Matt Damon is in China filming now) and he was still wearing his wedding ring last weekend. These two will live on the same property so that they can co-parent and they are putting their children first. I do hope all this is true, I hope that they're going to amicably divorce and that they're going to work together to minimize the impact on their three young kids. As it is, the spin is so strong and heavy-handed. They could have accomplished more with less. I'm wondering if their divorce will take the cover of People this week, or if they're content to just blanket the internet media. A People cover would be the logical next step.
People also ran a report late yesterday on Affleck's solo outing to a Starbucks in LA, where he was seen without his wedding ring. Just stop. Update ET has the exclusive photos of Ben's ringless trip to Starbucks. They describe him as "despondent," because of course.
Photos below are from 2012 (beach in Puerto Rico) and April, 2015 (candids walking). Credit: FameFlynet