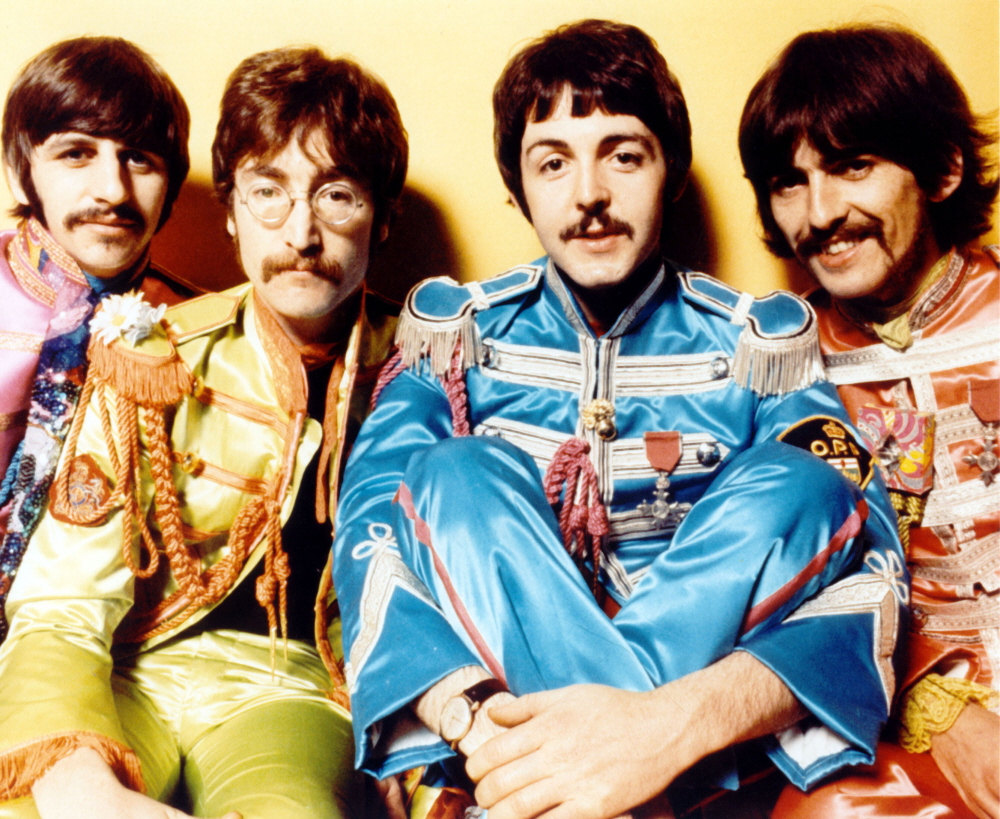 Seriously, you had to be on #AllTheDrugs to think those Sgt. Pepper's costumes were a good idea.
Paul McCartney has a fascinating new interview with Esquire UK. I'll admit this flat-out – I spent many years obsessed with the Beatles. I read a lot of biographies about them, their music, their ladies and Brian Epstein and while I am by no means a Beatles expert, I am a Beatles obsessive. My take? John was the temperamental genius, George was the beautiful soul, Ringo was the glue that held them together and Paul was the businessman. I think Paul was and is a great songwriter, but his best years as a vocalist and songwriter were absolutely when he had George, John and Ringo to balance him out. Why are we talking about this? Because in Paul's new Esquire interview, he talked about John and the mythology and revisionist history around John's musical legacy. It's fascinating, quite honestly. You can read the full piece here and if you have 20-30 minutes, I would highly recommend it. Paul rarely gives these kinds of in-depth interviews, especially about the 1960s. Some highlights:
Whether the '60s were a "classless society": "No. I think it helped towards that. There was a very good period of hanging with anyone: musicians, painters, aristocrats, playwrights. Didn't matter, really. I liked that about it. But I think ultimately the nobs still stayed on top. As long as Eton and Harrow are still there that'll always be so.

Getting knighted, crushing on the Queen: "With the knighthood, you have to consider whether you're going to accept it or not. Someone said, "There's a certain cachet in turning it down, you know?" I went [exasperated], "I know, I've read a bit, you know?" I was thinking, "Oh God, what do you do?" Then I saw Bobby Charlton. And his attitude was, "I'm really proud to be British." And I thought, "That's the one." So, I just said I'm proud to accept it. I like the Queen. When we grew up she was a babe. Oh, yeah. We were like 11, she was 21 and good looking. And she had a figure on her. I shouldn't say this about Her Majesty but we, as schoolboys, we said, "Look at the f–kin' heave on her!…I say it regularly in the press hoping she'll read it. Listen, she was a very pretty girl. Look at the old photos. We definitely admired her physical attributes."

The martyrdom of John: "The Beatles split up and we were sort of all equal. George did his record, John did his, I did mine, Ringo did his. It was as we were during the Beatles' times. We were equal. When John got shot, aside from the pure horror of it, the lingering thing was, OK, well now John's a martyr. A JFK. So what happened was, I started to get frustrated because people started to say, "Well, he was The Beatles." And me, George and Ringo would go, "Er, hang on. It's only a year ago we were all equal-ish." Yeah, John was the witty one, sure. John did a lot of great work, yeah. And post-Beatles he did more great work, but he also did a lot of not-great work. Now the fact that he's now martyred has elevated him to a James Dean, and beyond. So whilst I didn't mind that – I agreed with it – I understood that now there was going to be revisionism. It was going to be: John was the one. That was basically the thing. And when I would talk to mates they'd say, "Don't worry. People know [the truth]. It's OK, they know what you did." But then strange things would happen. Like Yoko would appear in the press, and I'd read it, and it said [comedy Yoko accent], "Paul did nothing! All he did was book the studio…" Like, "F–k you, darling! Hang on! All I did was book the f–king studio?" Well, OK, now people know that's not true. But that was just part of it. There was a lot of revisionism: John did this, John did that. I mean, if you just pull out all his great stuff and then stack it up against my not-so-great stuff, it's an easy case to make.

Wanting to eliminate the "Lennon/McCartney" songwriting credit: "Well, what happened was there was a backlash from people who didn't see where I was coming from. "Dancing on a dead man's grave" was one of the phrases that came up. "What a bighead!" "Why does he want his name in front of John's?" But it was nothing to do with bighead. It's just to do with identifying who wrote what. John did a really good Playboy interview where he did that: "This is mine, this is Paul's." So I thought, "Just use that! John said it!" I thought that was perfectly reasonable and I still do, by the way. But I don't think it's achievable for some reason…. So, at the risk of seeming like… I tell you what, if John was here he would definitely say that's OK. Because he didn't give a damn. It wasn't anything that worried him. But I've given up on it. Suffice to say. In case it seems like I'm trying to do something to John."
There's an even lengthier block of quotes about the Lennon/McCartney songwriting credits and how Paul simply wanted to change the order to McCartney/Lennon on songs Paul wrote himself, or with very little involvement from John. But he says Yoko always blocked him and he's spent decades trying not to care. As for the martyrdom of John Lennon, I understand where he's coming from. If there's one thing this interview proves, it's that Paul has an excellent memory and he remembers all of John, the good, the bad and the ugly. To Paul, John is not Jesus with a guitar, John was just his friend/frenemy.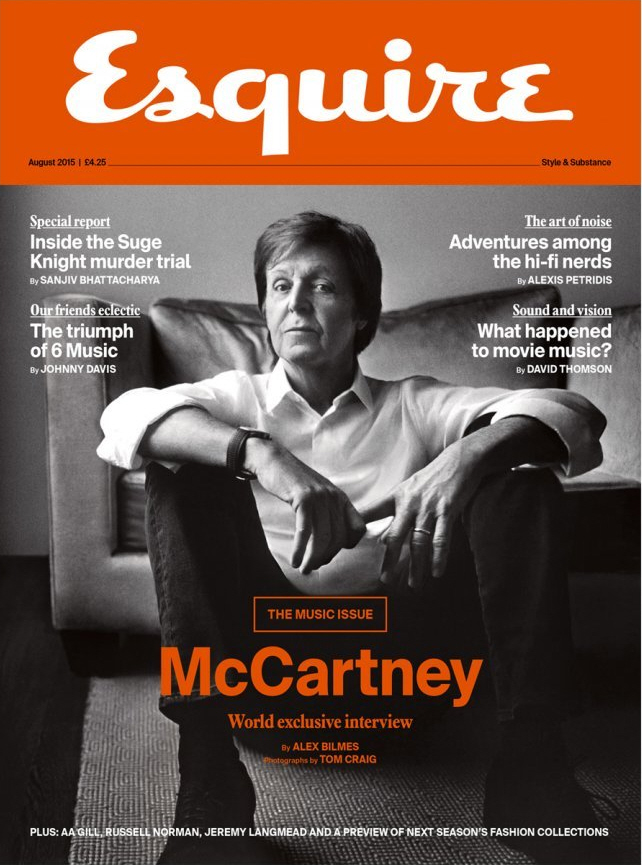 Photos courtesy of WENN, Esquire.
[gallery