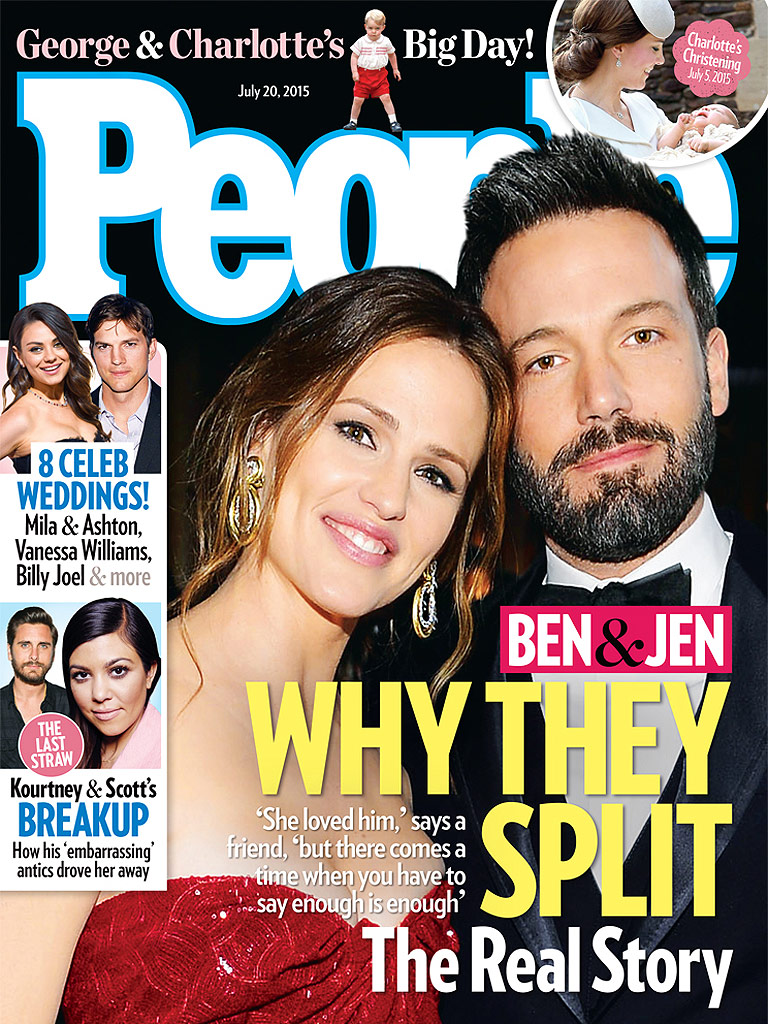 Ben Affleck and Jennifer Garner's divorce covers People Magazine, as I predicted yesterday. (It was a no-brainer, but buy me a drink or something.) Their divorce also takes the cover of US Magazine, which had an exclusive on their marital problems about three weeks ago. The magazines are taking slightly different approaches to spinning their relationship issues, which seems totally calculated and planned out by media experts. This story will focus on People Magazine's coverage, which is a more sanitized version as we've seen to date. We'll cover US Magazine's revelations in another post.
People emphasizes the "soft issues" (as opposed to the specifics) as we've seen in their exhaustive coverage. They ran three stories yesterday, six stories on Monday, and this one story today (so far, there will be more) on the cover. Every one of the near constant articles has these talking points: the kids are their priority, they tried for years to make it work, and they're going to keep the divorce amicable. It's a good strategy but it's such a heavy-handed and transparent one. They're so regular and predictable with the PR spin that everyone is noticing. Reader Frosty sent us this article from NY Mag's The Cut in which a publicity expert explains how celebrity divorces are handled. TL;DR it's all orchestrated to a T.
Here's some of People's story, which claims initially that Ben told Jennifer she wanted out. She's said to have fought for the relationship but to have eventually given in, which sounds about right. Then they backtrack and state that the split may have been "mutual". Mutual in that Jennifer finally threw in the towel. Also, there's a little jab at Jennifer in there. See if you can spot it.
"They have both been very open about their marriage struggles," one friend tells PEOPLE in this week's cover story. This split, says another pal, "was inevitable. If there's any surprise, it's how long it took to happen."

So what was the breaking point? According to a longtime friend of the actress, Affleck recently came to Garner "and told her he had not been committed to the marriage within the past few years," her friend says. "Jen is a fighter. She would not give up unless there was a good reason."

Several sources close to Garner also say that allegations of infidelity (which Affleck vehemently denies) and other troubling behavior, including drinking and gambling, took their toll on the marriage. "She loved Ben," says another close friend. "But there comes a time when you have to say enough is enough and take care of yourself."

Other sources insist the split was mutual. "Saying he's a bad father and a husband is an easy story, and everyone has wanted to clock him as a womanizer and gambler," says a source close to both. "He couldn't deal with her expectations. When you're told you're not good enough, you start to believe it…

Friends agree the two will remain united when it comes to co-parenting their three kids, Violet, 9, Seraphina, 6, and Sam, 3, who are currently with Garner.

"It's nice to at least try to move in a positive direction with your life," says the source close to the couple. "It's not happy, it's not easy, but it's nice to look forward."
Do you see how People is hedging and not committing to a single side of the story? Did Ben tell Jennifer he wanted out because she was a nag? "He couldn't deal with her expectations." Are both of their PR people warring over the information that gets out there?
There are photos below of Ben at an airport in LA yesterday boarding a private plane to fly to Atlanta, where Jennifer is filming. Other photos, exclusives from agencies we don't subscribe to, have come out of both Ben and Jennifer post-split and post breakup vacation. Ben was seen out at Starbucks without his wedding ring. He looks haggard and like he's gained 20 pounds overnight. (I'm not trying to body shame, that's just what he looks like to me and I don't know how else to explain it.) Oh and he has a newish-looking tattoo on his lower back, like a dude tramp stamp. So dumb, but I have a couple from 20 years ago so I shouldn't talk.
Many of you have mentioned Lainey's blind item, which seems to indicate that Ben could have a problem with medication or drugs. Blind items are blind for a reason. As much as I respect and admire Lainey (she's a kick ass gossip and an insightful writer), we don't know her source for that story or even if that BI is referring to Ben. Whatever is going on with him, he looks like he's miserable. He's an actor, though, and he wants us to think he's miserable. We've heard it 15 different ways from all the outlets that his press team is working with.
Jennifer, on the other hand, looks like she's doing just fine. She was spotted on the Atlanta set of her surely schmaltzy movie in production, Miracles from Heaven. She was wearing her wedding ring, although she's filming a movie and I don't know if we can infer much from that. She also has lighter hair, presumably for the role.
We'll talk about the US Magazine cover in a moment.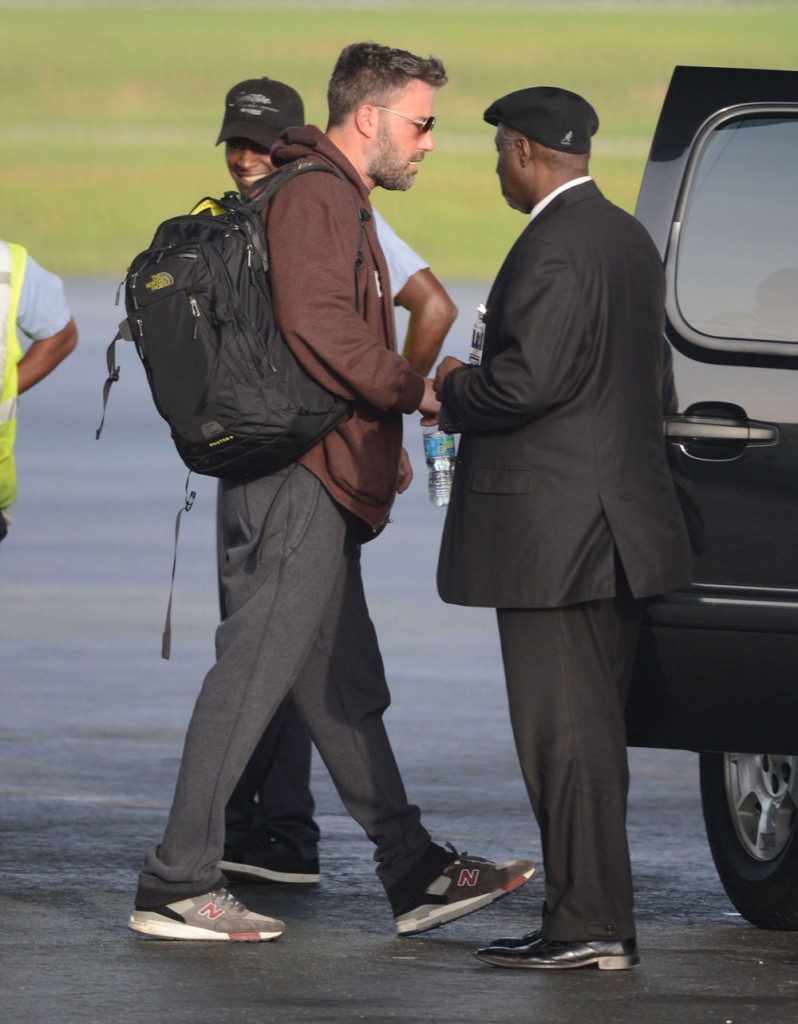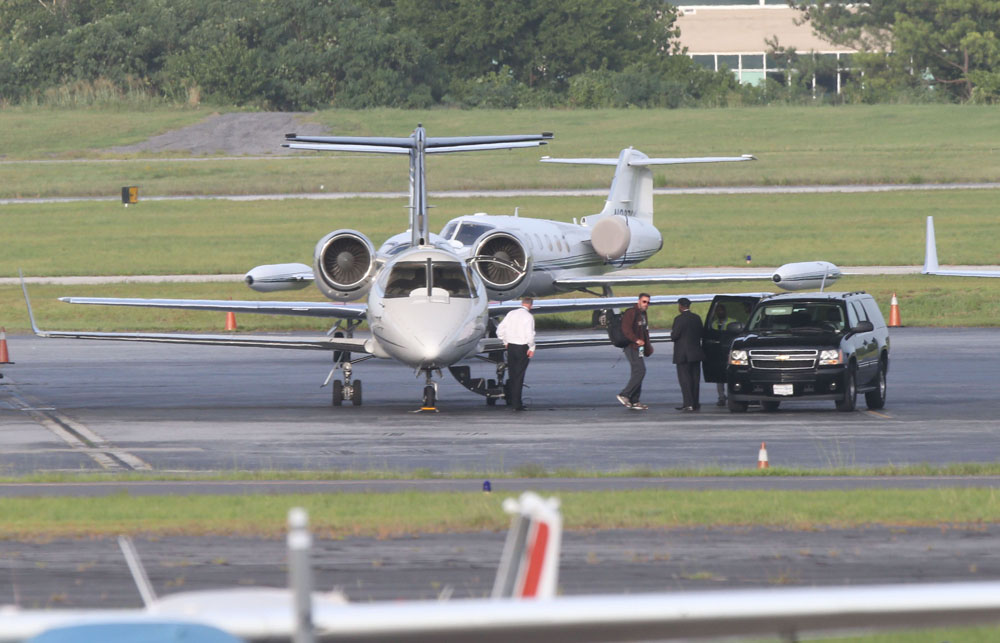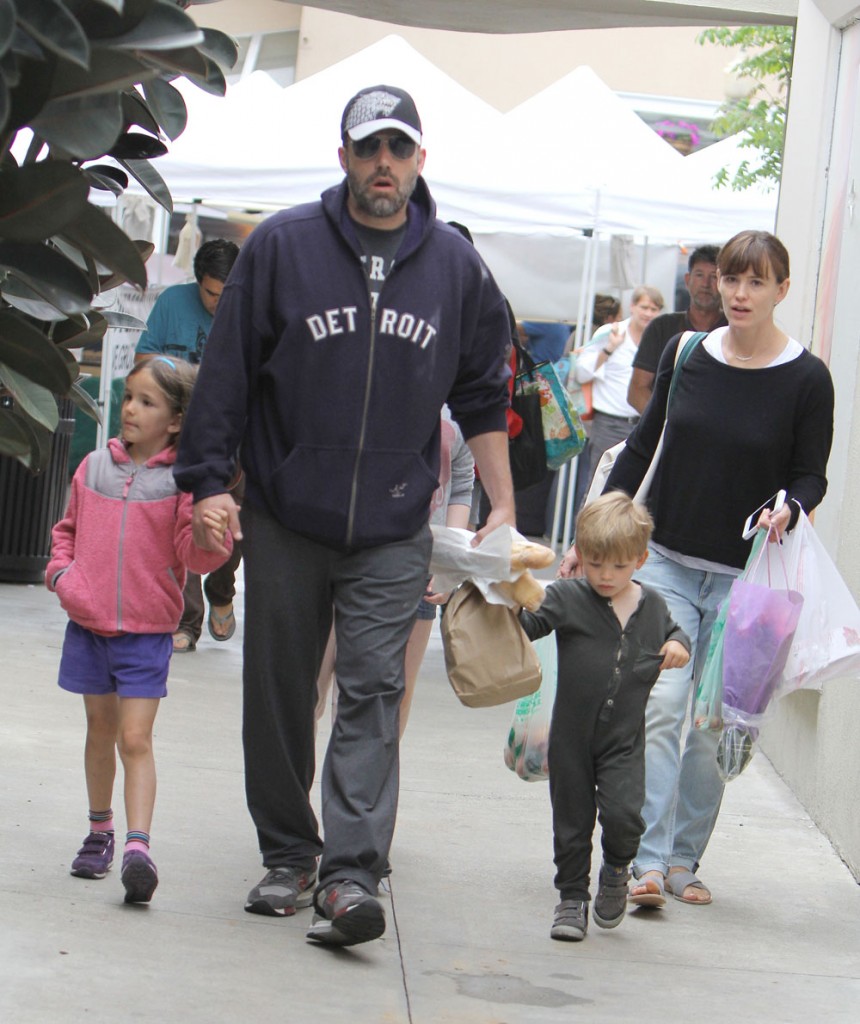 Photo credit: FameFlynet