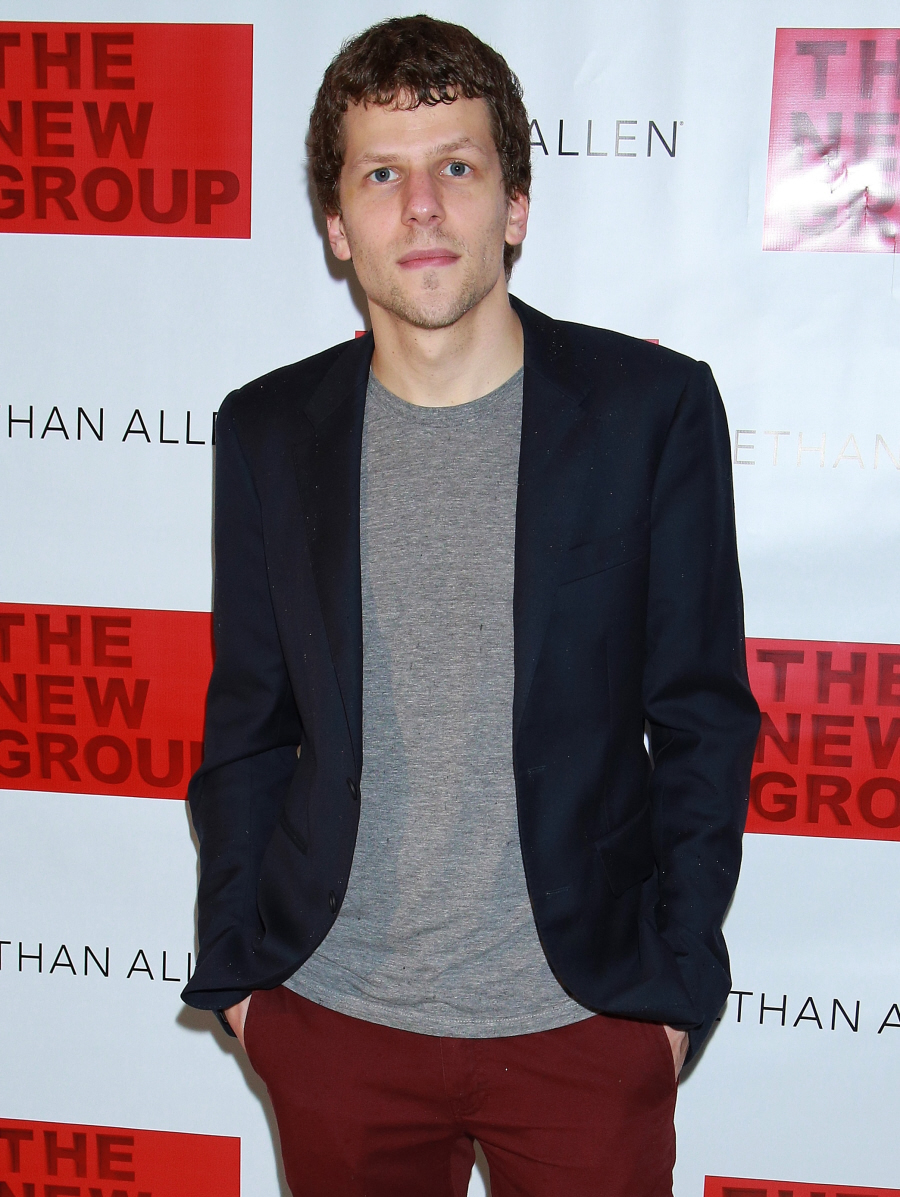 When I saw Jesse Eisenberg in the trailer for American Ultra, I thought "wow, thank God he's finally doing something lighter and somewhat silly." When I saw Eisenberg in the Batman v. Superman trailer (he plays Lex Luthor), I thought "wow, he might be able to do justice to a menacing cartoon villain." My point? I want to root for Jesse Eisenberg. I think he's talented and before today, I always thought he had gotten a bad reputation in the press because he's not a game-playing famewhore like most of the actors in his generation. But now… ugh, I'm not sure. Jesse was at Comic-Con over the weekend and he did not enjoy the experience. Instead of just shrugging it off and saying, "Hey, it's not my cup of tea but it's part of the job," Eisenberg mouthed off to a media outlet about how the experience of Comic-Con was like "some kind of genocide." Really?
Jesse Eisenberg's Comic-Con experience apparently wasn't a joy. Eisenberg, who plays Lex Luthor in the upcoming "Batman v. Superman," was at the massive San Diego convention last week with co-stars Ben Affleck and Henry Cavill. In an interview Monday, he was decidedly negative about the experience.

"It is like being screamed at by thousands of people. I don't know what the experience is throughout history, probably some kind of genocide. I can't think of anything that's equivalent," he said.

Eisenberg spoke at the premiere of "End of the Tour," with Jason Segel, about the release of David Foster Wallace's novel "Infinite Jest." Segel plays Wallace, while Eisenberg plays journalist David Lipsky.

"Yes I have never been on the other side, on your side of journalism. I have normally been the victim so I worked with the guy who I play, I play a real person, David Lipsky," he said. "I interviewed him. He taught me how to interview and what his process is like and now I understand the pariahs that you guys are."
So not only does he say that a fan convention of almost all harmless nerds and fans is like SOME KIND OF GENOCIDE, but he's also calling all journalists "pariahs." And he's the "victim"? Well, let me add some kindling to his martyr complex: reading his words is like the Holocaust. His terrible attitude is like pedophilia. His sh-tty personality is like the death of the sun. And to those of you who like to play devil's advocate – I can already feel the "it's just hyperbole, you're being mean!" arguments happening – who really says that Comic-Con is like SOME KIND OF GENOCIDE as hyperbole?
Here are some photos of Jesse facing down the genocidal fans at Comic-Con:
Photos courtesy of WENN, Getty.