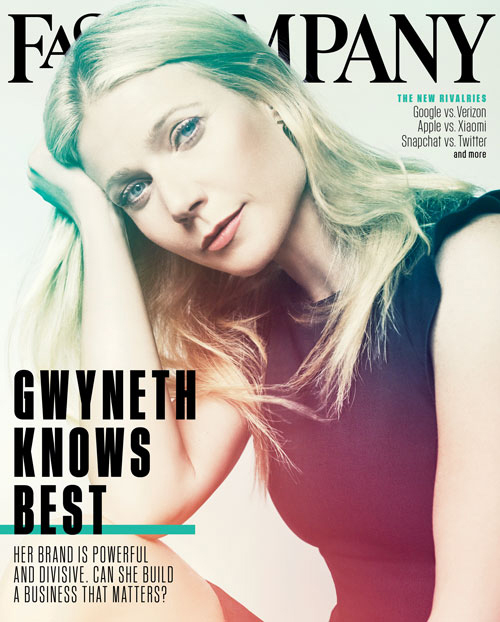 Gwyneth Paltrow has a surprisingly good profile in the new issue of Fast Company. The article is mostly about how she has grown and will continue to grow her Goop brand, her plans for the future and why it's a good thing that everyone nitpicks her Goop posts and pseudoscience. There are some interesting smaller details, like… did you know that Gwyneth hates the color brown? She HATES brown. She doesn't want anything brown to be featured on her site. But she loves a particular shade of gray called "Goop gray." You can read the full profile here. Some highlights:
How Goop started: "Like many other things in my life. I sort of found myself in the middle of doing them before I really understood how I got there. It was the same with my movie career, or my cookbooks."

Idiot savant Goop? "I think it was a lot of idiot savant-ness… I really wasn't aware, from a trending perspective, where the Internet was going, or what was going to ­happen—that newsletters would become something that ­everybody did. I sort of just got lucky."

Building the business side of Goop: "It wasn't until Goop started getting a lot of traction in terms of moving tons of product for other people, like hundreds and hundreds of thousands of dollars of product, and millions of dollars of product for other brands, that I started to think, You know, there might be more of a business here," Paltrow says. In 2012, the company made approximately $1.5 million in revenue, though it ended the year about $40,000 away from actually turning a profit and also carried about $1.2 million in debt, according to financial documents filed with Companies House in the U.K. (By the end of 2013, the company carried $1.7 million in debt.)

Her main job: "I'm at Goop every day. It's my main job. I've made commitments to people and I've taken their money, so I'm going do everything in my power to make sure that the brand scales."

She's not leaving Hollywood though: "I'm a big believer in the ampersand. I don't see it as I'm leaving something behind, I see it as this year I probably won't make a movie or I probably won't do a TV show or a play, and I'll focus on the business. It's our tendency to want to put women in one little category. That's where we like them."

Conscious uncoupling: Goop's editorial director Elise Loehnen titled Gwyneth's separation announcement "Conscious Uncoupling." Gwyneth says: "When I announced that I was separating on the website, [Loehnen] titled the piece 'Conscious Uncoupling' and I had no idea… When something like that happens, I think everybody is like, 'Oh, sh-t.' I just tell them that I think we are creating interesting discussions."

Loehnen also wrote about vaginal-steaming piece. "This is a thousands-of-years-old practice in Korean spas," Gwyneth says. (Loehnen stands by the recommendation, too. "It feels good, it's not ­harmful—it's not like we're urging people to go out and buy AK-47s," she says.)

Creating the brand: "You can put a lot of people in a room who have strategy, money, experience in marketing and say we want to do something and this is how we're going to do it, but it's actually a tricky thing to create a real brand. I feel grateful that I started sort of unwittingly with a brand."

She loves controversy: "I always like it when there's a big response to something because it tells me, 'Oh we've touched a nerve here, this is really interesting.' There are a lot of media companies that would die to have the kind of response that we get from our content."
So Gwyneth didn't even write about vadge steaming but she loved the controversy over it. That just shows you, as much as she's bitched about being misunderstood in the past, she enjoys being a pop culture troll. She loves the controversy because it makes money. Gwyneth also says at one point in this interview: "I do think a lot of the misperception comes from people who haven't actually gone on the site, because a lot of the things you see or hear, we're like, 'We never said that, never wrote that, that's not the price point, or this was totally out of context.'" Except not really. We actually are reading Goop and we just think she's an elitist, peasant-hating jackass.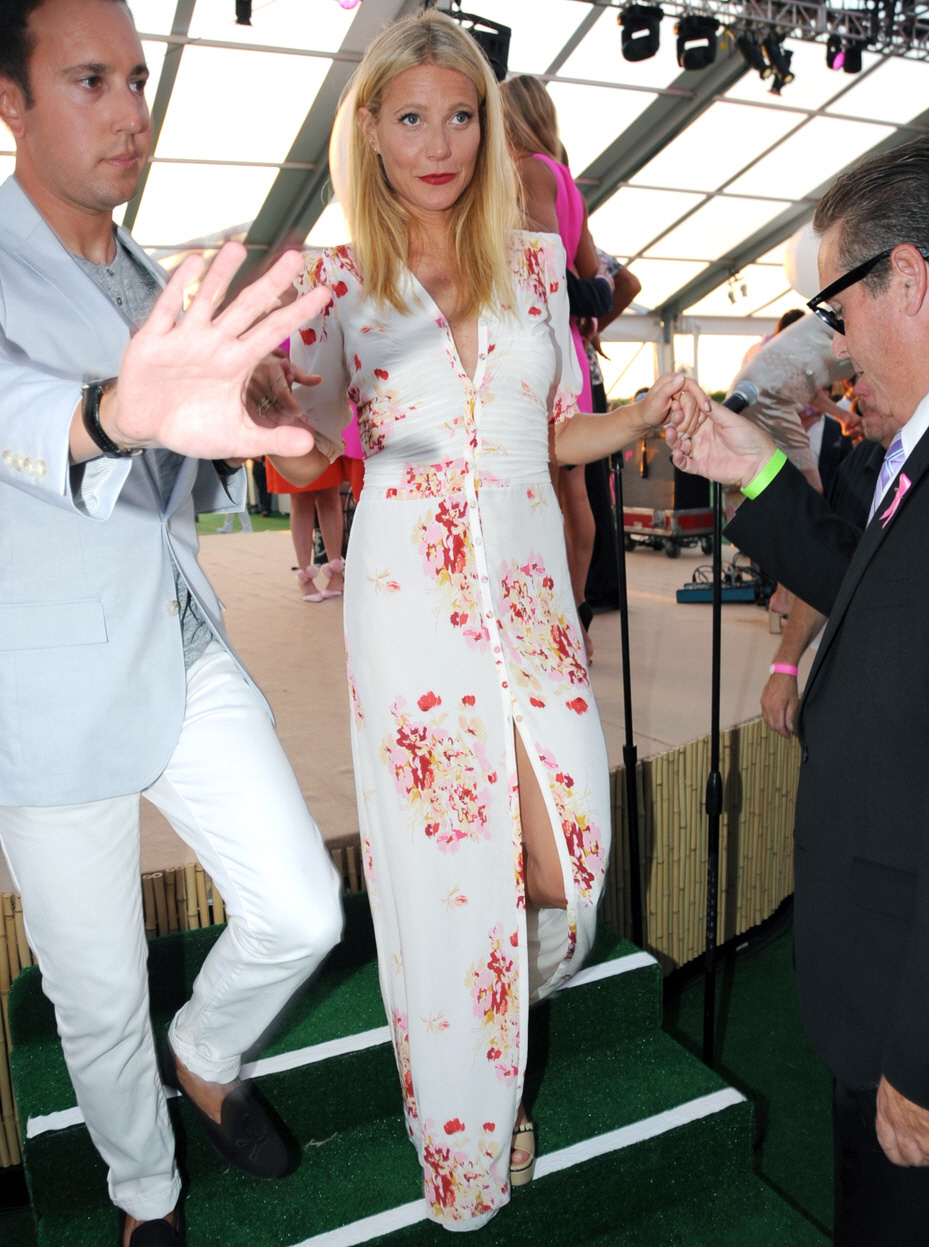 Photos courtesy of PCN, Fast Company.