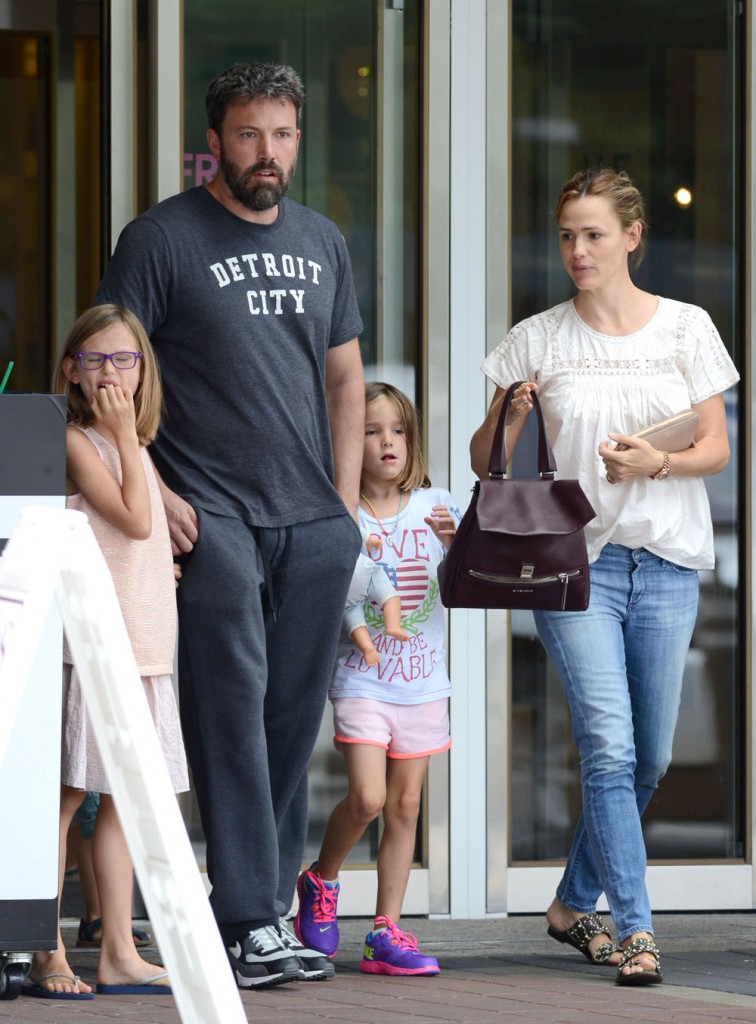 On Saturday Ben Affleck, Jennifer Garner and their three kids stepped out together in Atlanta to have lunch and see the movie Inside Out. They also all went to a local farmer's market, similar to their weekend routine back in L.A. These two are of course paparazzi targets given their divorce, but it's suspicious to me that there are enough paparazzi in Atlanta that multiple photo agencies had pictures of basically their entire day. They're trying to present a united front despite all the trash-talk from "sources" close to Jennifer who gave Ben hell for cheating with the nanny. For what it's worth they were both wearing their wedding rings, which sources have said they're doing for their kids.
We heard late last week that Jennifer wasn't returning Ben's texts and that he was in the doghouse basically. Does this mean that she's given in to his pleas and 'forgiven' him? Is she forgiving him for real or in order to get back on message? Are they just trying to reign their image in after their conscious uncoupling went so spectacularly off the rails? Does she want him back?
I have so many freaking questions, and I also wonder if this is healthy for the kids. Like do they understand that their parents are splitting, and will their parents really split? Maybe Ben and Jen don't even know yet, although I tend to believe that Jennifer is mostly over it and just trying to "win" the PR battle in the larger sense. They do insist to People that the divorce is still moving forward. Just doing photo assumption, Ben is pointedly ignoring Jennifer and is only paying attention to the kids. Kids know when their parents are ignoring each other. They know something is wrong, and kids really don't give a crap about whether their parents are wearing their rings either.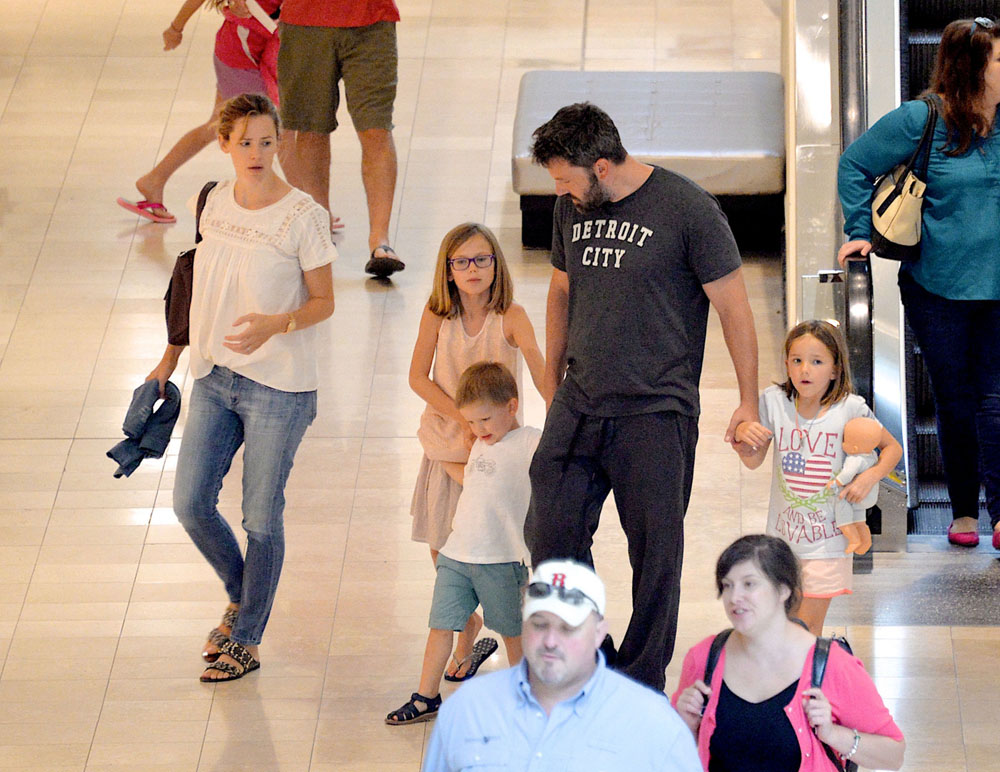 People has more details on this former couple's well documented Saturday. They report that Jennifer went to a hotel Saturday night after their big day out and Ben stayed back at their rented home with the kids. As opposed to reports in both US and People that Jennifer wasn't dealing with Ben anymore, People now claims that these two are "talking every day. They are still getting through and doing their own stuff and taking care of the kids, but it's not easy on them." What does that mean exactly?
People also has a follow up report claiming that while Ben's cheating with the nanny could affect custody, it probably won't unless Jennifer wants to make a case of it. Given all these photos of them out together, I doubt she will. People also claims that the divorce will proceed amicably as planned. A source says "they want to make sure that this is as easy as they can make it on the kids. They still do love each other and love their children."
Meanwhile the nanny remains "a big problem," according to the NY Daily News. Christine Ouzounian, currently holed up in the Hotel Bel Air, has had offers from Dr. Phil and Entertainment Tonight to do paid interviews. She's reportedly holding out because she still hopes to have a "relationship" (cha-ching) with Ben. It sounds like just a matter of time before she talks officially and not through "sources", although Ben can throw some more money at her and hope she stays quiet.
Ben and Jennifer still have thriving careers of course. Ben might star in and direct THREE batman movies for Warner Brothers, rumor has it that a deal is in the works now. Jennifer just did a guest stint on Ina Garten's Barefoot Contessa show. It aired over the weekend and was taped in April at her home. I wonder which nanny was watching her kids at the time and if Ben was there, helping out.
Oh and Kevin Smith said some stuff about his buddy Ben, but it's hard to interpret. He said "When I met him, he knew exactly who the f–k he was." I think he's saying that Ben is not a family man deep down, but you can judge for yourself.
The first two photos below are of Ben and Jennifer out separately on Sunday. Ben was photographed outside his rental home holding some kind of drink. Jennifer was out shopping with Violet. Maybe they can't help but be hounded by the paparazzi at this point.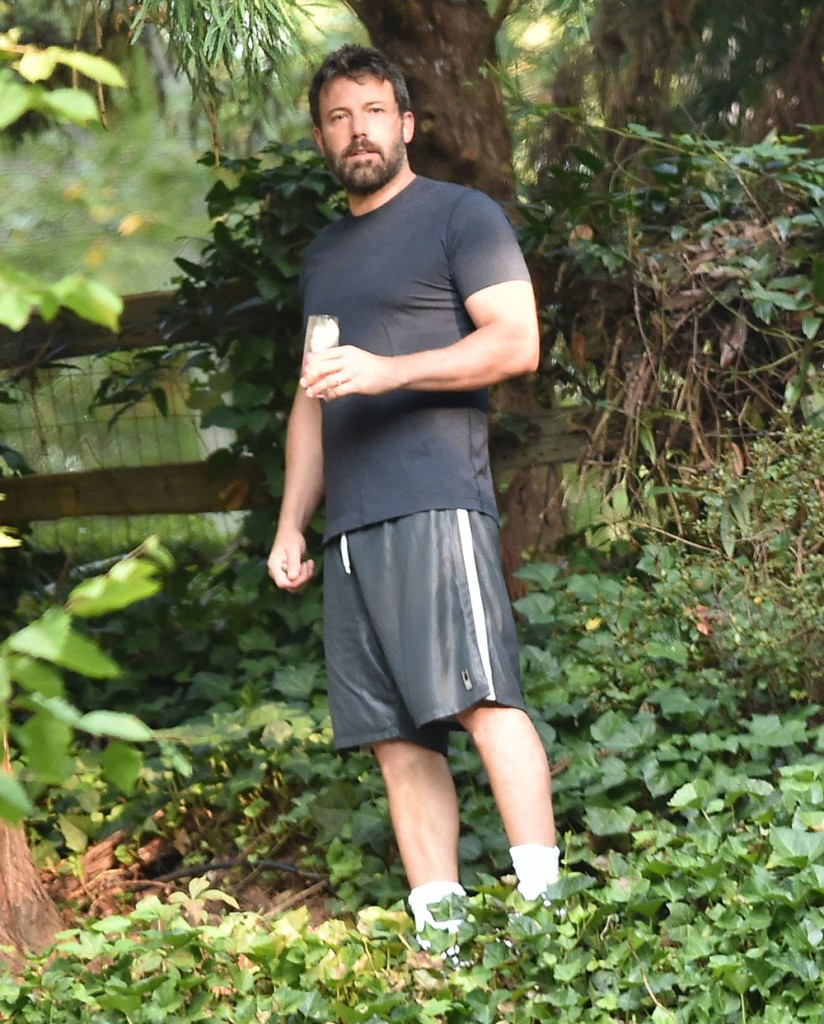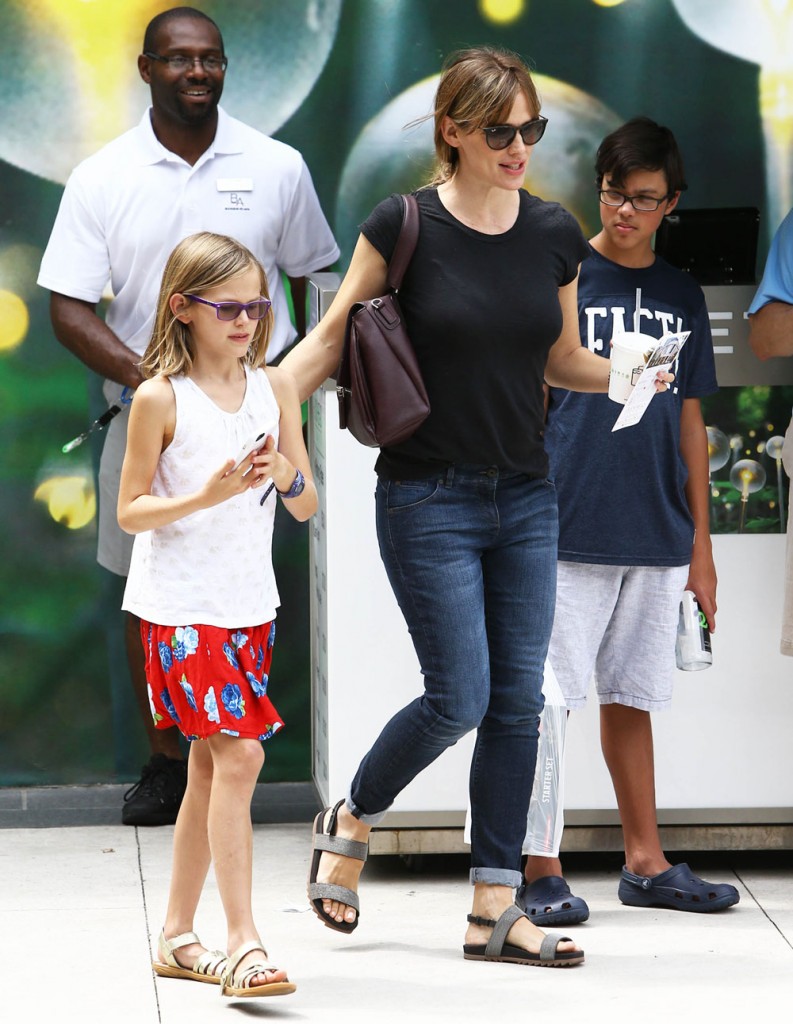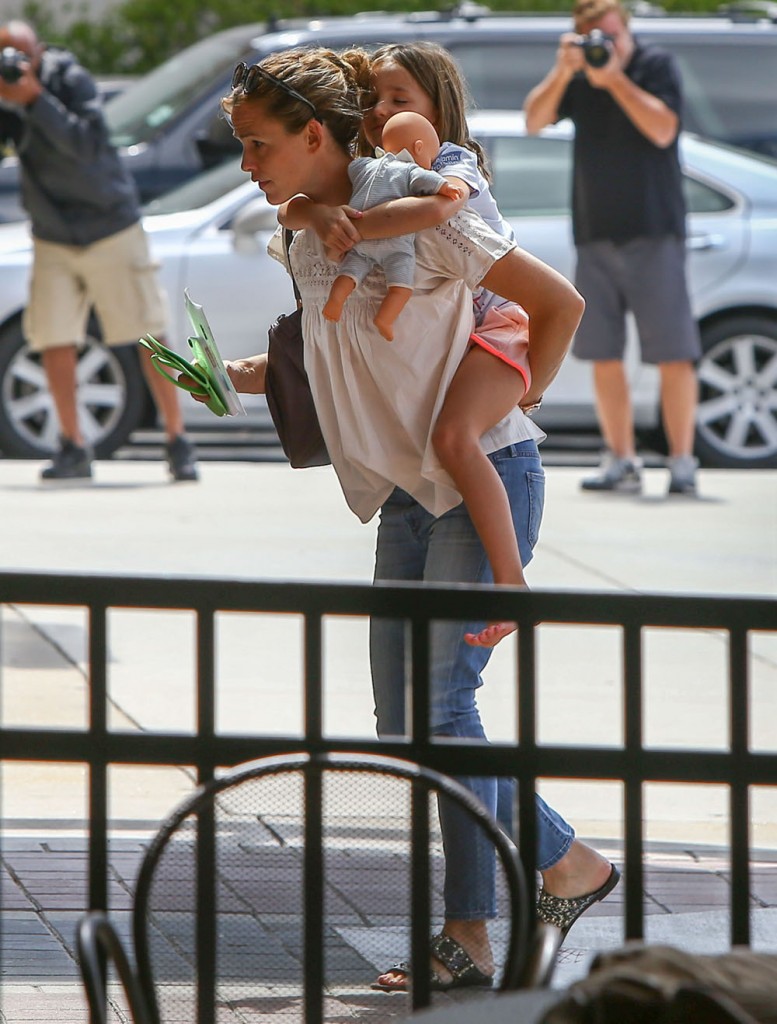 photo credit: FameFlynet and Pacific Coast News