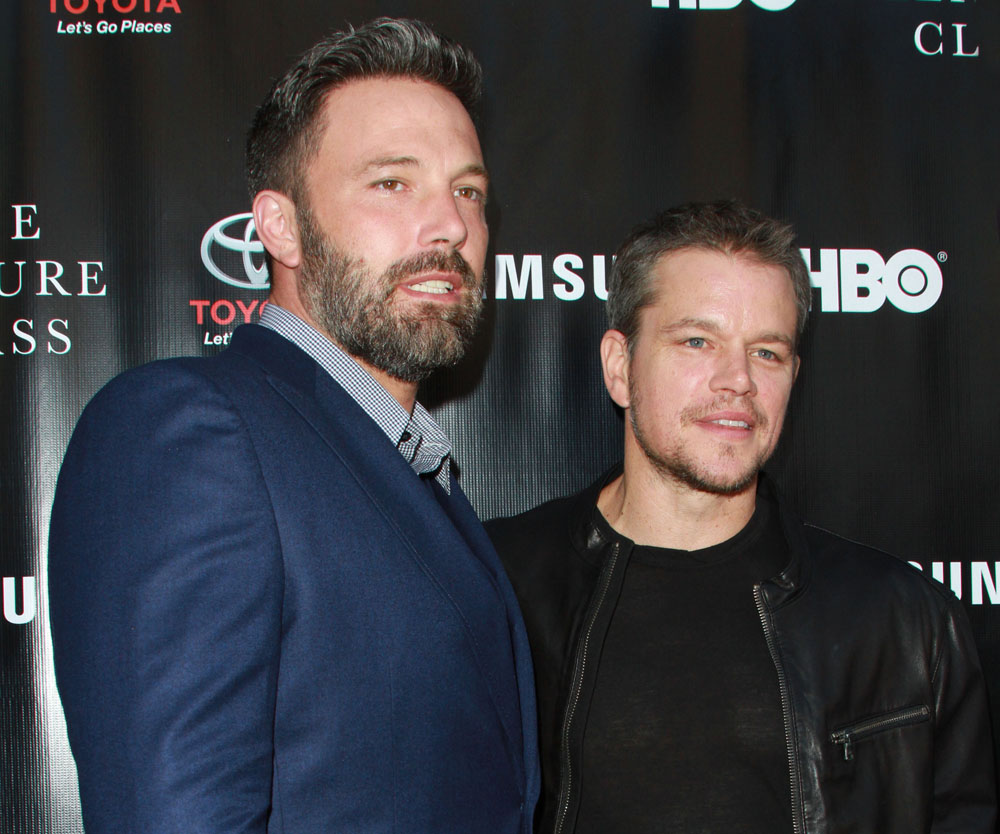 Last night Matt Damon and Ben Affleck attended a premiere for the return of their behind-the-scenes filmmaking show, Project Greenlight, a full ten years after it last aired. The series comes to HBO on September 13th and chronicles first time director, Jason Mann, (the tall pale guy in the photos below) as he tries to make a movie with Affleck and Damon's guidance. You can watch a teaser trailer here.
Affleck wore his wedding ring and wisely declined to talk to the press on the red carpet. Damon instead fielded questions on Affleck's behalf and was amiable and vague, as you would expect. He said Affleck is doing "great" and that "He's got a big smile on his face tonight." The press also asked Damon about Affleck's birthday, which is this Saturday. Damon said "I wish him well you know, but he's 43. It's not 40. It's not 45. It's like 43. You know it's a forgettable birthday. I don't even remember my 43rd birthday!" Yeah I'm 42 and I just didn't even want to have a birthday this year.
As for other news, there's still a steady drip of news about Affleck's cheating scandal. We heard earlier that the nanny, Christine Ouzounian, was fielding offers to tell her story in an interview with a major outlet. Presumably Affleck is throwing enough money at her to avoid that. She's been living high on the hog at the Bel Air hotel, and sources claim that Affleck is paying her bill, although he denies this. I would assume that's the case given this latest news about the cost of the spa treatments and meals she's been having at the four star resort:
Based on the length of Ouzounian's stay, and factoring in meals and amenities, a Hotel Bel-Air source conservatively estimates the 28-year-old's expenses at a cool $12,100.

That number would certainly put a strain on the budget of the average out-of-work nanny, but a source tells PEOPLE that Affleck, who's been known to use the hotel as an escape for himself in the past, is "taking care of Christine's expenses." Another source close to the actor contends, however, that he "did not cover the Bel-Air bill. You would not find his card there, plain and simple."

Her room alone, a junior bungalow suite, runs $1,500 a night plus tax – putting her six-night stay in the neighborhood of $10,400 just for accommodations.

Accounting for meals, many of which she was spotted taking at Wolfgang Puck's eponymous restaurant at the hotel – where a source says she was likely treating her friends to food and drinks – that tab would run around $200 a day on the low end, or $1,200 for the week.

Ouzounian also took advantage of the hotel's spa during her stay, with two visits to the facility appearing on her bill, the hotel source confirms. With each treatment averaging 60 minutes, the charge comes to $250 per trip (or $500 total) including tip.
Damn. Ok, if Ben is not paying and simply gave this woman enough money to do this, how massively stupid was it of her to blow this much cash in a week? If Ben is paying, I get it she wants some control over the situation and feels hurt and is blowing his money. That doesn't excuse it, it just gives some context.
Sources close to Ouzounian tell People that she and Ben are "in touch every day, all day long. He got them phones just for each other" and that she is "doing well" and Ben "trusts" her. He doesn't trust her, he's running scared now after realizing that sticking his dick into crazy didn't work out.
Ouzounian has a private Instagram account, but several sites have screencapped a post she made recently of herself in a paparazzi photo, which she captioned with an Alicia Key's lyric from Girl on Fire. "She's just a girl and she's on fire." You can see it on ETOnline. Chica thinks she's famous and she's super proud of being the other woman.
Radar claims that Ben is super busy with all his projects and has been working 18 hour days to distract himself from his massive mistakes. I believe it. He's got an addictive personality for sure. Also two of his projects with Warner Brothers recently had their dates pushed back.
Oh and after I wrote this story I found this new Page Six article in which The Post obtained a photo of Ouzounian posing in a private jet while wearing Tom Brady's four Superbowl rings. Remember how she said that she traveled to Vegas with Affleck and Tom Brady? In that photo, which you can see on Page Six, she looks like the cat who ate the canary. Gisele is going to cut a bitch.