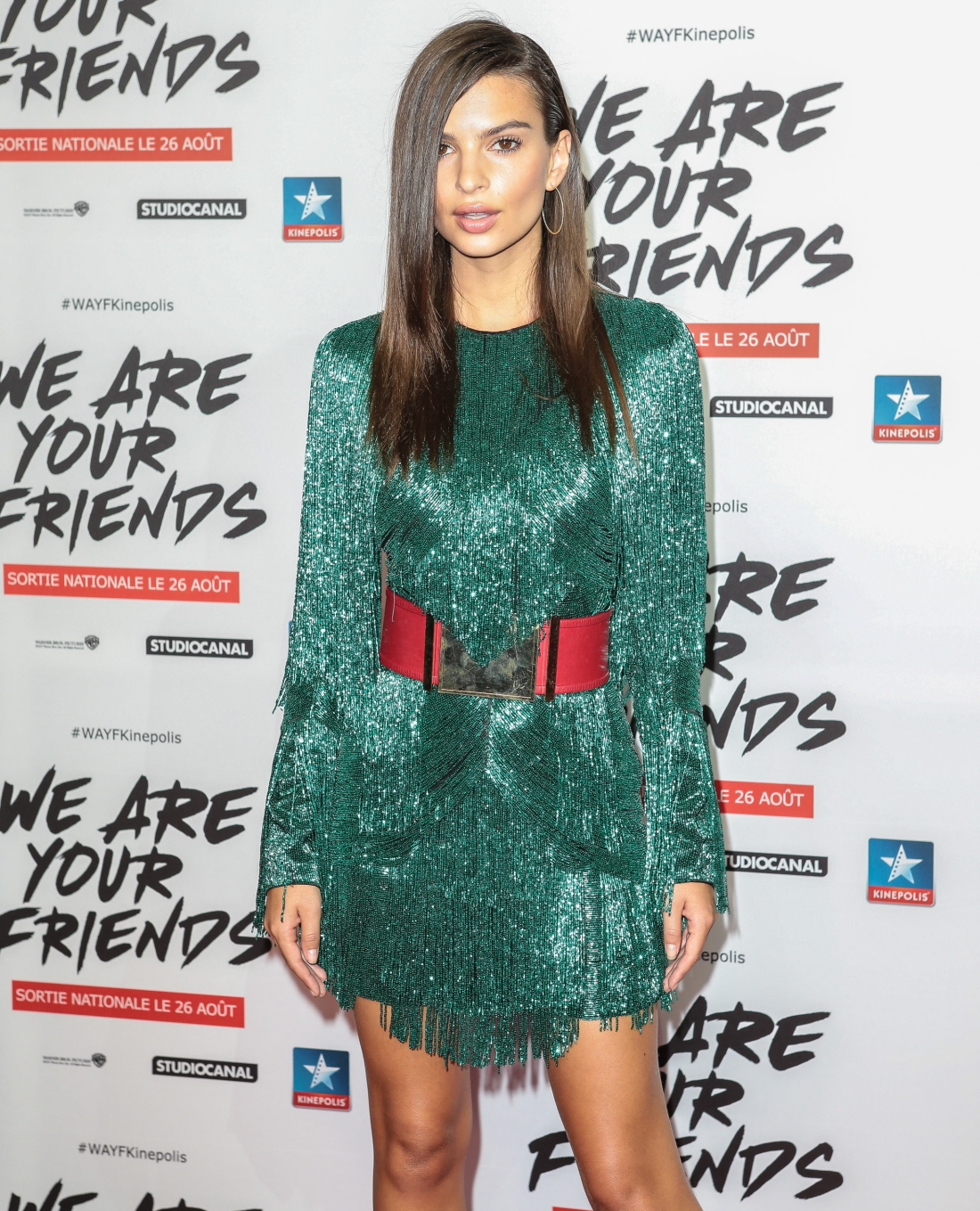 Emily Ratajkowski is suddenly all over the place. She's promoting We Are Your Friends, the Zac Efron-is-a-DJ movie, where she plays the girlfriend. As I said yesterday, Emily has been pretty smart about her transition to acting – she hasn't dumped on her modeling career and if anything, her film roles make her more desirable and in-demand as a model. She's fronting new ad campaigns, she gets more magazine covers and she does interviews with major media outlets. It's the best of both worlds for her. I may have spoken too soon though – as it turns out, in Emily's recent interview in British GQ, she did diss the music video that made her a household name!
What she thinks of "Blurred Lines" now: "'I have to say, from someone who really knows the beginning of 'Blurred Lines' when it comes on, half the time it's the Marvin Gaye song, but I've already tried to leave the place or hide, and then it's like. 'Oh it's the Marvin Gaye one, what the f–k was I stressing about? They're that similar.'"

She wouldn't do the video now if they asked her: "'I think I've done enough nudity now that I don't really need to do 'Blurred Lines' again. Like, if someone asked me to do it now, I'd probably say no. I didn't feel objectified when I was making it. I felt like I was having a lot of fun as a sexual person."

She turned it down at first: "'It was so bad. I was like, there is absolutely no way they could pay me enough money. I didn't give a s**t. Because it's me, and it's me, so I don't care who's attached to it."
She later says that director Diane Martel changed her mind and she (Emily) respected Diane's vision and that's what convinced her to do it. So… does she get a pass for disrespecting a song and video that were so central in launching her career? Does she get a pass because ultimately, everyone dumps on Robin Thicke and who cares? Sure.
Emily also did a feature with the New York Times about makeup, skincare, hair and all of that. It's an interesting read but that's only because I genuinely like reading about how professional models take care of themselves. Here are some assorted quotes:
Perfume: "I actually don't wear fragrance. I always feel like I smell cheap. I guess I just haven't found one that's not overpowering or too sweet. Even when I try one of the super masculine scents, I just think, "I don't want to smell like a man." Besides, I like my own scent."

Her favorite spa service: "I'm pretty terrified of facials. I've had enough bad ones, and honestly, I don't break out. My big treat is that once a month I go to a Korean spa. The one I go to, called Natura, is not as popular as the ones most of Hollywood goes to. I usually go about 40 minutes before my appointment, and you can get into all these different pools. Then you get a body scrub, and you're lying there naked with 20 other women. They just treat you like a piece of meat, but it's worth it. Then you shower, and I like the acupressure massage. Those ladies are strong! They even put grated cucumber on your face. I do have to warn: It's not your traditional spa. There is no one greeting you and asking how your day is. But that's what I love about it. I let my mind shut off and have someone take care of what needs to be done. Afterward, my skin is so soft, and I always sleep so well that night.

Diet & Fitness: "For me, it's about feeling good about what you eat. I do love turmeric and beet juices. It's so L.A., you can't avoid it. But I don't have a trainer, and I don't really go to the gym. I go on long walks and hikes with my girlfriends. That's about it. I'm just not a crazy fitness person. I'm definitely an outlier in the industry."
That spa service sounds intense, but I might enjoy something like that. I actually hate making small talk with hairstylists and manicurists and the like, which is one of the reasons I don't go in for a lot of that stuff (plus, I'm pretty cheap). As for her not working out in a gym and not having a trainer… do you believe her? Eh.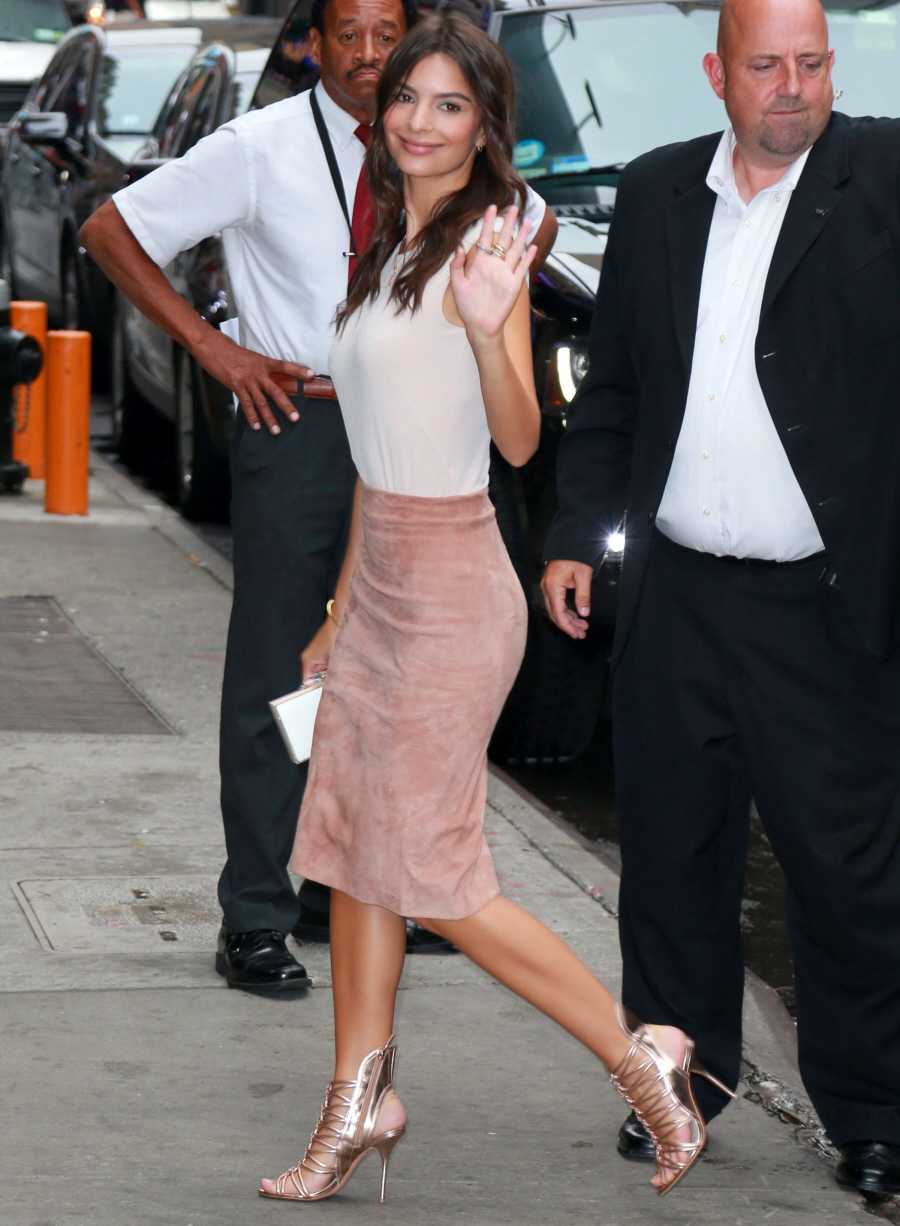 Photos courtesy of Fame/Flynet and WENN.