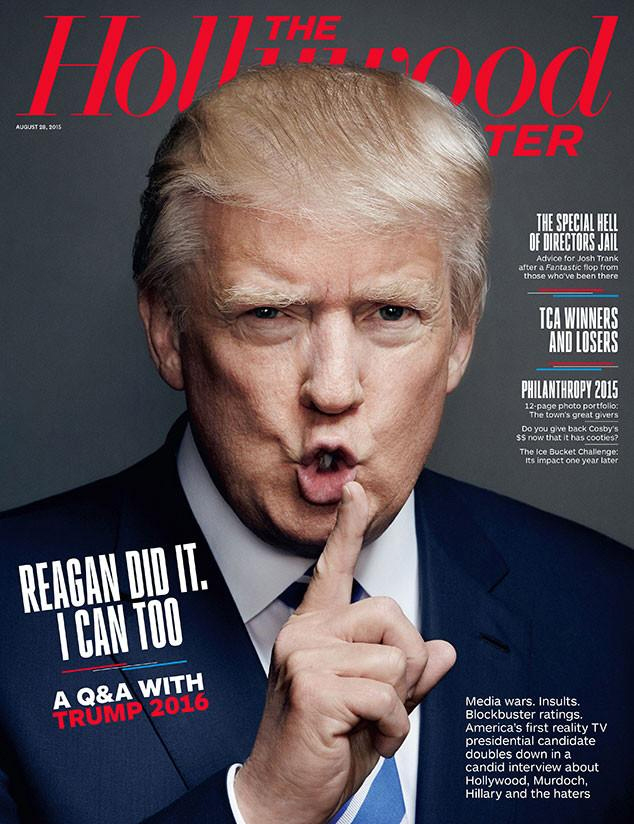 I honestly sat here are read this entire Donald Trump cover story in The Hollywood Reporter last night. I got through it all and culled an enormous selection of highlights. But the truth is, Trump isn't as fun/crazy/stupid as he was just one month ago. The presidential campaign has started to get "real" for him and he's actually toning down some of his comments. I mean, these quotes would be career-killers for a normal politician, but this is Donald Trump, so obviously 30% of the GOP is going to agree with him, which is just enough for Trump to continue leading in the polls. Anyway, you can read the full THR piece here. Highlights:
How he plans to win the female vote: "So my daughter Ivanka, who is a terrific person, she came to me and she said, "You care so much about women, and you care so much about the whole thing with women's health issues," which is such an important issue to me. And she said, "You are really misunderstood, and you have to get the word out." And in the last week, I've been putting the word out. Melania told me that, and Ivanka told me that. And [Jeb] Bush came out and said he didn't want to fund women's health, and then he went back and he said he made a mistake by saying it. That's not a mistake, that's stupidity.

He's attended a gay wedding: "Yes, I have. [Broadway theater owner] Jordan Roth. You know Jordan, right? Great guy. Some people have hopes of passing amendments, but it's not going to happen. Congress can't pass simple things, let alone that. So anybody that's making that an issue is doing it for political reasons. The Supreme Court ruled on it.

When Melania will get on the stump: "Pretty soon. She wants to do it. She is a very confident person. .. She's got a great style, and she would be an amazing first lady with heart. She would care very much about women's issues. We're talking about mostly medical issues but women's issues. She was very strong on that with me the other day… My mother was this incredible woman. I have known incredible women. I have many women executives, frankly, that are better than my men executives. I pay them the same or more.

What he thinks of Hillary Clinton: "Hillary has problems far greater than the nomination. If you look at what's going on with the emails, it's a fraud if you think about it. This looks like Watergate on steroids, frankly. Watergate was about the cover-up more than the act. This isn't something we're going to solve tomorrow. This could go on for years. You can't have a nominee who is under investigation. What are they going to do, run and then two nights before the presidential race she gets indicted? General Petraeus, for doing 5 percent of what she did, his life has been destroyed. And it goes up to 20 years in prison. It's from one to 20 years for what she did!"

His level of intelligence: "One of the reasons I tell people about my level of intelligence — like, for instance, I had an uncle, Dr. John Trump, who was at MIT, like totally brilliant, became a professor at MIT — is when you're a Republican conservative, you have to build up your credentials a little bit. But I can pivot any way. I can be a very elegant, highly refined person, I can be a very politically correct person where I would never ever say anything that's even slightly over the edge, or I can be who I want to be. It's very time-consuming to be politically correct. And I don't have the time. It's also very boring to be politically correct. Right? You wouldn't be here if I was totally politically correct.

He's picked sides on Deflategate: "Tom Brady. Tom is an unbelievable guy. He's a very good friend of mine. I have his number right here someplace. Whatever. Here, look, he just called me. (He holds up a Post-it that says "Tom Brady's New Cell #.")

His favorite actor: "Clint Eastwood is a great actor. I still think the spaghetti Westerns are among the great [movies]. The Good, the Bad and the Ugly in particular. I love Robert Duvall. Marlon Brando was fabulous, fabulous when he was on. And some of his interviews were among the great classics because he was almost like, "I don't care." Cary Grant, Errol Flynn, Gone With the Wind, how can you do better, right? Clark Gable. I love the actors of the past, and I don't believe we'll ever be at that level again. It's probably because of television because you get to know 'em too well.

Favorite actresses: "Julia Roberts is terrific, and many others. Meryl Streep is excellent; she's a fine person, too. The problem is I'll name three or four or five and then the hundred that I know will be insulted, and I don't mean to insult them.

He's always hated Bill Cosby: "I've never been a fan. I had one bad experience with him. I was on Letterman, and he was following me on the show. He said, "Oh, I want to buy you a suit." It was nice, he bought me a suit. And then he was on [the Today show], and my name was mentioned, and he went absolutely crazy…I was never a fan. His humor was always, like, slow and stupid to me. I never saw it. And then he's obviously got this stuff. What amazes me is he was so quiet and then you see these depositions. What was he doing? Was he drunk? You see he admitted all this stuff on top of everything else. I think he's weird. And I never found his humor good at all. Just sit in a chair, talk very slowly? And I say to myself, "What's this all about?"
I wonder how Meryl feels about being named as one of Trump's favorites? The thing is… it doesn't feel like a lot of Hollywood people are lining up specifically against Trump. He even says in this piece that some of his Hollywood buddies are quietly supporting him. Also included in the piece: Trump's thoughts on Rupert Murdoch, Murdoch's sons, Roger Ailes and a lengthy critique of Fox News. While I think Trump is a total and utter buffoon, one of the unintended consequences of his campaign is that he's pulled back the curtain on a lot of conservative-media machinations AND the donor class in American politics. It's sort of fascinating.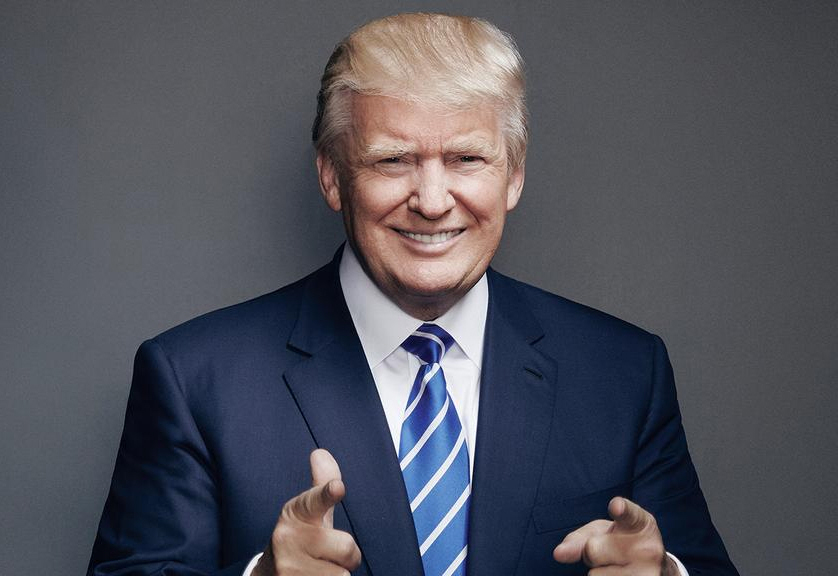 Photos courtesy of THR.