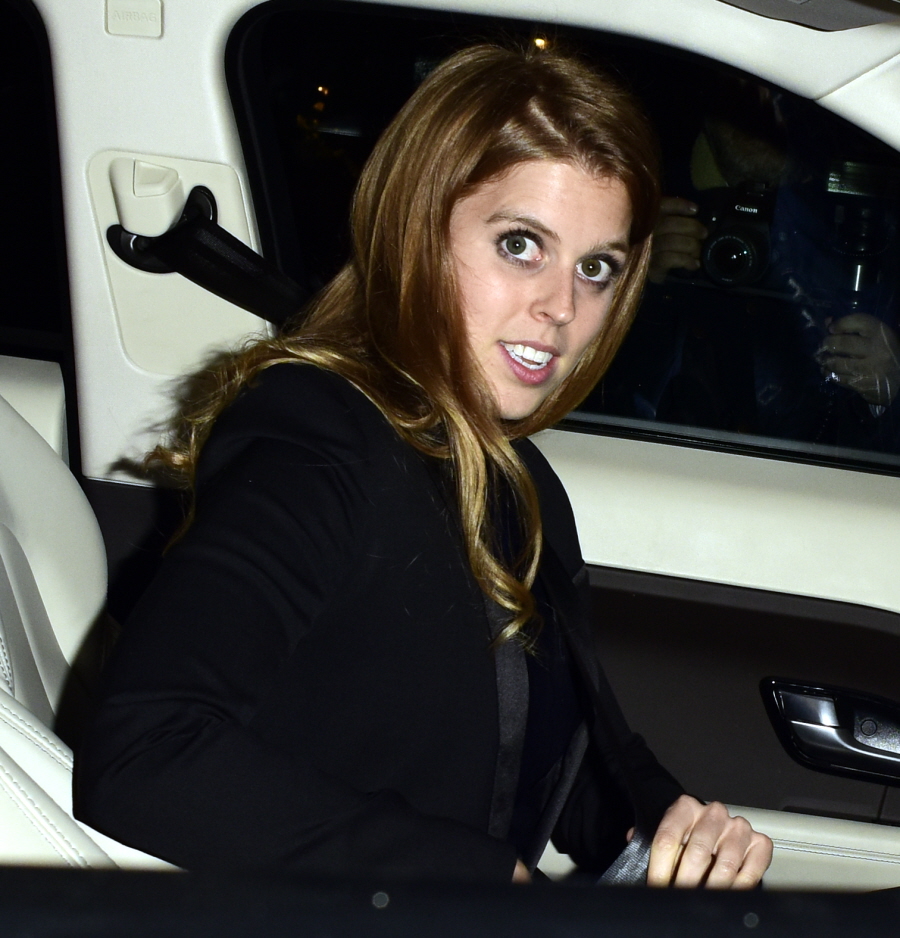 It was only a matter of time before Princess Beatrice got thrown under the bus again. The Clarence House and Kensington Palace press offices can't help themselves. Whenever Prince Charles or the Cambridges get criticized, a lesser royal must be thrown under the bus. Sometimes it's Harry, sometimes it's Prince Andrew, but this year, it's been Princess Beatrice more often than not. So after two weeks of everyone talking about how Duchess Kate is a work-shy layabout and William is obsessed with his mother-in-law, of course the Daily Mail magically has a story about how Princess Beatrice vacations constantly. Of course.
To be fair though, Beatrice is giving her critics a lot to work with. In May, the Mail claimed Beatrice had taken FIFTEEN holidays in six months' time. Now the count is up to 17, and I don't think that includes her long weekend in Mexico to go to a friend's wedding. Keep in mind, this is the same princess who jetted off for a yachting holiday just weeks after "starting her new job" in New York. Anyway, the Daily Mail has the spreadsheets and receipts on Bea's vacation-happy ways: Beatrice has been on 17 vacations in nine months, 15 of those in 2015 alone. The cost of all of this vacationing? About £300,000, roughly $460,000. Just on vacations. You can read the vacation breakdown here.
She's sunned herself in St. Barts, skied in Verbier and, most recently, was spotted hobnobbing with Oprah on Roman Abramovich's yacht in Ibiza. Now a travel company has worked out how much following in Princess Beatrice's footsteps would cost – and at £300,000, it certainly doesn't come cheap. The 27-year-old, who moved to New York at the start of July to begin a new job in equities trading, has enjoyed a record 15 holidays in 2015 alone.

In total, Beatrice has enjoyed a total of 63 days away and has managed almost as many flights in the past ten months than the average Briton takes in their entire lifetime. The royal holidays began shortly after the princess quit her £19,500-a-year job at Sony amid claims that her details had been exposed by the North Korean cyber attack.

The princess, who was seen enjoying several days of racing during Royal Ascot in June, made her move across the Atlantic to New York at the start of July but less than four weeks after starting the new role, was pictured aboard Mr Abramovich's yacht in Ibiza. Now thought to be back at work in New York, the photos of the princess soaking up the sun on the Russian oligarch's yacht are thought to have caused disquiet among Palace officials.

Fearing a public backlash, they are thought to have asked the Duke of York to allow them to stage an image-improving 'Project Beatrice' – only to have the plan vetoed by Prince Andrew.
Princess Beatrice desperately needs a royal-sanctioned "Project Beatrice" to improve her image, or at the very least, she needs some help to avoid being roadkill underneath the wheels of the Wales/Cambridge PR blitz. And yes, I know, she's not a "working royal" like her father, or Charles or the Cambridges. She doesn't get an allowance from the Queen, from what I gather, although her father definitely pays a lot for her lifestyle, plus Beatrice works her "connections," which she learned how to do from her parents. Bea has a lot of shady, wealthy friends and she likes to party with those friends and they partially pay her way. Here's the thing though – she's not a "kid" and she's not "finding herself" or having some kind of "gap year." She's a 27 year old princess who would rather party and vacation and not do much of anything productive.
Photos courtesy of Fame/Flynet and WENN.