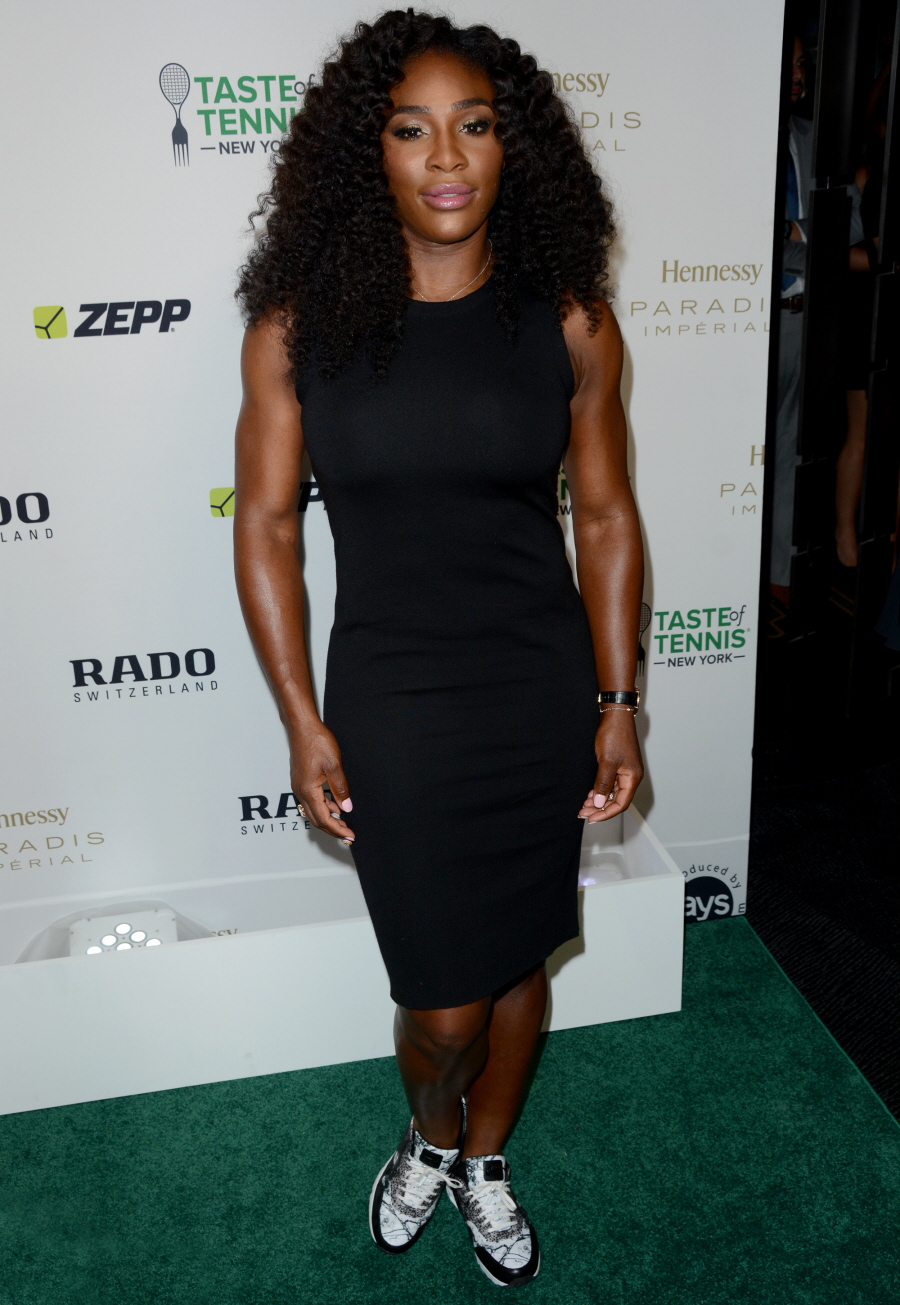 The US Open begins next week, so there have been a lot of pre-Open events in New York this week. These are photos of Serena Williams at the Taste of Tennis Gala last night. She looked great, and she's pretty much the only person who could pull off a sleek black shift dress and sneakers and still look fashion-forward. As for Serena's path to win the US Open and have the second calendar-Grand Slam in history… well, it's going to be somewhat difficult for her. Go here to see her schedule. I'm sure she's capable of winning, but it will be difficult.
Meanwhile, have you read the New York Times' latest in-depth article about Serena and what Serena "means" for tennis, for sports, for African-Americans, for women, for advertising, for history? It's a pretty good piece and I ended up feeling sorry for Serena a little bit, not because she's been the target of so many racist attacks over the years (although I do feel sorry for that as well), but just because it feels like everyone wants Serena to speak about her race and gender in these larger terms, and all Serena wants to do is win. She's not here to be a spokesperson on certain issues – she's here to win. Anyway, you can read the full NYT piece here. Some highlights:
What she's all about: "You don't understand me. I'm just about winning. It's not about getting 22 Grand Slams."

She isn't focusing on the number of Grand Slams: "I went too crazy. I felt I had to even up with Chris Evert and Martina Navratilova." Make it to the second week and see what happens, she thought. ''I started thinking like that, and then I got to 19. Actually I got to 21 just like that, so I'm not thinking about 22. I play for me, but I also play and represent something much greater than me. I embrace that. I love that. I want that. So ultimately, when I am out there on the court, I am playing for me.''

How she feels about Maria Sharapova making so much more in endorsements: "If they want to market someone who is white and blond, that's their choice…I have a lot of partners who are very happy to work with me. I can't sit here and say I should be higher on the list because I have won more.''

On Sharapova being the #1 in endorsements: "I'm happy for her, because she worked hard, too. There is enough at the table for everyone…. We have to be thankful, and we also have to be positive about it so the next black person can be No. 1 on that list. Maybe it was not meant to be me. Maybe it's meant to be the next person to be amazing, and I'm just opening the door. Zina Garrison, Althea Gibson, Arthur Ashe and Venus opened so many doors for me. I'm just opening the next door for the next person.''
The references about endorsements are from the findings earlier this year, in which Sharapova – who has only won 5 Grand Slams in her career – makes millions more than Serena Williams in endorsements year after year. And Serena has 21 Grand Slams, and Serena is considered the greatest female athlete in a generation, etc. I don't really understand why more companies wouldn't want Serena to represent them. Ugh.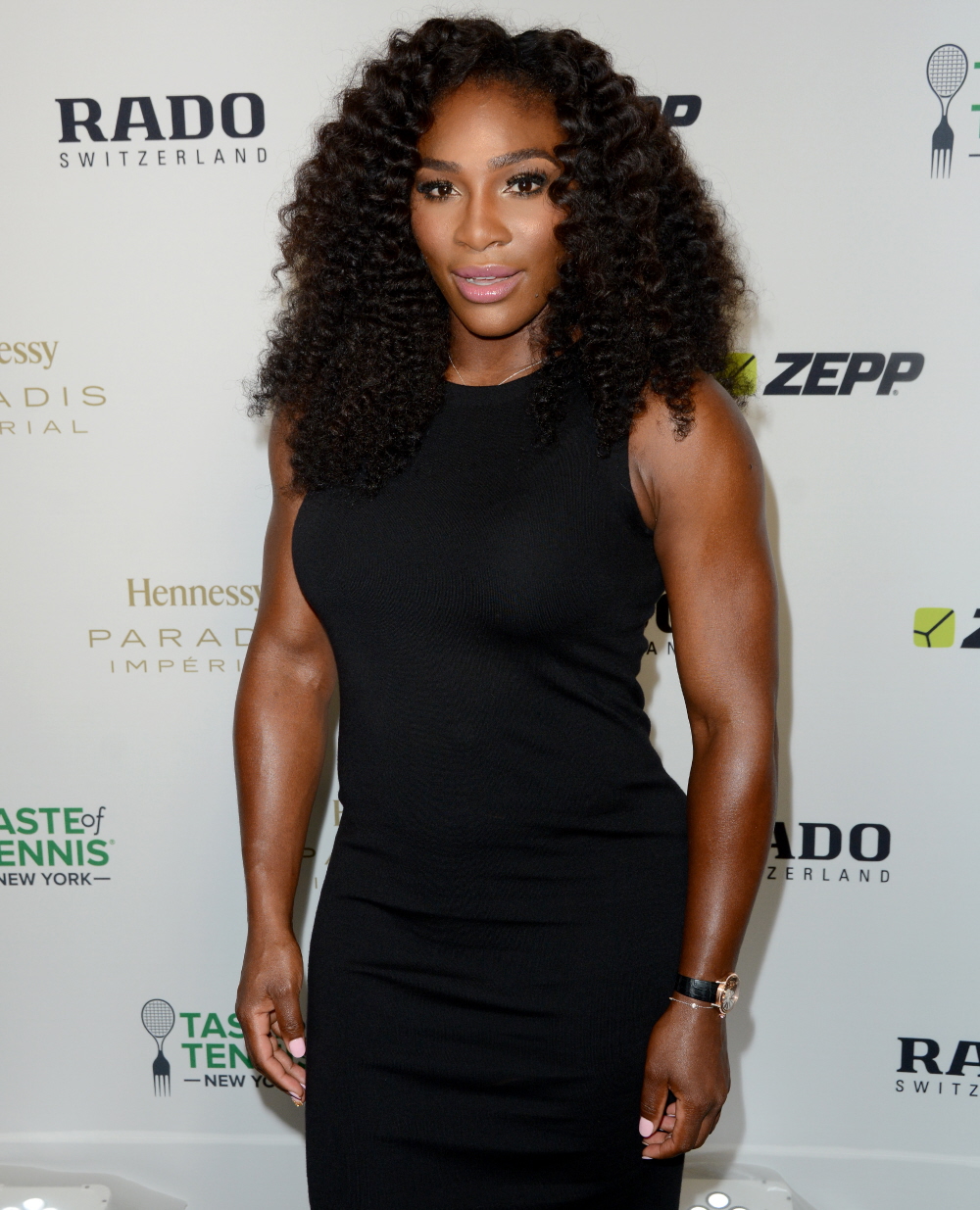 Photos courtesy of WENN.