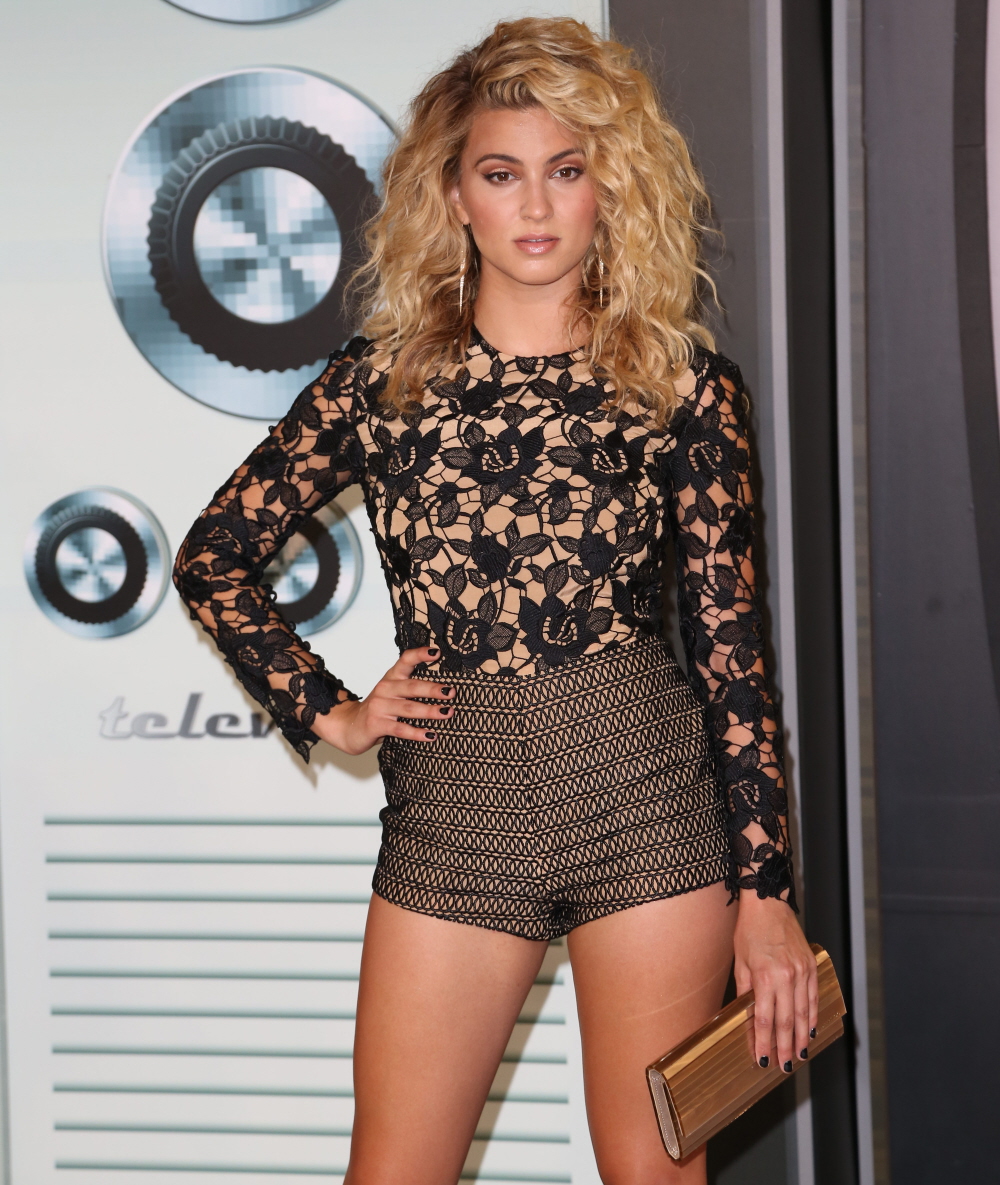 The 2015 MTV VMAs were such a mess. Like, seriously, they were utter chaos. I don't know what MTV was thinking hiring Miley Cyrus as host, but at least they didn't play coy about it, the show openly flaunted their time delay and bleeped the crap out of Miley and everyone else. Which allowed everyone to be "real," i.e., cuss like sailors. I became sort of numb to Miley's endless weed jokes and almost everything else. Note: Bedhead is doing a separate post for all things Miley. And there were some highlights, of course. Let's get to them.
The Minaj-Swift Opening. We knew ahead of time that Nicki Minaj was going to be opening the show with a performance, but we weren't prepared for Taylor Swift to come out and join Minaj halfway through the opening. I have to say… it wasn't bad. There was "bad blood" between Minaj and Swift last month, but Swifty called Minaj and everything is now "cool" between them. Obviously. Minaj has been collected!
Macklemore & Ryan Lewis. I wasn't feeling this. Like, I know it's not "cool" to admit it at this point. but I thought Mack's last album was decent. This new single just isn't that great, right?
The Weeknd's performance. It was AMAZING. His live performances keep getting better and better. Everyone was into "Can't Feel My Face," even Kanye West doing some kind of cute dad-shuffle. Of course Taylor Swift danced throughout. But even Swifty couldn't ruin what was a great performance. This was obviously one of my favorite moments.
The Minaj-Miley Beef. I know Bedhead is going to discuss this stuff in greater detail, but I'd just like to say… I think MTV should have let it play out in real time. I'm pretty sure they cut Minaj's mic when she still had sh-t to say to Miley and that's not cool.
Kanye West thought about stage-rushing Taylor Swift. When Tay-Tay won the Best Pop Video award for "Blank Space," MTV cut to Kanye West and it was obvious that his peeps were like "DO IT KANYE." It was funny.
Demi Lovato & Iggy Azalea. I hate Demi's song so hard. And the cameo by Iggy Azalea just confirmed the lack of relevance. I can't find the video & I don't want to look that hard.
Justin Bieber returns. Bieber's comeback has been years in the making and while I think a lot of people were ready for his "comeback," it did feel sort of forced. I like "Where Are U Now" but I don't care for Bieber's new single "What Do You Mean". After Bieber was done, he cried. He wept salty tears because he was so overcome with the power of his own comeback.
Tori Kelly has a great voice. Like, I think she's a good pop star with a good voice. That shouldn't be so notable, but here we are.
Kanye West receives the Vanguard Award. It was amazing. It was the best and the worst of Kanye and it was glorious. Kanye showed the world why he will always have apologists and he showed the world why he gets so much criticism. He was vulnerable, strident, crazy, emotional, honest and hypocritical. It was glorious. I'll have a separate post for all things Kanye-related!
Pharrell performs "Freedom". What does this song sound like? Nina Simone, right?
The neverending finale. The show seemed over when Kanye West accepted his award, but then it just kept going. Taylor Swift won Video of the Year for "Bad Blood", Twenty-One Pilots performed (meh) and then Miley milked it at the very end with a spectacularly bad performance.
🇺🇸 AMERICA 🇺🇸 #VMAs pic.twitter.com/p13hUk5G9U

— MTV (@MTV) August 31, 2015
Photos courtesy of WENN.