At last night's VMAs Rebel Wilson announced the Best Hip Hop Video right after The Weeknd performed his smash hit "I Can't Feel My Face". She came out in a cop outfit complete with aviator shades and a hat, which she tore off to reveal a t-shirt with read "F*ck The Stripper Police". She opened with "I know a lot of people have problems with the police" and went into a bit about how she hates "police strippers," which fell so flat to me. It was dumb and pointless, but worse than that, she seemed to be mocking the Black Lives Matter movement. "They come to your house. You think you're getting arrested, and you just get a lap dance and it's usually uninspired. I hired a police stripper for my grandma's 80th and he wouldn't even feel her up… I hate this injustice."
Many people thought that Rebel's bit was tone deaf, and that she was making light of people's legitimate concern over the shocking number of people of color killed by law enforcement. Remember she was introducing the Best Hip Hop Video, so you would question why she thought a joke mocking police brutality was at all appropriate. Here are some of the reactions on Twitter to this:
still processing the fact that @mtv & @RebelWilson made a joke about police brutality…

— جميلة (@KaeVanity) August 31, 2015
Nicki's energy would've been better spent calling out Rebel Wilson's unacceptable police brutality jabs than wasting words on Miley. #VMAs

— David Levitz (@DavidLevitz) August 31, 2015
Rebel Wilson's got her nerve presenting Best Hip-Hop Video while making a joke out of police/state violence. But I digress. #VMAS

— Derrick Clifton (@DerrickClifton) August 31, 2015
What rebel Wilson just did on the VMA's was mad disrespectful to victims of police brutality.

— Bryce (@pyneal_) August 31, 2015
Rebel Wilson really went from referencing police brutality to stripping out of a police costume. #vmas

— TJ Henderson (@KhrisJWilson) August 31, 2015
You can see some more tweets on Mashable. I really wonder if Rebel is going to apologize at all. There were so many other jokes she could have made in that brief moment she had before introducing Best Hip Hop Video and that was just so insensitive. Rebel has of yet not responded, but she has retweeted some positive reactions to her joke. You get the impression that she's just going to ignore it or blow it off, similar to how she responded when it came out that she's been lying about her age.
Here's the video:

Cracking up at the VMA's!!! @NICKIMINAJ = queen x pic.twitter.com/3xeW18dOfF

— Rebel Wilson (@RebelWilson) August 31, 2015
Oh and Rebel wore Eloquii on the red carpet. She told Kelly Osbourne that she has her own fashion line coming out this fall but that she didn't want to wear a dress that wasn't available yet. Sure.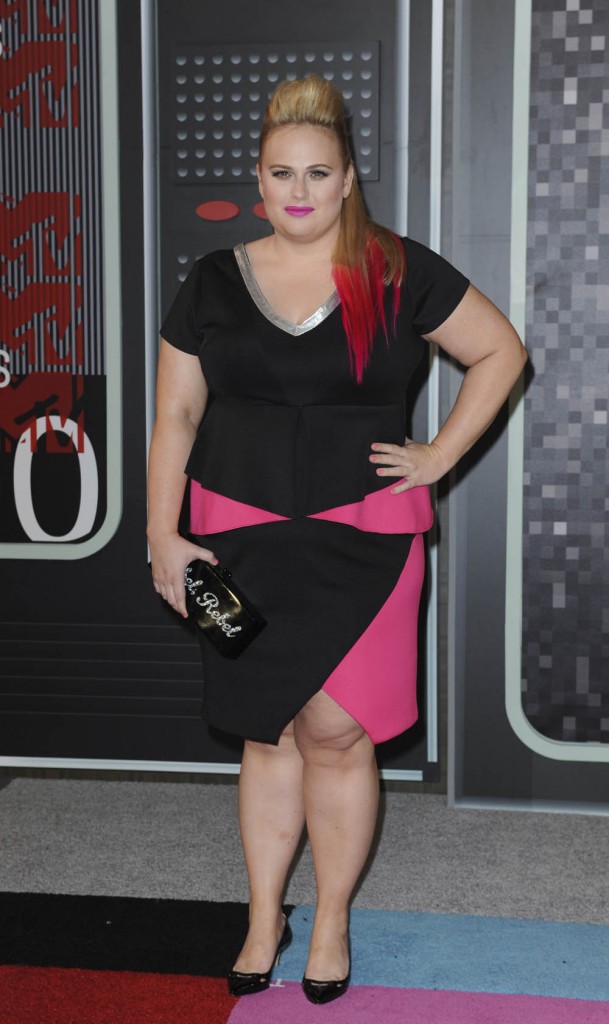 Here's Rebel's face when Nicki called out Miley Cyrus.
Rebel Wilson's face when Nicki Minaj called Miley Cyrus out is hilarious af http://t.co/PUQQk2FZTO pic.twitter.com/FWBERbWrrq

— BuzzFeed (@BuzzFeed) August 31, 2015
Photo credit: WENN.com and Getty Images