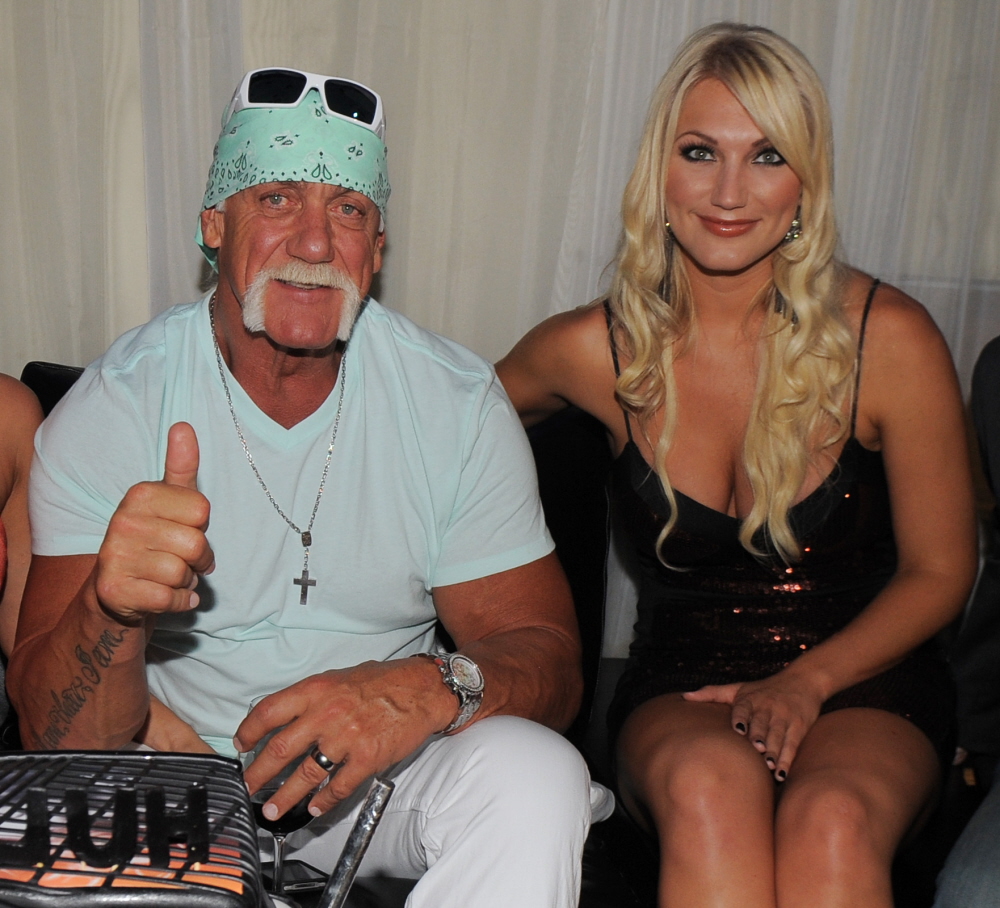 Hulk Hogan is in the midst of a massive lawsuit against Gawker Media after Gawker published Hulk's sex tape with Heather Clem, the wife of Bubba the Love Sponge. Hulk had sex with another man's wife, although to be fair to him (I think?), he didn't know he was being taped. And as it turns out, the affair wasn't what ruined him. In what was either a wholly separate tape OR as part of his pillow talk with Heather Clem, Hulk was recorded dropping the n-word several times in reference to friends of his daughter Brooke Hogan. Note: the context in which Hulk said the n-word is somewhat important to the lawsuit against Gawker Media, with both sides claiming different things. The National Enquirer/Radar reported extensively on all of the Hulk's racism in July, and within hours, the WWE scrubbed Hulk Hogan from their Wall of Fame, their website, their merchandise and everything else.
Hulk Hogan flailed about for any kind of explanation or excuse. He took to Twitter and obsessively retweeted anyone claiming to be black and a Hulk fan. He also retweeted something about "why can Pres. Obama say the n-word but the Hulk can't?" Hulk's attempt at damage control fell flat and I guess he finally hired a proper crisis manager at long last. Hulk sat down for an interview with Good Morning America on Monday and he tried to strike a different tone altogether. I'm including the video at the end of the post. Hulk says he thought about killing himself after the tape came out. When asked the million dollar "are you a racist or nah?" question, this is what Hulk Hogan said:
"I'm not a racist but I never should have said what I said. It was wrong. I'm embarrassed by it. People need to realize that you inherit things from your environment. And where I grew up was south Tampa, Port Tampa, and it was a really rough neighborhood, very low income. And all my friends, we greeted each other saying that word. [That word was] just thrown around like it was nothing." On whether he thinks he inherited a racial bias, he said: "I would say that is very fair. The … the environment I grew up in in south Tampa and all my white friends, all my black friends, to hear the word on a daily basis when they'd greet me in the morning, that's what they'd say to me, 'Good morning,' so-and-so. I think that was part of the culture and the environment I grew up in and I think that's fair to say."
Hulk also begs his fans for forgiveness, saying: "Oh, my gosh. Please forgive me. Please forgive me. I think if you look at the whole picture of who Hulk Hogan is, you can see over all the years that there's not a racist bone in my body." I think if we saw all of the things he's said and done over the years, we would probably come up with many more instances of racist behavior and language. Hulk pretty much says as much – he grew up saying the word, he's used it all of his life because he "inherited" a bias, like racist DNA or something. Further along in the interview, we get to the crux of why Hulk is doing this interview: he wants his job back. He wants to be able to make money again.

ABC Breaking News | Latest News Videos
Photos courtesy of WENN.