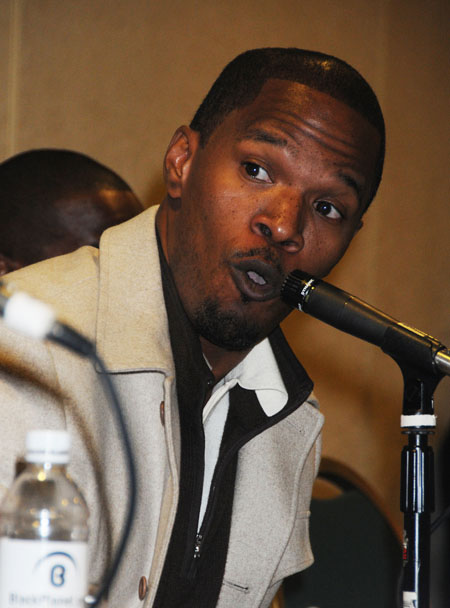 Jamie Foxx and Gerard Butler have been filming Law Abiding Citizen in Philadelphia since the beginning of the year. We've heard some semi-regular updates on filming, especially with regards to Gerard and his nakedness. But Jamie Foxx has been pretty quiet. Someone was keeping tabs on the Oscar winner though.
The guy's name is Steven Taliver, and he's Jamie Foxx's stalker. He attempted to force his way into Foxx's Philly hotel suite by pretending to be one of Beyonce's producers. When Foxx realized Taliver was a whack job, Foxx managed to keep Taliver from entering the hotel room. US Magazine's timeline is a little sketchy, but I think Taliver must have left the hotel, only to continue his stalking the next day or several days later on the film's set. Foxx's security team noticed the man, called the police, and Taliver was arrested:
A man who forced his way into Jamie Foxx's hotel room last week was arrested Tuesday on suspicion of stalking and other charges.

On March 22, Steven Taliver, 49, barged into the Oscar winner's Philadelphia hotel suite after posing as one of Beyonce's producers, according to TMZ. After realizing he didn't know the man, Foxx reportedly managed to keep him from fully entering the room and slammed the door.

Taliver was booked after Foxx's security team noticed him near the set of Foxx's new movie, Law Abiding Citizen, and called the police. He was then taken into police custody.
Although Foxx couldn't discuss the altercation due to legality concerns, he said he was fine.

"I'm good now," Foxx told Access Hollywood Thursday. "Shout out to Philadelphia and the mayor and everybody else to make sure it's good."

He added: "Sometimes you have to make sure every move you make in life is the right thing, and that you have people there to watch your back."
From US Magazine
Sounds like everybody did the right thing. Except for the stalker, of course. It sounds like Foxx was alone in his suite when Taliver tried to enter. If Jamie's security team was on site, wouldn't they have helped him? So he must have been alone. I don't care how big and tough Jamie Foxx is, that situation must have been scary. Let's hope Taliver gets the kind of punishment that will keep him away from Jamie Foxx.
Jamie Foxx is shown at an event for 103.3 The Beat in Philadelphia. Thanks to WENN.com for these photos.