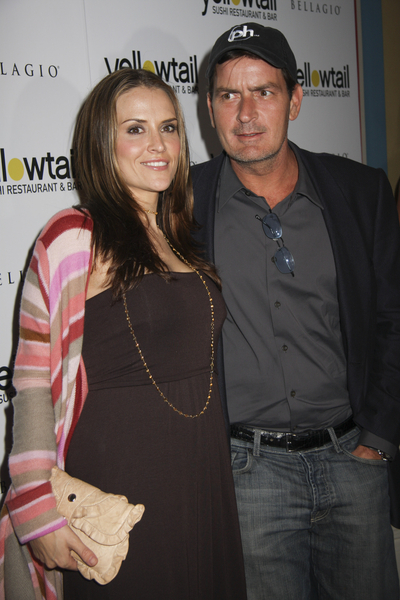 There was a lot of misinformation during the past 24 hours about Charlie Sheen and Brooke Mueller's newborn sons. The two-week-old twin boys Max and Bob are still being hospitalized in Los Angeles. Several sources reported that one (or both) of the boys had some sort of heart problem, a report that Sheen's people are flatly denying.
Sheen's publicist Stan Rosenfield issued a statement late Thursday. Rosenfield says that Max is being hospitalized because he hasn't gained enough weight. Charlie Sheen issued his own statement: "The weight issue is a very common problem among infants who were born before reaching full term." Fair enough, I'll buy that. Lots of twins are born premature, and need added time in a hospital. People Magazine has more:
At just over 2 weeks old, Max Sheen is already in the spotlight as questions swirl about why he has yet to leave the L.A. hospital where he was born – along with his brother Bob – born March 14.

"Charlie and Brooke's infant son Max remains in the hospital, not because of a heart condition as reported, but because he has not gained the weight necessary to leave the hospital," Sheen's publicist, Stan Rosenfield, says in a statement. "Max is expected to reach the weight requirement shortly and will join his brother at home."

Proud papa Sheen jokes that his son is suffering from a common affliction: aversion to hospital food.

"The weight issue is very common among infants who were born before reaching full term," Sheen says. "I know a lot of people are not fond of hospital food; I just didn't realize that they started so young."

Max and Bob were the first for Sheen, 43, and wife Brooke Mueller Sheen, 31. The Two and a Half Men actor has daughters, Sam, 4, and Lola, 3, with ex-wife Denise Richards, and another, 24-year-old Cassandra, from a previous marriage.

"The Sheens appreciate the outpouring of concern," his rep says, "but have assured everyone that both Bob and Max are fine."
From People Magazine
I really wonder where all of the "heart problem" reports came from. Perhaps thin air? Perhaps it was just a misunderstanding. Considering Charlie Sheen is already joking about it (the hospital food joke made me wince though), I suppose there really isn't anything there besides a baby that isn't gaining enough weight. I hope everything is alright for Charlie and Brooke, and the little boys.
Charlie Sheen and Brooke Mueller are shown on 9/21 and 8/28/08. Credit: PRPhotos