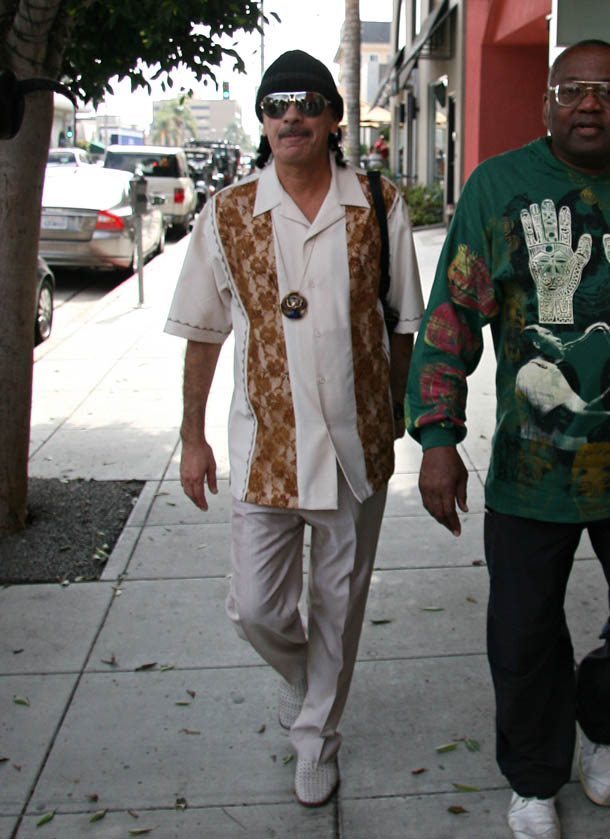 Last week, President Obama held an online townhall, in which people could write in their own questions and vote about which he should answer. So of course, Obama got the question about legalizing marijuana. His answer: "The answer is no, I don't think that's a good strategy to grow our economy. All right." So it's pretty clear with Obama's one-sentence answer that pot-smoking is not on his agenda.
Carlos Santana disagrees. The music icon spoke to the Associated Press about his desire to see state and federal officials step up and legalize marijuana. Santana has a plan too! He thinks that marijuana should be sold by the government (or taxed heavily) and then the proceeds can go to America's school systems. The AP is billing this as Santana criticizing Obama's statement, but Santana actually sounds like he's directing his comments at California governor Arnold Schwarzenegger.
President Barack Obama brushed off a question about legalizing marijuana in his online town hall last month, but guitar god Carlos Santana says he wishes he would seriously consider it.

"Legalize marijuana and take all that money and invest it in teachers and in education," Santana said in an interview this week. "You will see a transformation in America."

During his online town hall on March 26, Obama fielded a question about whether legalization of the illicit drug would help pull the nation out of recession. Obama said he didn't think it was good economic policy, and also joked: "I don't know what this says about the online audience."

But Santana said making pot legal is "really way overdue, like the prohibition with the alcohol and stuff like that… I really believe that as soon as we legalize and decriminalize marijuana we can actually afford a really good governor who won't keep taking money away from education and from teachers and send him back to Hollywood where he can do 'D' movies and we can get an 'A' governor."

Santana made the comments as he was promoting his upcoming rock residency in Las Vegas at the Hard Rock Hotel & Casino. The show debuts May 27 and runs through 2010.
[From The Associated Press Hosted by Google]
I do believe marijuana should be legalized and taxed to the extreme. My problem with the question directed at President Obama last week was that people were assuming the legalization of marijuana would have some major effect on the economy. I doubt it, but hopefully we'll find out at some point. At the very least, the legal system needs to treat marijuana as a different, much lesser drug. The criminal penalties for it vary state by state, but too often possession of marijuana is treated with the same sentencing guidelines as cocaine or crack.
Here's Santana in L.A. on October 3rd. Images thanks to Fame Pictures .