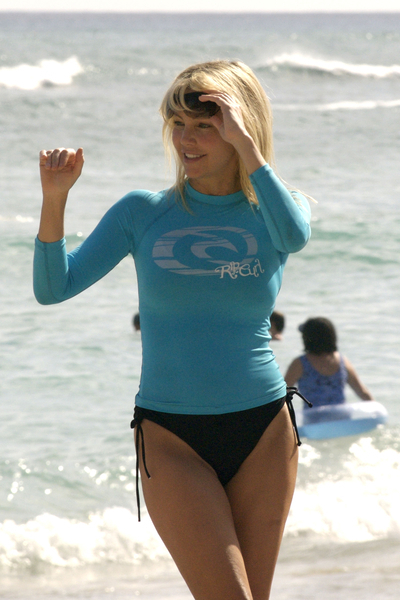 Of all the former cast members that could sign on for the "Melrose Place" remake, people seemed most excited about the possibility of Heather Locklear reprising her infamous role as super bitchy Amanda Woodward. However she ultimately passed on the project, leaving everyone wondering why. It's not like her career is really blossoming right now – her last role was in "Flirting with Forty," a made-for-TV-movie. You'd think she'd be chomping at the bit for a reoccurring role on a show that's already getting so much attention, but apparently that's not the case.
So what made Locklear pass? $100,000. Or rather, the lack of it.
Rumor has it Heather Locklear demanded too much moolah to land her a spot on the updated "Melrose Place," but is it true?

Ka-ching! According to a report, Locklear wanted $100,000 per episode to reprise her role as bad girl Amanda Woodward, but the network wouldn't pay her even half the dough she requested! Melrose Place does not intersect with Easy Street!
[From Extra]
The National Enquirer says that former co-star Lisa Rinna has been absolutely begging Heather to sign on to the show. Lisa's desperate to be cast, and even went so far as to wear a sandwich board on Robertson Blvd in Los Angeles. It read, "HONK FOR LISA RINNA ON THE NEW MELROSE PLACE!" It got her some attention, but she still hasn't been offered a spot on the show.
"Lisa thinks if Heather takes the part it will open the door for other former cast members," a source says.

But as The Enquirer has reported, Heather turned down a deal to reprise her role as ad agency head Amanda Woodward. She expected a paycheck of at least $100,000 per episode and was disappointed with her proposed story lines, sources say.

"Lisa has phoned Heather at least a dozen times, trying to persuade her to overlook the salary and story line issues," the source says.

"She keeps reminding Heather about all the good times the old cast had, and she's trying to convince Heather it will be a great career move for her.

"But Heather vows she won't budge unless the show's execs meet her demands.
[From the National Enquirer, April 13, 2009, print ed.]
I'm sort of surprised Heather Locklear feels she can be so picky. It's not as though the offers are rolling in, as far as I can tell. Or maybe they are, and she has been picky, and that's why she's only doing a few projects here and there.
It's too bad Heather passed, because I think she's really the only way the show will be successful. But to be fair, Lisa Rinna was asking her to overlook a lot. Money and bad plot lines? However Locklear would have gotten a lot of press for it, and Rinna was right – it would have helped Heather's career. Something tells me there's another TV movie in her near future.
Here's Heather filming "Flirting with 40″ in Hawaii on May 1st. Images thanks to PR Photos.com.