You guys remember Kim Davis, right? She's the thrice-divorced Kentucky county clerk who was briefly jailed for refusing to issue marriage licenses to gay couples, because "gay marriage" is against her religion or something. The judge let her out of jail when her deputies began issuing marriage licenses, and ever since then, Davis has become a hero to that particular sect of homophobic bigots. She's been doing interviews and getting some mainstream media coverage (which I ignored). And as it turns out, Davis might have made a quiet trip to Washington last week. The purpose of her trip? To meet privately with Pope Francis. Allegedly.
Media is buzzing about the Pope's comments in support of conscientious objection and whether he knows about the Rowan County, Kentucky, Clerk of Court who was jailed for six days for refusing to issue same-sex marriage licenses. The Pope met privately with Kim Davis and her husband, Joe, at the Vatican Embassy in Washington, D.C., on Thursday, September 24, which was the birthday of Kim's father. Pope Francis spoke with Kim and Joe Davis in English.

During the meeting Pope Francis said, "Thank you for your courage." Pope Francis also told Kim Davis, "Stay strong." He held out his hands and asked Kim to pray for him. Kim held his hands and said, "I will. Please pray for me," and the Pope said he would. The two embraced. The Pontiff presented Kim and Joe Davis each with a Rosary that he personally blessed. Kim's mother and father are Catholic, and Kim and Joe will present the Rosaries to her parents. Kim's mother was the elected Clerk of Court for Rowan County for 37 years until her retirement in 2014.

Kim Davis said, "I was humbled to meet Pope Francis. Of all people, why me?" Davis continued, "I never thought I would meet the Pope. Who am I to have this rare opportunity? I am just a County Clerk who loves Jesus and desires with all my heart to serve him." Kim said, "Pope Francis was kind, genuinely caring, and very personable. He even asked me to pray for him. Pope Francis thanked me for my courage and told me to 'stay strong.'"
Note the sourcing – the Liberty Council is a far-right wingnut group considered by many in the LGBT community to be a hate group. The Southern Poverty Law Center has listed the Liberty Council on their anti-gay hate group list too. What I'm saying is that you have every right to side-eye this report, since the origin seems to be Kim Davis's legal team and a hate group standing shoulder-to-shoulder with her cause. So far, the Vatican has not issued any kind of statement confirming or denying the meeting took place. Gawker did an analysis of Pope Francis's itinerary and they're finding it difficult to see when he could have possibly met with Davis as well. What I'm saying is that this could be total crap. If the Pope really did meet with a total a—hole like Kim Davis, then I will be SO disappointed.
Update: The Blaze has a "confirmation" that the meeting took place from a receptionist at the Vatican Embassy in DC.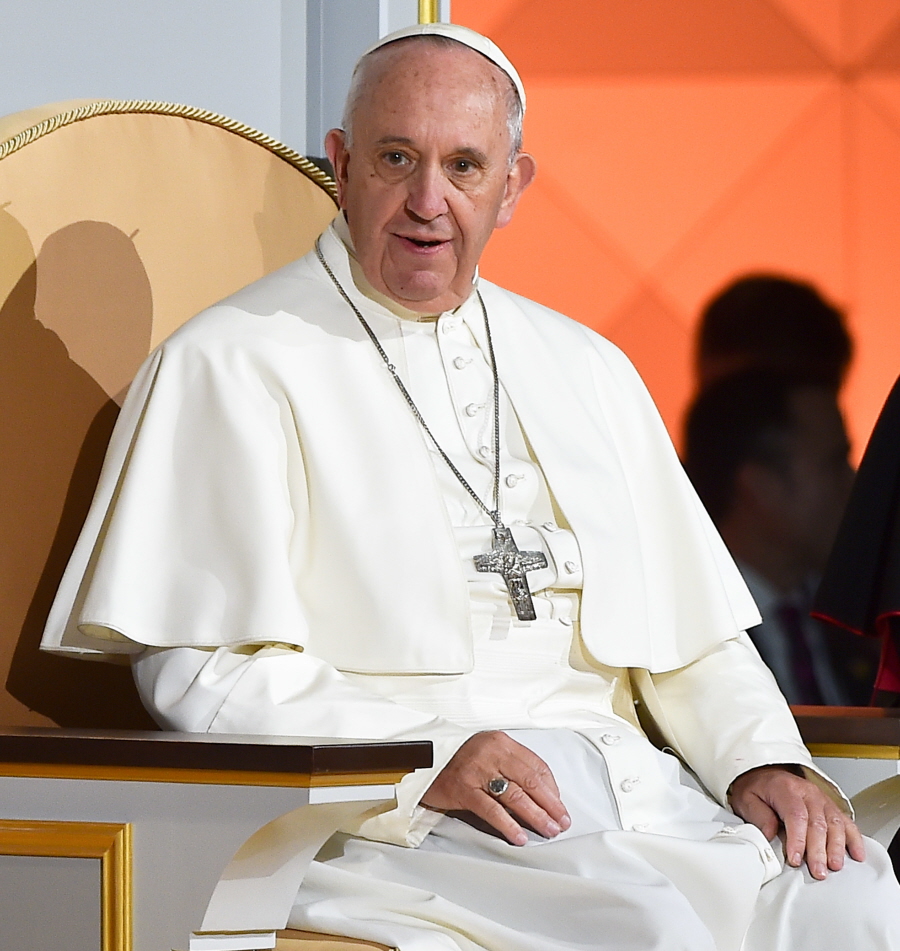 Photos courtesy of WENN, Getty.