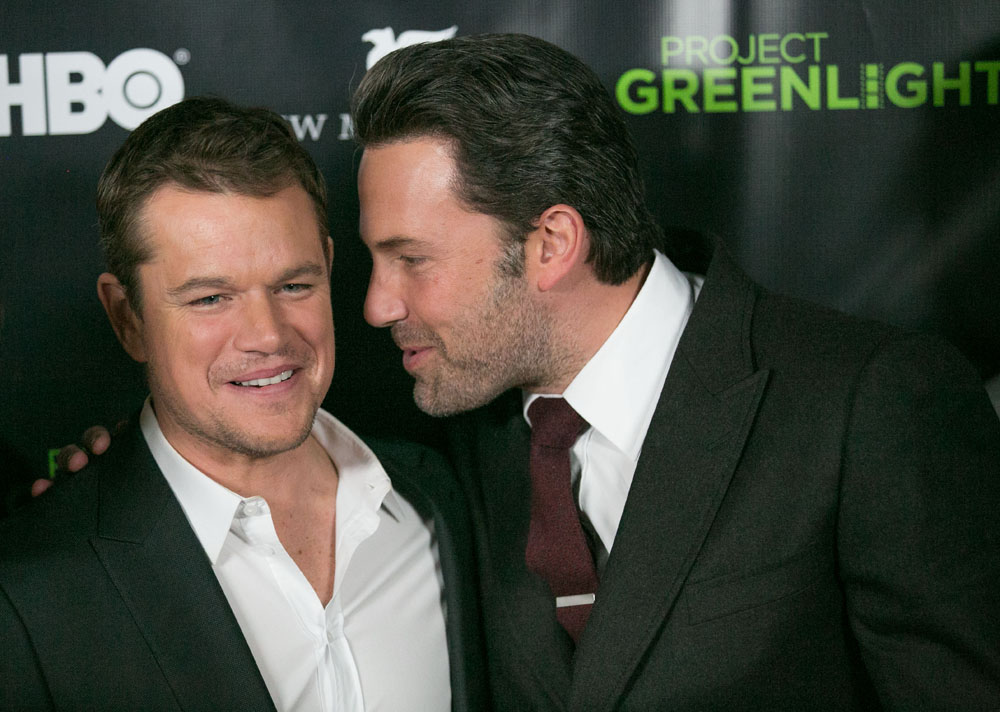 Matt Damon has a new profile in The Hollywood Reporter. They mention his career resurgence, at 44, as The Martian comes out this week and the latest Bourne installment is in production. Damon never really went away though, despite some minor misses like We Bought a Zoo and Promised Land. His return to the Bourne franchise isn't as much of a comeback as his buddy Ben Affleck's Best Picture win, as Damon never sunk to Affleck's depths. Much of that was due to Affleck's very public romance with Jennifer Lopez, whom he famously ditched just a few days before their scheduled wedding in 2004. The way Affleck tells it, he was unfairly characterized by the media and had no control over his public image. It's not shocking that Damon shares that opinion:
On Ben Affleck
"There's nobody who's more misunderstood. Ten years ago, the public image of him could not have been farther apart from who he actually is. It was like he was being cast in a role, that he was a talentless kind of meathead, with his whole relationship with Jennifer Lopez. He just got cast as this person that he wasn't. It was just really painful. It was painful to be his friend, because it wasn't fair, you know? To my mind, nobody really got him at all. And through his work, he climbed from the bottom of the mountain all the way back up to the top and past where either of us had ever been."

On #Damonsplaining diversity on Project Greenlight
"There was some context taken out." [When he saw the final cut] "I went, 'Oh my God, I look like an asshole.' I thought it was a really insensitive thing to say."

On his youth
"I had a terrible temper. I mean, like, a problematic temper. I still get riled up and competitive."

On Donald Trump
"I've never met him. But when people are talking about putting a wall up, I just can't take them seriously. I can't. It seems so un-American. We have people running for the highest elected office talking about putting a wall up that would keep my wife and her family out of the country, you know?"

He supports Hillary Clinton for President
"I love Elizabeth Warren, but she's not running for president."

On his criticism of President Obama
"We talked about it, and look, even when I was giving him shit, he's somebody who thinks so deeply about everything he does. I don't ever question that it's coming from the right place with him. He's a remarkable human being and shockingly easy to be around. He's incredibly approachable and doesn't beat you up with his station, though he could."

On meeting his wife and getting married
"I remember thinking, in my early 30s, that I wouldn't [get married], you know? I didn't think it was going to happen for me. My brother found his soul mate very young; he'd just turned 26 when they were married. He'd been married for 10 years by the time I even met my wife, and I looked at this really happy, wonderful marriage and kind of went, 'I guess that's not going to happen for me.' And then it did."

On his kids
"I heard once, you spend all of this time trying to protect your heart, and then you have kids, and it's like you put it in their bodies and send them out into the world, and you can't possibly know everything that comes with that. It's a very, very different way to be in the world."
Ben Affleck's life is perfect tabloid fodder. He rubbed his famous girlfriend's booty in her music video, bought her a $2.5 million pink diamond engagement ring, did joint interviews with her, and co-starred with her in one of the worst movies of all time. Then, just a few days before the wedding, he cheated on her with strippers in Vancouver. This summer he cheated on his wife with a nanny who was living with his family. I get that Damon wants to defend his friend, but it's so off base to claim that Affleck is more misunderstood than anyone. We've seen the things he does. Affleck may talk a good game and he may not be "talentless" per se, but the press is just judging him by his actions.
We're also judging Damon by the things he says and it's clear that his liberal politics don't always translate to liberal beliefs. He is an incredible actor though and he has both comedic and dramatic talent I'll give him that. This week Damon did a faux couples therapy session with Jimmy Kimmel where they discussed their ongoing gag in which Damon is always scheduled but never interviewed. He also did "role call" with James Corden, with the two of them acting out scenes from his all his movies in eight minutes.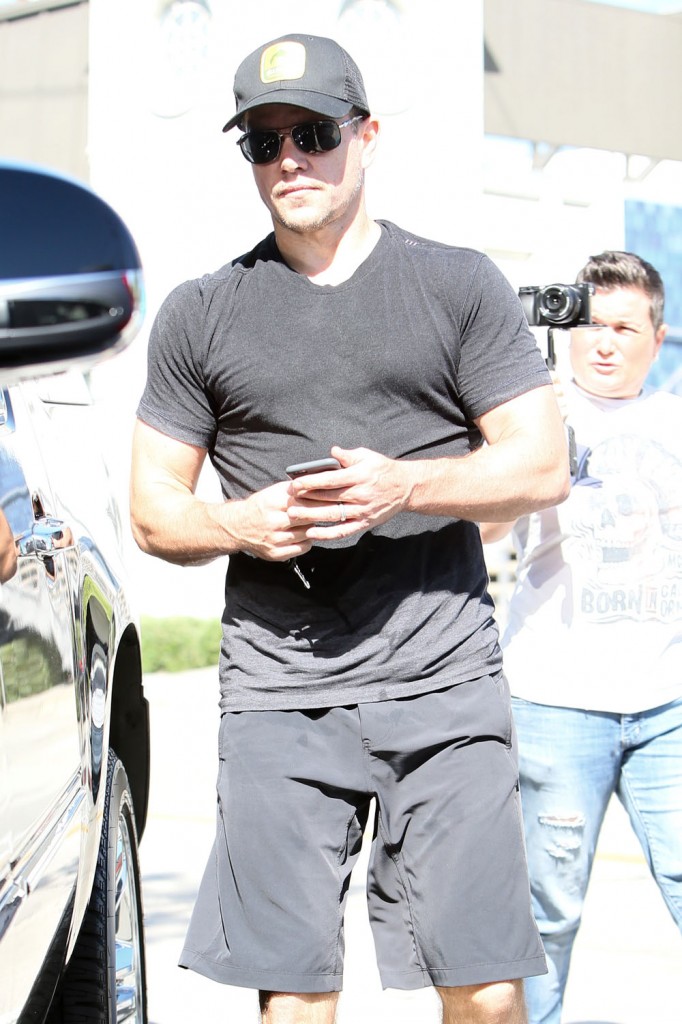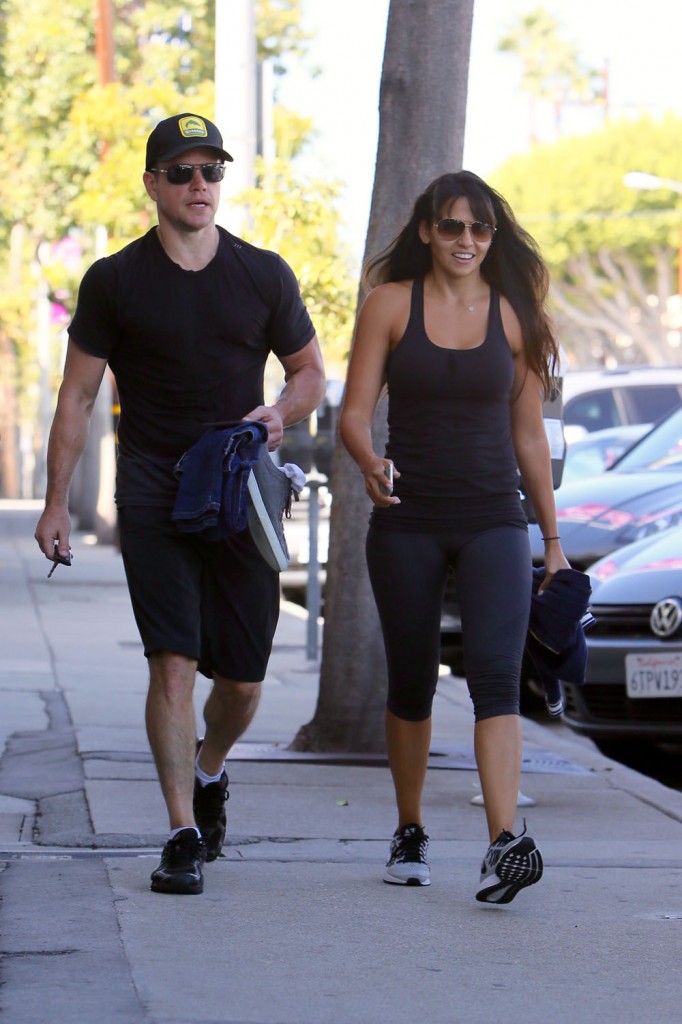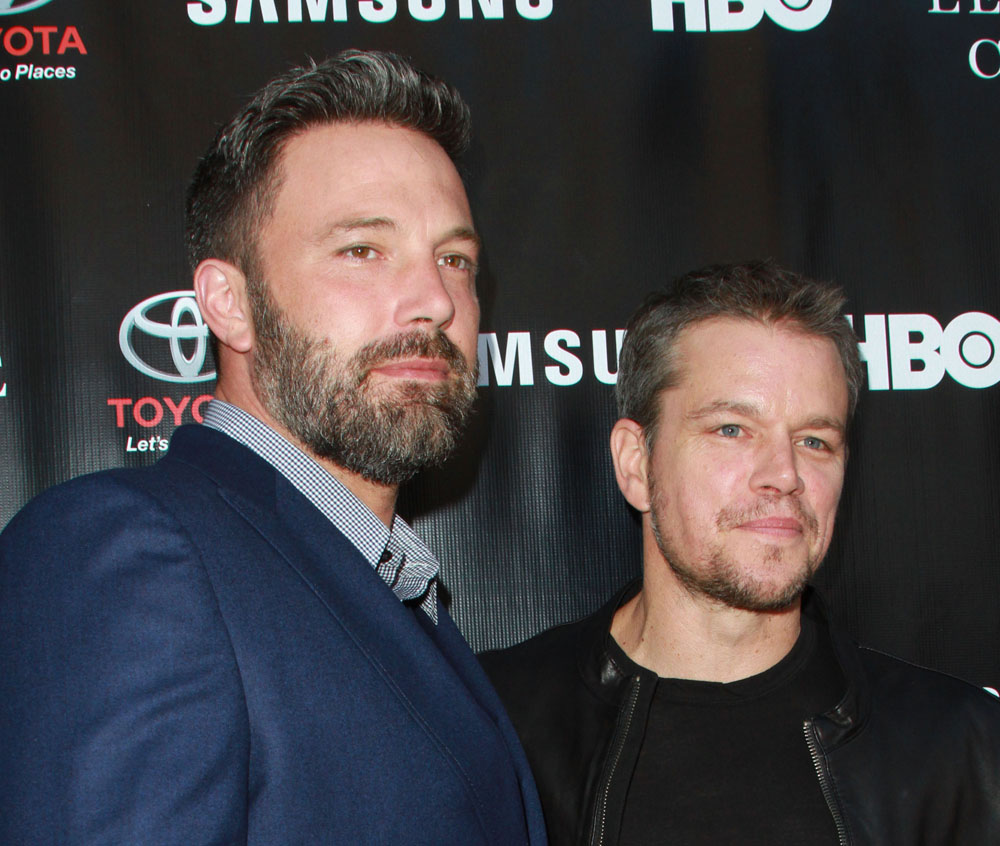 Header image is from November, 2014. Other photo of Ben and Matt is from August. Candids are from this week. Credit: WENN.com and FameFlynet