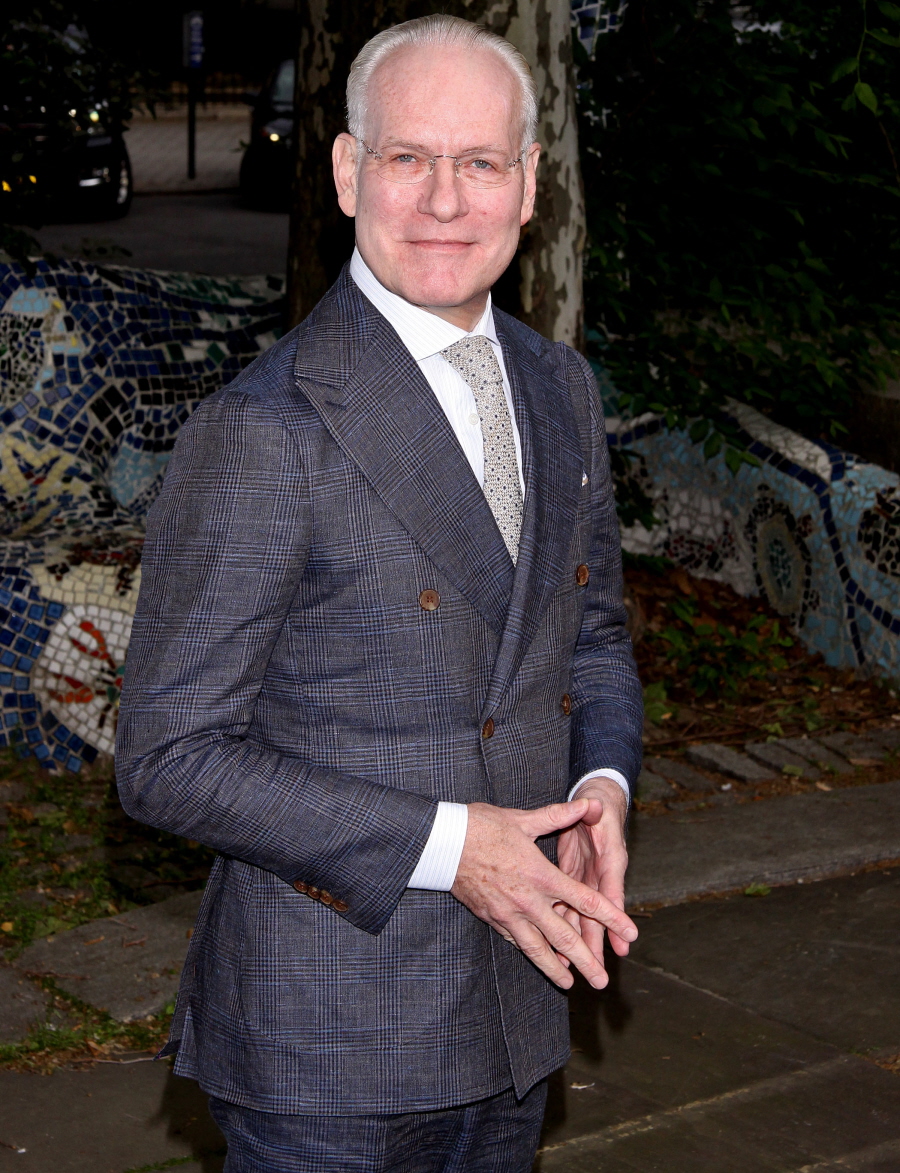 Do you guys ever watch Meredith Vieira's daytime talk show? I watch it while I'm at the gym sometimes and I really can't believe it's still on the air. It's kind of terrible. But Meredith fell backwards into a really great interview with Tim Gunn, best known as the mentor/host on Project Runway. Even though I was over Project Runway years ago, I still have a great deal of affection for Gunn and his take-no-prisoners sass-talk. Gunn really doesn't care about kissing celebrity ass and if you're a dumb famewhore, Gunn will call you out. Gunn will also call you out if you're the editor in chief of Vogue. Yes, Tim Gunn is coming for Anna Wintour. And it's glorious.
Background: the Gunn-Wintour feud really began in 2010 when Gunn revealed a funny/crazy moment from fashion week. Gunn told Page Six that he had once witnessed Wintour being carried down five flights of stairs by two beefy bodyguards. This funny story was outright denied by Wintour's people, but Gunn stuck to his guns (heh) and there was a funny back-and-forth between both camps. So, Meredith asked Gunn about that whole incident and he went OFF.
"I was asked by the New York Post… 'What is the most unforgettable moment you've ever seen in fashion?'" Tim Gunn recalled to Vieira. "[I had a] very matter of fact response and it was, 'Watching Anna Wintour being carried down five flights of stairs from a fashion show.' Her office called my office the next day and demanded a retraction and I said, 'But its true, it happened.' I mean I didn't make this up and they still demanded a retraction and I said no."

After many calls back and forth, Gunn finally received a snippy message from a higher-up at Conde Nast. "Her Director of Communications said, 'I'll have you know Ms. Wintour knows how to work a Manolo,'" Gunn recalled. "I said it wasn't a matter of not being able to go down the stairs to descend, it was a matter of speed. She had two bodyguards, who made a firemen's lock, she sat in it. They wooshed her down these stairs and put her right into her car to get to another fashion show because this fashion show as in the fifth floor of the Metropolitan Pavilion. They had to move her fast."

Gunn noted that he didn't intend at the time for it to be an insult. "She's a history revisionist, in her mind it never happened basically," he sniped, while Vieira asked what their relationship is like today. "It's hostile," Gunn shared, calling attention to Vogue's inner workings. "May I say this, though: There is so much that happens at that unique publication that is so of another world and another planet. I'm happy to have a bad relationship with it, because I wouldn't want to have a good one."

Gunn has since experienced more run-ins with Wintour, 65, which have only strengthened his low opinion of the fashion superstar. "I was [once] on an airplane with Anna Wintour and the flight attendant came up to me and said, 'Is that Anna Wintour?' And I said, 'Yes. It is,'" he recalled. "She asked, 'Do you think I can say hello to her?' I said, 'Well of course. Who wouldn't want you to greet them? That would be lovely.'"

Except the experience was anything but. "She went over and this man next to Anna Wintour, she was seated at the window and he was at the aisle, rose as she rose her own hand up as a gesture of, this is now an international incident and the man said to her, 'You have to go away, Miss,'" Gunn revealed. "So she wouldn't even allow her to lean and say, 'Ms. Wintour it's so lovely to have you on the plane.' I don't understand it."

The Emmy-winning host said he doesn't care about Wintour's reaction to his latest comments.

"She can try to turn me to stone," he said, likening her to Medusa, the snake-headed Gorgon of Greek myth. "I don't think it will happen." Gunn has no interest in burying the hatchet either. "May I also add [that] I have huge respect and regard for Ms. Wintour's charitable work," he shared. "It's wonderful and my hat's off to her but I just wish that she navigated the world with a little more respect for other people."
Nuclear Wintour sure knows how to hold a grudge. And that plane story is INSANE! What if the stewardess was just coming over to ask if Wintour wanted a cocktail and some peanuts? Anyway, Tim Gunn is everything. And Anna Wintour is Medusa. Sure!
Hamish Bowles' face in this photo. Amazing.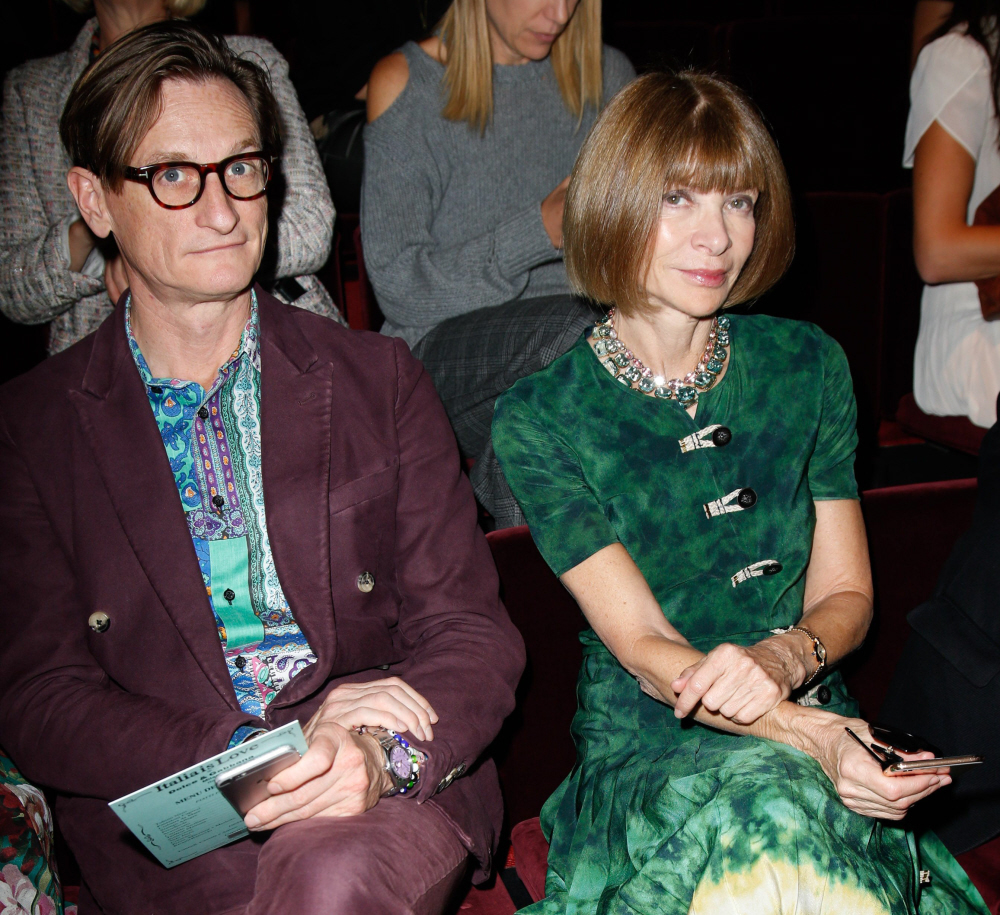 Photos courtesy of WENN.