As we discussed on Friday, Tori Spelling appeared on Lifetime's Celebrity Lie Detector to drum up publicity for herself The Unauthorized Beverly Hills, 90210 Story, which aired on Saturday evening. Part of me still feels bad that Tori can't move on from 90210 like many of her co-stars. Even Hilary Swank appeared on the show as one of Ian Ziering's girlfriends. Anyway, an advance Lifetime clip showed Tori saying she slept with two of her co-stars. Everyone already knew about Brian Austin Green. So we were left to wonder whether she meant Jason Priestly or Luke Perry.
In the above clip, Tori admits feeling puzzled about how Aaron Spelling only left her $800,000 in his will. Now that the episode has aired in full, here's what went down with the more juicy questions:
She banged Priestley: "It was a summer fling, it was off set, It was our version of, like, a summer romance, the 90210 version and that was it. You know, we stayed great friends for the rest of the run, and beyond that, but yeah, we had that one summer fling."

Perry kissed her on her 18th birthday: "It was like for a second, but it was like for a young girl that was everything. But no, we never had sex."

Shannen Doherty showed up late once, and Ian Zierling got mad: "Ian turns to her and he said, 'You are a c***. She looked at him and she goes, 'What did you say?' and he said, 'Can't Understand Normal Thinking.'"

On her "small" inheritance: "It still confuses me. I know he worked so hard … I don't really understand the thought process behind it."
[From Lifetime's Celebrity Lie Detector]
Tori's befuddlement over her teeny-tiny inheritance is a bit silly. Many people could live on that amount for the rest of their lives. I certainly could, and with some good investment, that money could provide for a pretty sweet lifestyle. Tori just blew the money like she does with all of her earnings, and she seems ungrateful that her dad set her up with the only career she ever had. Sure, she's a terrible actress and an even worse liar, but she could have made something out of the 90210 momentum. Actually, she did make a pretty solid living for a few decades. If only she didn't regularly live above her means, Tori and her family would be more than fine right now.
Also, I guessed correctly — she totally slept with Priestley. Tori's lucky to have kissed Luke Perry too! She went from guys like that to Dean McDermott. Talk about a downgrade. Are you surprised to hear Shannen Doherty angered even the mild-mannered Ian Ziering?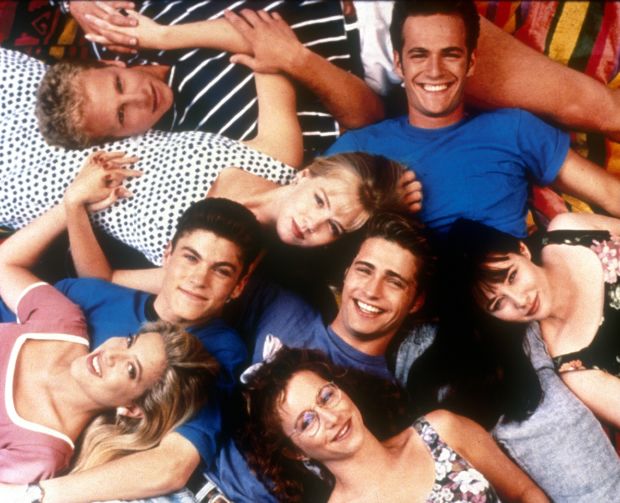 Photos courtesy of Fox