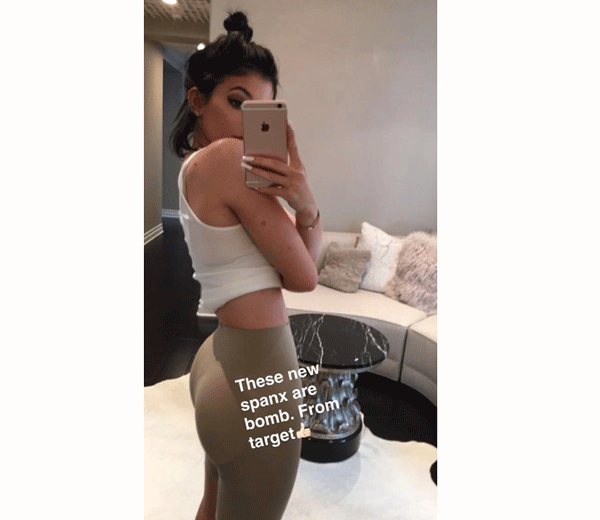 Programming note: Bedhead is going on vacation soon so I'm preparing by covering one of her people today.
Kylie Jenner recently Snapchatted the above photo of her booty in Spanx. She seems to be shilling for Spanx as she later tweeted a link to where you can buy these compression stockings. People have publicly mused that this photo shows evidence that Kylie wears butt pads so that her butt more closely approximates the huge asses her sisters Kim and Khloe sport. The fact is that these Spanx have cut outs around the butt area so that women's derriéres can breathe or pop out or whatever it is our butts are supposed to do to attract the opposite sex. So this is not evidence that Kylie has butt pads, that part is just more lightly colored because the fabric is thinner around the buttocks. Here is US Magazine's explanation:
The 18-year-old reality star left nothing to the imagination when she snapped a photo on her iPhone of her new, distinctly un-sexy, flesh-toned support wear, pulling up her white tank so the entire garment could be seen.

"These new spanx are bomb," Kim Kardashian's younger half-sister wrote on the photo. "From target," she added, in case fans wanted to rush out and purchase.

But one fan in particular found the latest social post from the Keeping Up With the Kardashians star totally hilarious — as she felt sure Jenner's fake butt pads were visible in the snap.
"LMAO Kylie just posted a picture on snapchat and you can see her butt pads!" the fan wrote, sharing the photo with their own followers.

Eager not to be thought to have a fake butt, Jenner was quick to respond. "They are Spanx…here's the link if you want some ;)," she replied, before promising a video of the new product on her new app soon.

The link included in Jenner's post revealed that the lighter orbs around each butt cheek weren't fake buttock pads, but were in fact a thinner piece of material, or "rear pockets that release for a perky backside."
To me, this is evidence that Kylie may have had the same thing her sisters had done, a Brazilian butt lift. So far she's only admitted to lip fillers (after initially denying them) but there are rumors that she's had a butt lift and/or a boob job. When I see how different Kylie looks now to how she looked just a year ago, I believe she had all the procedures.
Oh and Kylie hung out with Caitlyn yesterday. She Instagrammed the photo below in honor of "bullying prevention day" and also they did a pap walk because of course. I feel like Caitlyn just got absorbed into the Kardashian nonsense and that we're no longer paying attention to her transition. It's old news at this point and I can't decide whether that's a good or bad thing.
Oh and here's Kylie making more money by promoting a waist trainer. Just like her sisters! Those things scare me.
Photo credit: WENN.com and Kylie Jenner/social media