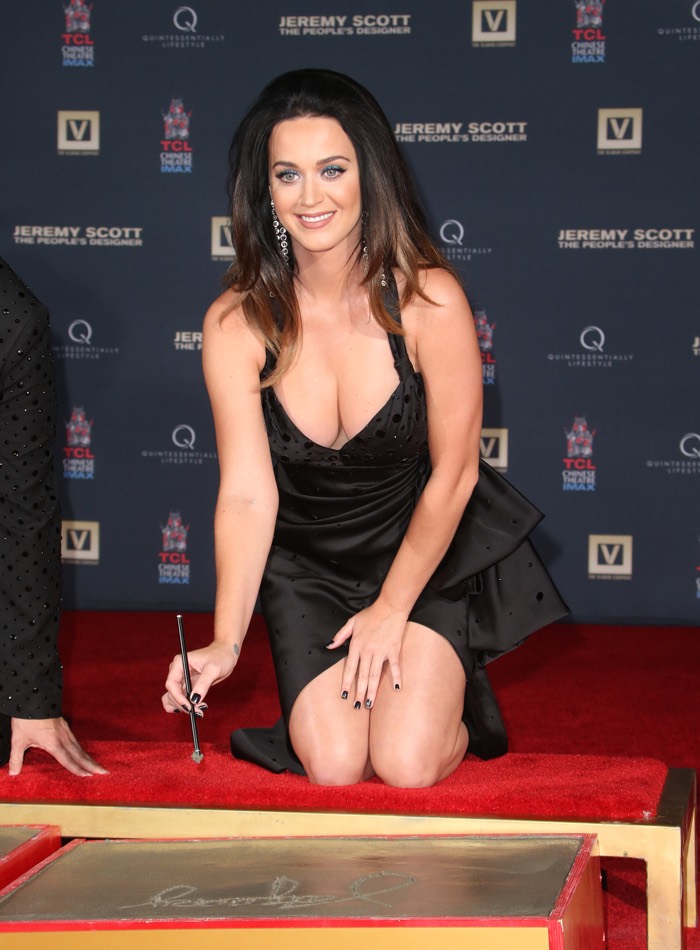 When I first spotted this article at NYMag's The Cut, I was taken aback. The columnist really doesn't like Katy Perry. They seem particularly offended by Katy's recent endorsement of Hillary Clinton for president. Katy's endorsement is portrayed as a terrible thing. Mostly, Katy is dismissed as a bland, static pop star. She's not as "complex" as Beyonce, Nicki Minaj, or Taylor Swift. Really … Swift? I've always felt that Swift's recent turn towards unleashing the "crazy" had more to do with the press calling her out, so she embraced the reputation. Swift's lyrics are not complex at all, nor is her image. I also have feelings about Beyonce and Nicki Minaj's alleged complexity, but let's get on with this column.
The columnist takes issue with how manufactured Katy's image appears, but she neglects to notice that all pop stars are similarly constructed. Most of them try to hide it, but Katy doesn't care. Part of her image includes the very appearance of manufacturing. She has a team of people who help her achieve this, an "empire," if you will. Katy may project the appearance of a clueless little girl, but she's a shrewd businesswoman underneath it all. This is a superficial dismissal of Katy's superficial qualities. The entire column is outlandishly mean, and here are a few paragraphs:
Katy Perry never changes. Her brand is the very essence of reassuring, non-threatening stagnancy. She encapsulates that remaining, silent majority (It never goes away! Don't fool yourselves!) that doesn't like to be challenged at all, ever, for any reason — not by women, not by music, not by the weather, not by anything. Where Beyonce pushes us to accept feminism and strong, assertive women (with a faintly wicked twist), and Taylor Swift pushes us to embrace vulnerability and femininity (with some emotionally volatile undercurrents), Katy Perry pushes such avant-garde, high concepts as teenagers, horny; California girls, awesome; aliens, weird; and kissing girls, actually kinda nice.

In all likelihood, then, Katy Perry's intention to campaign for Hillary Clinton suggests nothing more than the fact that Katy Perry would prefer to sound like someone who stands for something, even though she isn't that person and never has been. It's a nice try. But against a backdrop of female pop stars who push the boundaries of what a woman can do and say and get away with, Katy Perry remains a comforting, nonthreatening attachment object. She is a giant woobie in a time of great change. She is a blank slate, a soothing emotional day spa for those who prefer easy answers. She's a void with swappable wigs, a tasty nothingburger.

Katy Perry is as conflicted and complex as a pumpkin-spice rug-and-room deodorizer. She doesn't have a look. She never changes. The Katy Perry of 2010 is the same as the Katy Perry of 2015. Her hair color is different here and there. That's it. She wears tight, glittery, rainbow-colored dresses and black eyeliner. Always and forever a Super Star Barbie circa 1988.

Do you ever feel like a plastic bag — not because you're polluting the oceans, but because you "want to start again," presumably by being recycled? So does Katy Perry. But then she remembers that she's a firework. Singular. Think for a minute about what it takes to be the kind of person who can sing the word firework like it's an actual word, over and over and over again, without feeling the faintest hint of self-loathing.
[From NY Mag's The Cut]
It gets even worse from there. I'm not sure what this column aims to accomplish. Does the author want Hillary to publicly disavow Katy? I don't see this happening. Katy may project a cotton-candy image, but her music is benign. She's not hurting anyone. She has an audience and serves a purpose. Katy is very aware of her effect and what she's doing. It's all engineered, and yet she's accused of not "trying hard" as hard as her contemporaries. The article is damning, but so far, this tweet is the only response from Team Katy.
The higher you get up the mountain, the stronger the wind blows.

— KATY PERRY (@katyperry) October 17, 2015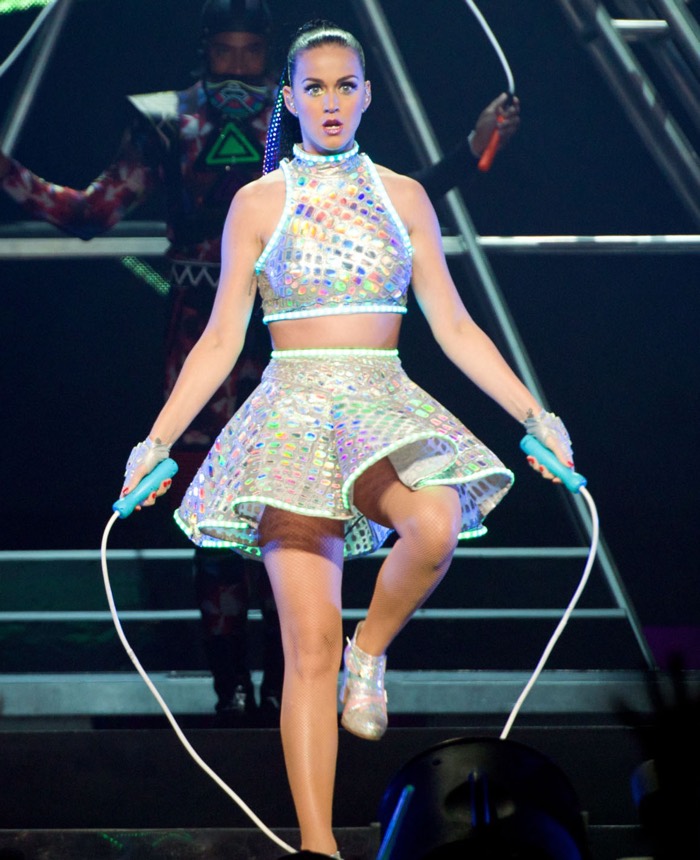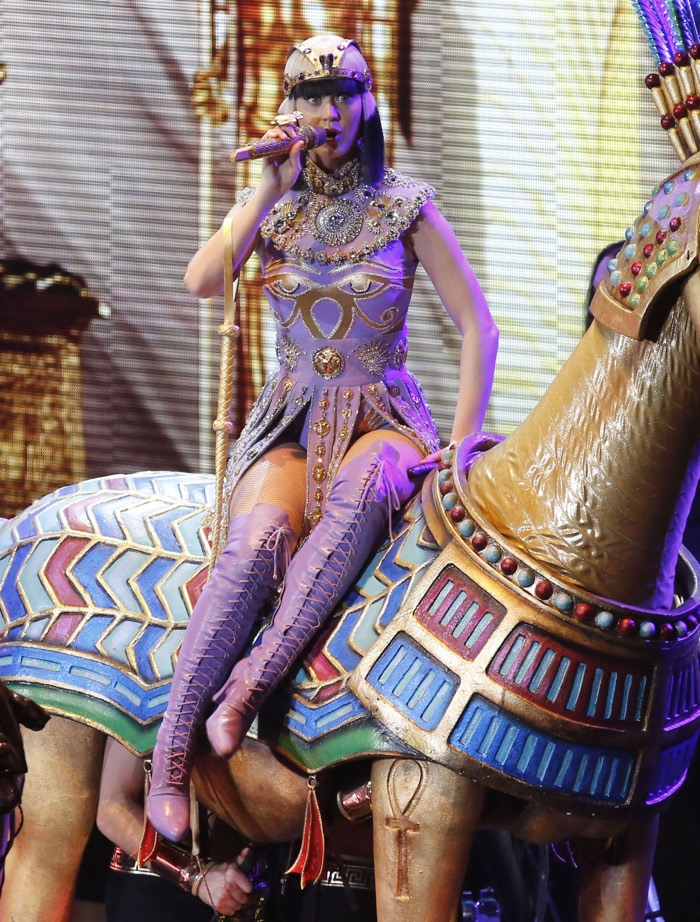 Photos courtesy of Fame/Flynet & WENN