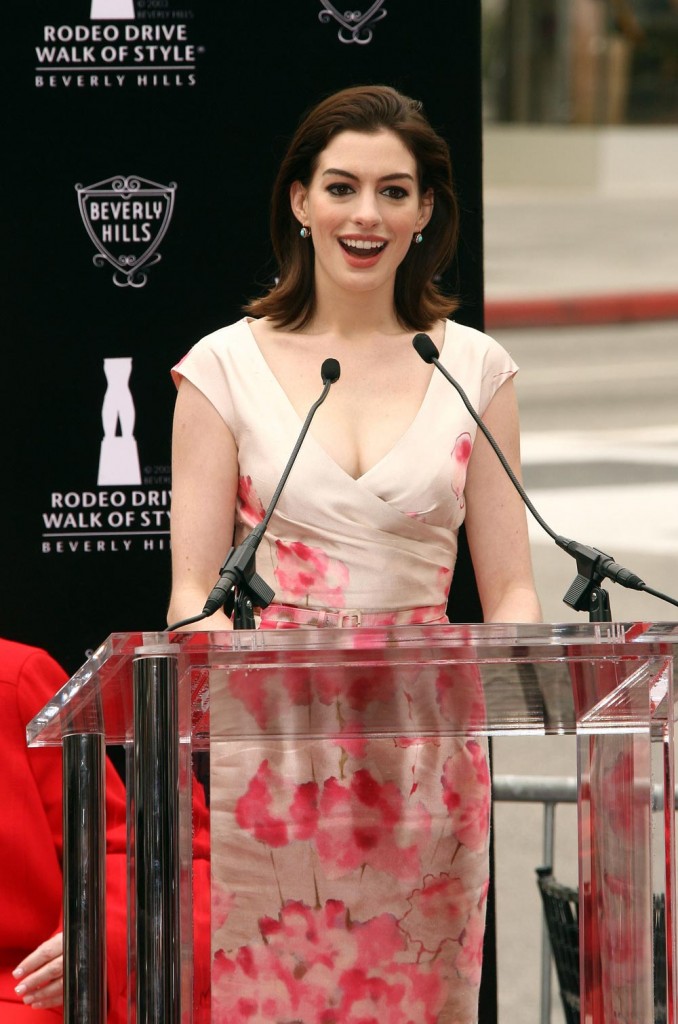 Posh is going to be pissed! Rumors abound in the fashion world that Victoria Beckham is about to be axed as the face of Marc Jacobs. Not just fired, but replaced with a younger American star – Anne Hathaway.
Posh became "the face" of Marc Jacobs in 2008. Some of the print ads were really cute, like the one of Posh in one of the oversized Marc Jacobs purses, with only her legs hanging out. When Posh launched her own clothing line in late 2008, some people took note of how similar some of her pieces were to some of Marc's designs. The horror! Even though Marc and Posh still seemed to have a professional and personal friendship, word around the street was that Marc was looking for a new face. He may have found his new muse with Anne Hathaway.
Victoria Beckham may have been replaced in the affections of one of the men in her life. Fortunately it is not her husband David, but her friend and designer Marc Jacobs who is on the look out for a new leading lady. Jacobs unveiled Beckham as the face of his eponymous line in 2008 but, with the former Spice Girl focusing on her own design collection, he is reportedly courting a younger woman; actress Anne Hathaway.

Hathaway appeared last week in Beverley Hills to present Italian design legend Valentino with his Walk of Style award. The young actress was nominated for a Best Actress award at this year's Oscars and was highly acclaimed for her role in 2005′s Brokeback Mountain, but latterly her red carpet appearances have stolen the headlines.

"Marc and Anne have forged a fast but very intense friendship," a friend of the star revealed to the Mail on Sunday. "They're going to start doing public appearances together soon."

"Anne hasn't signed up to do any advertising yet but, by dressing her, Marc can infuse his line with a fresh but famous face and Anne can revamp her image," the source continued. "If it works well, Anne would be happy to model for some of Marc's campaigns."
From Vogue UK
Yes, I'm sure Anne would be "happy" to model for Marc Jacobs. Spare me! A Marc Jacobs contract is one of the most sought-after modeling gigs in fashion. It has the "cool" factor, it pays well, the ads are hip and fresh, and it's great exposure for any actress or model. Anne should be thanking her lucky stars that Marc Jacobs is interested in her, even if it's just a rumor.
Anne Hathaway is shown at the Rodeo Drive Walk of Style Award to Honor Valentino, who looks incredibly orange as usual, on 4/2/09. Credit: Juan Rico/Fame Pictures