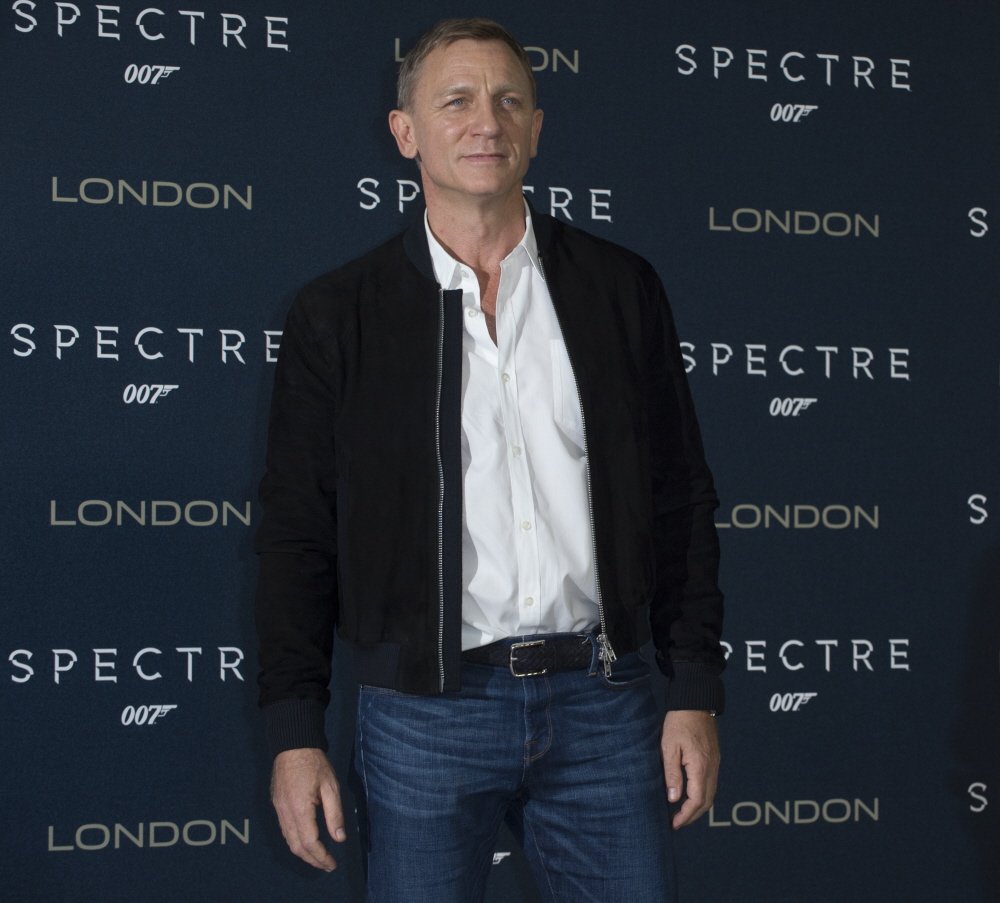 I think Daniel Craig has gotten to the point where he actually enjoys making the James Bond movies, but he will never, ever enjoy promoting them. In the past few months, Daniel has given a handful of advanced interviews on behalf of Spectre and while he's been more talkative than usual, he's still a curmudgeon. In his recent TimeOut London interview, he even said he would rather "break this glass and slash my wrists" than play Bond in another film. So, as the Spectre promotional whirlwind really starts up, Daniel is already depressed. And he's taking it out on journalists. And it's sort of funny, especially when the journalists are super-annoying.
"I think you need to move on" should be the only words Daniel says throughout this press tour. That's what he should say to every question! Personally, I'm just thankful that this eager-beaver entertainment reporter is British and not American. I'd like to think that an American reporter wouldn't demand to see the pout several times in the span of 30 seconds. And if the reporter was American… my God, the flame-war. Americans are too pushy! They don't understand British humor! Etc. This just goes to show that British entertainment journalists are just as cloying and annoying.
Meanwhile, Daniel did manage to say some (grumpy) words to Red Bulletin as well. You can read the full piece here. Some highlights:
What we could learn from James Bond: "Nothing."

Bond's inspirational personality traits: "Let's not talk these films up as some kind of life-changing experience. Bond is what Bond does. Bond is very single- minded. He takes his own course. And that's simple, which is great."

The importance of bulking up to play Bond: "It's an aesthetic choice. My female producer always makes sure I take off my shirt often enough."

His favorite James Bond trait: "Bond can be a gentleman. Sometimes, anyway. He's a considerate person, he takes care of business, and he looks out for other people and his family. He's someone who opens doors for people— for everyone, that is, not just women."

Bond is a misogynist: "But let's not forget that he's actually a misogynist. A lot of women are drawn to him chiefly because he embodies a certain kind of danger and never sticks around for too long.

What he says when Monica Bellucci is referred to as "an older woman": "I think you mean the charms of a woman his own age. We're talking about Monica Bellucci, for heaven's sake. When someone like that wants to be a Bond girl, you just count yourself lucky!"

Whether he'll do another Bond film: "Yes, it's always the same question: Which is worse—leaving the party too early, or staying, getting totally drunk and then passing out on the floor?
I revel in Daniel Craig's discomfort, I honestly do. Does that make me a sadist? I just love how bitchy and grumpy he is while promoting this enormous f—king franchise. Spectre cost something like $250-300 million to make, you know? And it rests on the grumpy shoulders of a man who insists on reminding everyone that James Bond is actually a misogynistic jackass.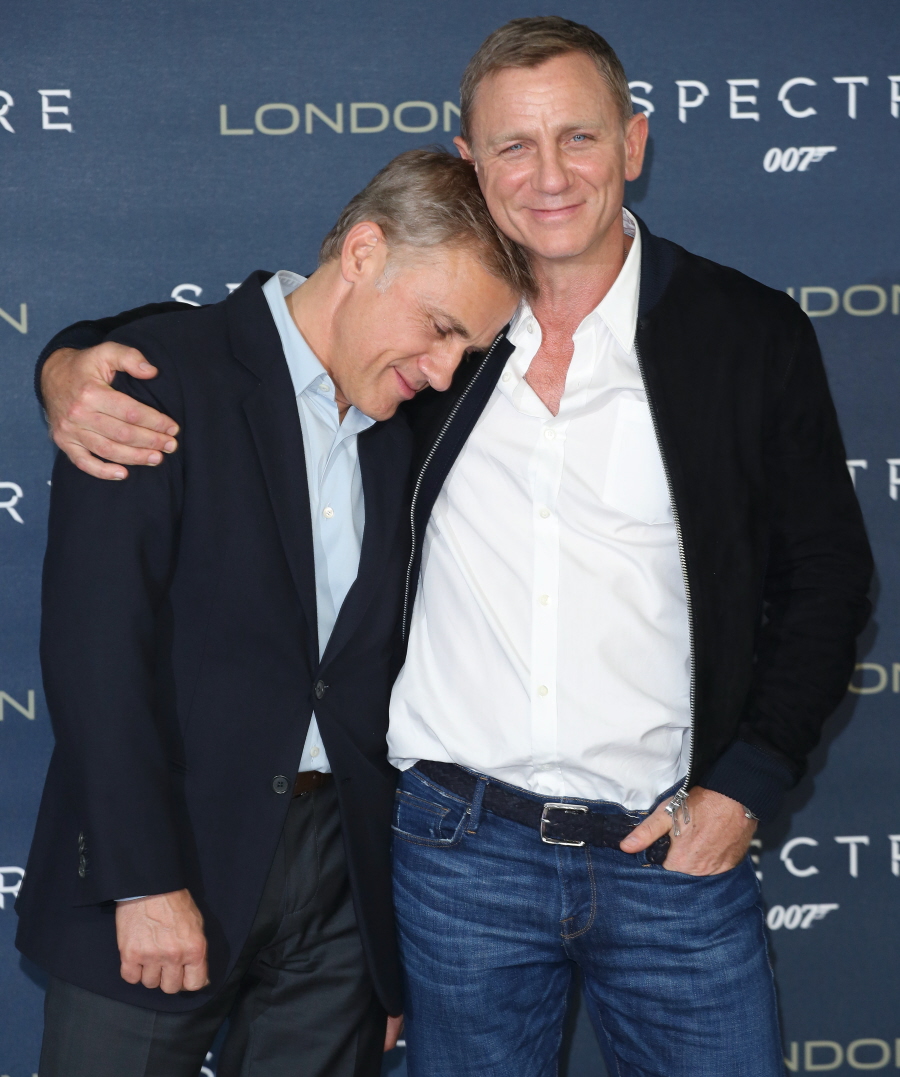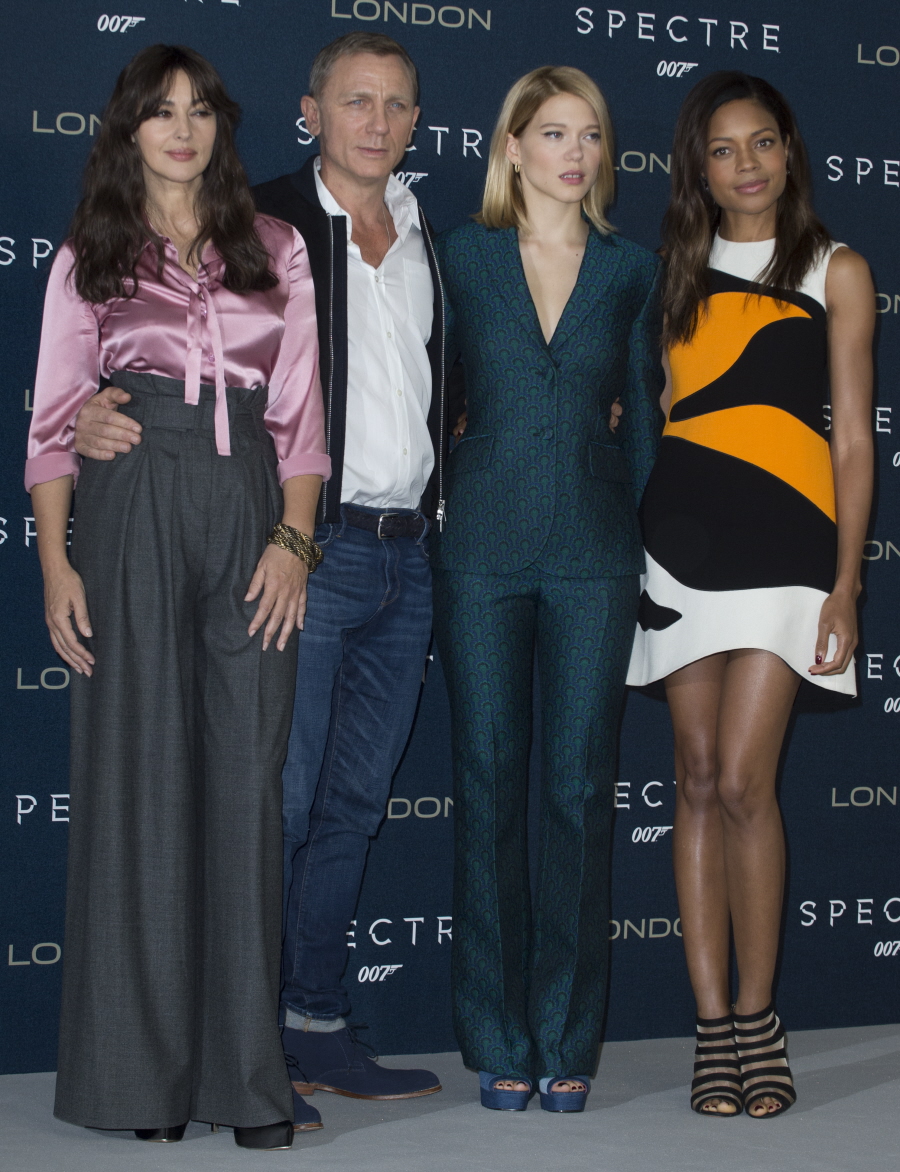 Photos courtesy of WENN.