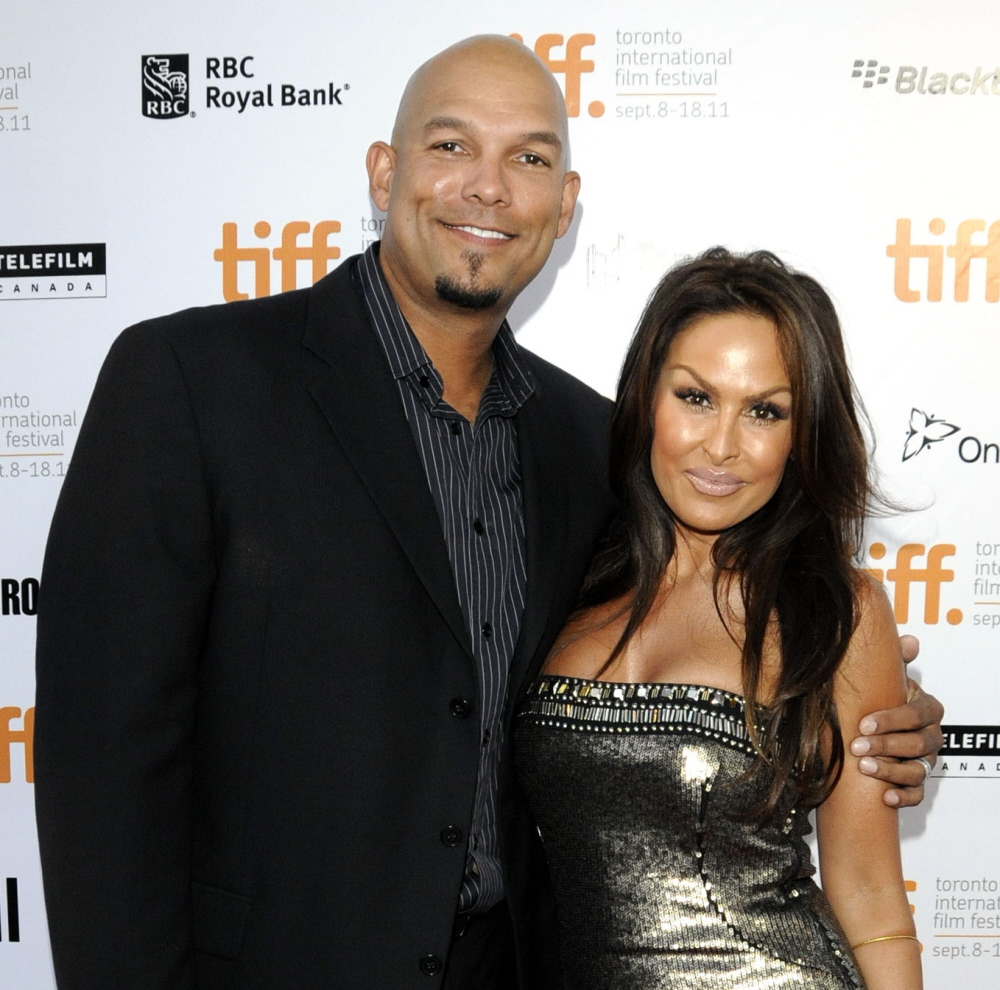 Tuesday morning, David Justice went on a Twitter rant about his ex-wife Halle Berry. The crux of Justice's angry tweets was to "clear the air" about the long-standing rumors that he had physically abused Halle during their marriage. Justice claims he never hurt her physically, that he was not the guy in Halle's references to an "ex" who had stuck her on the side of her head. Of course, Justice also made some other references to Halle's relationship M.O., as in whoever is her boyfriend is her savior, her knight in shining armor, and then when the breakup happens, Halle and her people go after the guy until he's sorry he ever met Halle.
Justice later deleted most of his tweets, although the Twitter tirade did spark some renewed interest in his side of the story, which led to Justice speaking to the Daily Mail and then Access Hollywood. Here's what he had to say to Access Hollywood later on Tuesday:
He's not a spokesperson for Halle's Maligned Exes. "I'm not trying to be the voice of Halle's exes. What I was trying to do is let everybody understand that I am in the community coaching kids from baseball to basketball to football. I'm trying to be a role model and I don't want these kids and my kids' friends reading [reports] and then everyone looking at me like, 'I didn't know coach did that to some woman.' I don't want parents going, 'I didn't know my kid's coach did that to some woman.'"

He doesn't know Eric Benet. "I am not in contact with Halle or any of the boyfriends, nor am I trying to be. I'm not that dude."

Seriously, he never hit Halle. "Not only have I never hit Halle, Halle has never verbally said that I hit her. What Halle said was that she had been in abusive relationships. Everyone at that time assumed it must have been me because I was the only guy at that point in time that everyone knew she had dated or married. Twenty years ago, I didn't have any kids. Twenty years ago, I was just trying to get away from a bad situation. A lot of things were said about me that [weren't] true, that [weren't] a part of the relationship. Because we are in the social media era, something like this gets reported and if I don't say anything, people will take that as it must have been true. I can't have that. I have a 15-, 13-, 11-year-old and I'm in my community coaching, trying to be a good role model."

He's not looking for a reality show. "It's not about me trying to get my name back in the media. I'm not trying to get a reality show. I just felt like I needed to say something. I don't like the fact that when I'm brought up there has to be this stigma of this alleged abuse."
While I think Justice's initial Twitter rant was on-point, it also came across as sour grapes to some people. As in, Justice and Halle were both damaged people in their marriage and why is he trying to play it like she's the only one with issues? But think of it this way – I'm sure every time Halle has some high-profile split or drama, journalists call David Justice and all of her exes for comment. Justice might be sick of having to still deal with those rumors, and to be fair to him – even though he's explicitly denying it, I'm sure there are a lot of people who still believe he's a physical abuser.
Justice also took to Twitter to thank Halle for "finally squashing all the rumors about their relationship." But he cited this TMZ story which doesn't really quote Halle, although it obviously comes from her people. TMZ wrote: "Halle Berry has no idea what sparked David Justice's tirade … but it appears she never said or even insinuated he attacked her. Sources close to Halle tell TMZ the actress is upset that Justice put her on blast Tuesday… Our Halle sources say the actress is adamant … she never claimed Justice struck her during their relationship."
Photos courtesy of WENN, Getty.