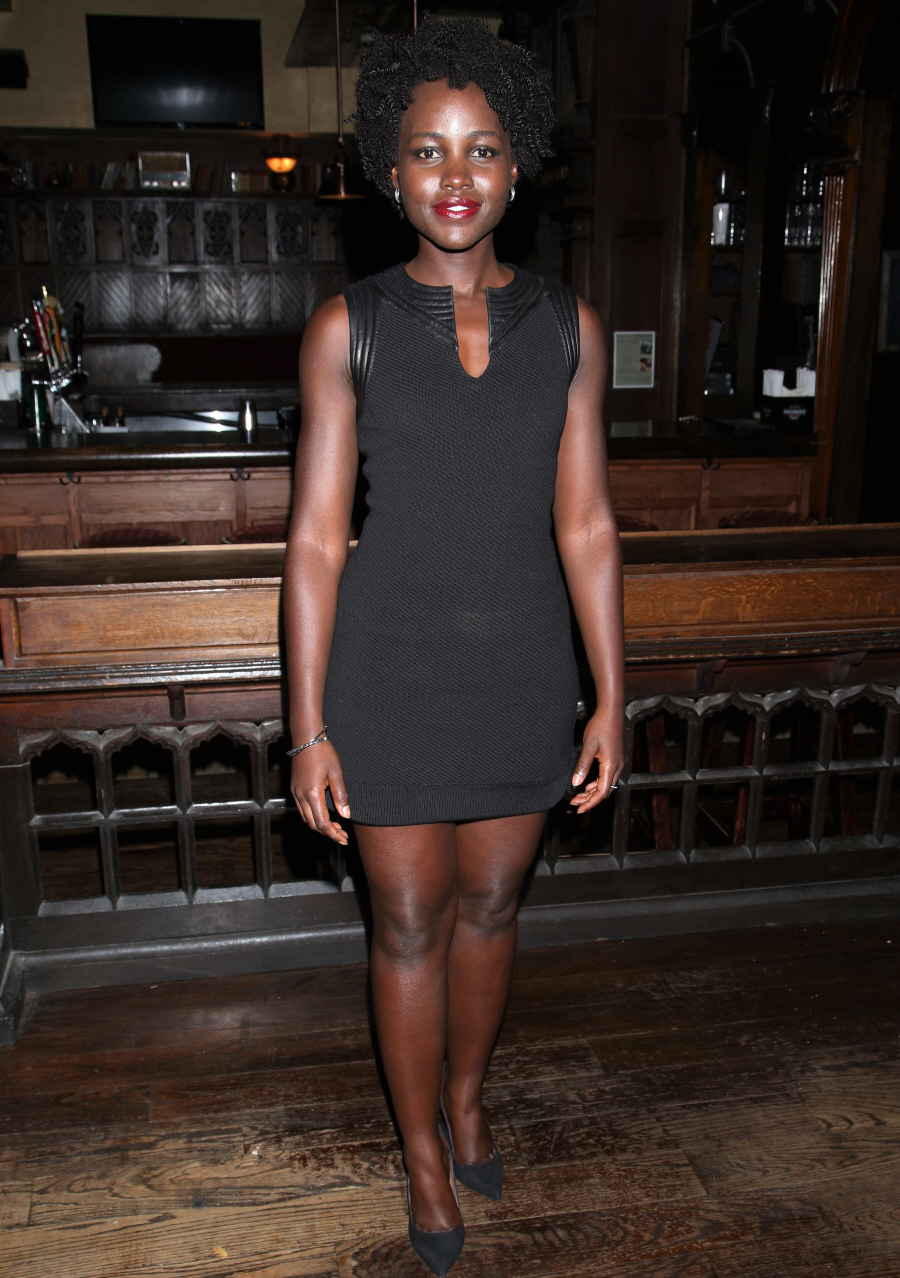 Lupita Nyong'o is currently starring in an off-Broadway (but soon-to-be-Broadway) play called Eclipsed. Photographers have been getting some street style photos of her every now and then as she enters and leaves the Public Theater. I like the fact that Lupita is staying busy, because for a while there, I was worried that her movie career wasn't taking off properly. I want her to work. And this play sounds like a good project for her. Unfortunately, someone at the Public Theater decided that Lupita was and is an unhinged diva, or at least that's the story being sold to the Daily Mail. Seriously… is Lupita Nyong'o a diva? I truly do not believe it.
A source tells Daily Mail Online Oscar winner Lupita Nyong'o is really a diva who is completely overshadowing her co-stars of the Broadway-bound play Eclipsed with her backstage antics. Theater actresses Pascale Armand, Akosua Busia, Zainab Jah, and Saycon Sengbloh were all initially excited to work with Hollywood's breakout star, but now the four women can barely stand to share the stage with her, theatre sources reveal. Theatre maverick Stephen C. Byrd, who is executive producer of the play's Broadway run, was adamant that Nyong'o be cast in the show after learning she was turned down for the role while an undergrad at Yale School of Drama.

'Stephen paid her top-dollar to be in this production. He's head over heels to have her in the show and has made it clear to everyone, whatever Lupita wants, she gets. He's assured her that this is her show and he'll move mountains to please her,' a source told Daily Mail Online, before adding: 'And she's milking that!'

A story of four women during the Civil War of Liberia circa 2003 confined to slave-like quarters in a rural compound by a warlord rebel leader; Nyong'o's co-stars thought the ladies should build chemistry by having lunch off-site together during rehearsals for the show this past summer.

'She declined all invitations to go out to lunch with her cast members and keeps to herself in the shared dressing room quarters while the ladies went out. She even tried to get her own separate dressing room at The Public Theater, but the venue didn't have the space for it,' the source explained. 'If Stephen could have done it, he would've. I'm surprised he didn't get a trailer for her like she was on a film set outside the venue.'

Though the 12 Years a Slave star comes across as Hollywood's darling and America's sweetheart in public, her Eclipsed co-stars feel she's an 'ice princess' and a 'manipulative b****' behind the scenes.

'She doesn't speak to anyone when she's not on stage and in character. She has security backstage because she claims she has a stalker. She only wants to do press interviews alone, despite the show being an ensemble piece. She's done everything she can to alienate herself from her co-stars,' said the source.

Regardless, Eclipsed is playing to a sold-out run at The Public and it has already been announced that the show will move to Broadway in February 2016. Only Nyong'o has been confirmed for the Broadway transfer and Byrd has told her she can decide which of her co-stars she would like to take along, sources claim.

'Now the fate of these actresses is in the hands of a woman who barely speaks to them. They are all walking on eggshells and are all appalled that just a few years ago, the director wouldn't even cast her in the show and now she's determining who's joining her in her Broadway debut,' added the source.

'She's the nucleus of the backstage drama but she knows that the only thing she has to do is wear her designer fashions, flash her dazzling smile and she will win over the masses,' the source continued. 'She's so good at playing the 'damsel in distress' role that many people think she's really an ingénue but her backstage behavior only exacerbates the fact that she's an ice, cold, untouchable diva.'
Eh. Maybe Lupita isn't super-friendly with her co-stars. Maybe she doesn't want to get buddy-buddy with people who are willing to sell her out to a media outlet? Or maybe she's truly a pill. While her adorable-princess vibe might be an act, we've seen a lot of Lupita's personality over the past few years. She wasn't some sullen teenager when she won her Oscar, you know? She was already 30 years old. She is an adult and she behaves as a professional in every setting we've seen her in. So… do you believe this?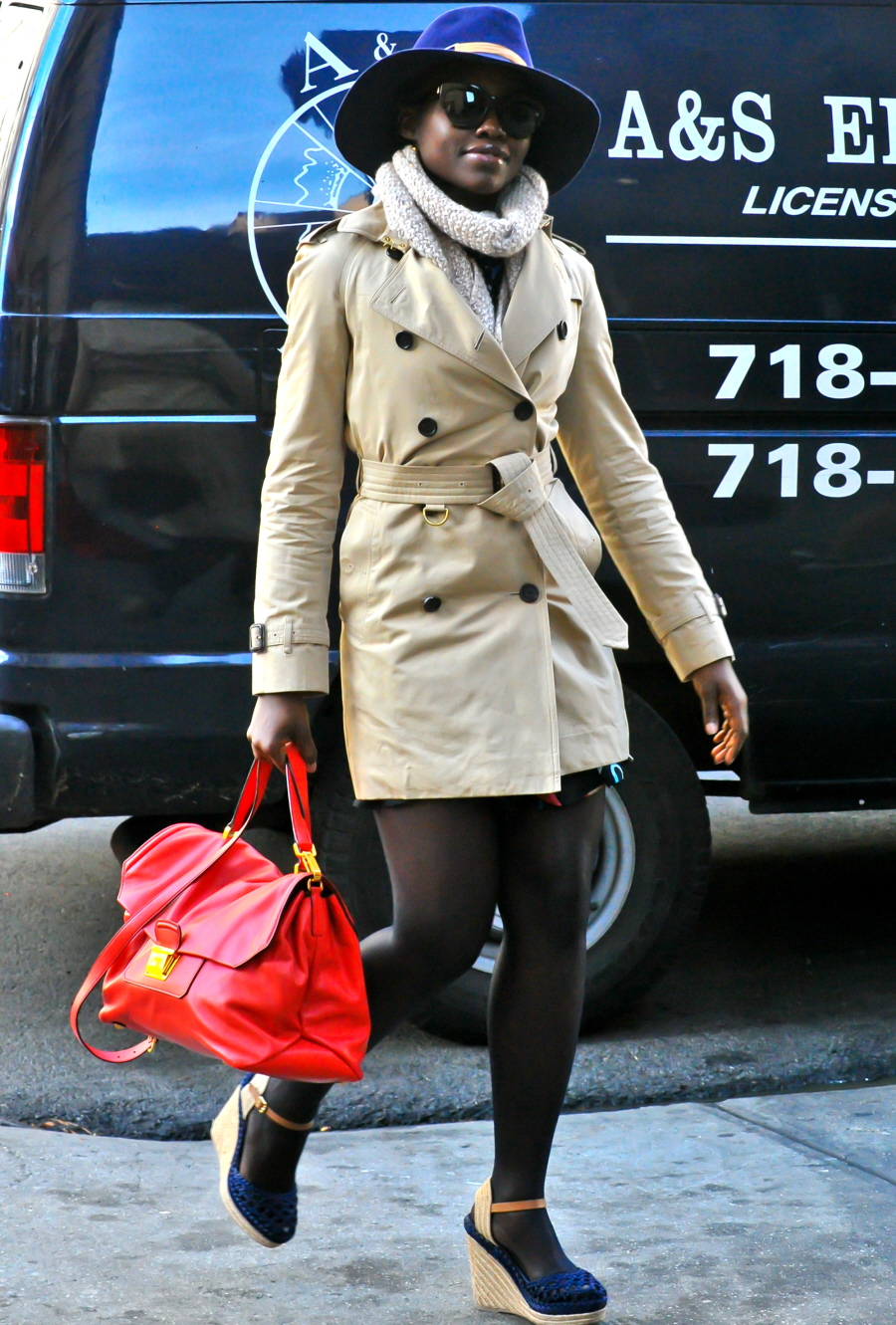 Photos courtesy of WENN, Fame/Flynet.