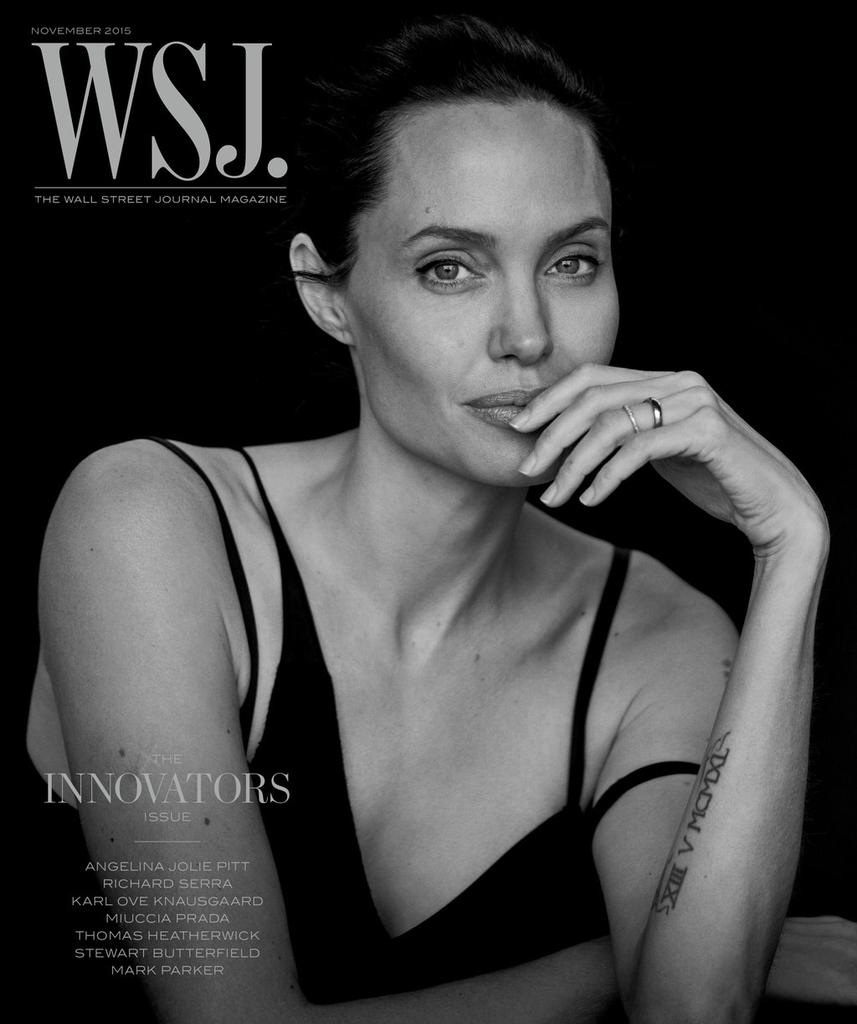 I've just spent way too much time reading Angelina Jolie's WSJ. Magazine cover story. It's a good piece, but not the best. Like, there's a lot of stuff that I already knew, and there were a lot of quotes that are variations on stuff Angelina has said time and time again. But I did learn some new things. Like, Brad & Angie own a "lakeside retreat" near Springfield, Missouri and the Jolie-Pitt clan vacations there with Brad's extended family. I also learned something new about By the Sea, as in… I think this is the plot of the film? I think Angelina's character is dying and Brad's character is trying to figure out a way to let her go. Some highlights:
What Brad hates: "Brad hates that I always scratch my glasses."

Growing up in LA: "I grew up in L.A., where focus is very inward. I didn't know why I was so destructive and miserable. I didn't appreciate or understand my life. I was raised in a place where if you have fame and money and you're decent-looking and have the ability to work in this industry, you have everything in the world. Then you attain those things and realize you still couldn't be more empty. I didn't know where to put myself."

What Marie-Noelle Little-Boyer, a U.N. officer says about Angelina: "The trips are never about her; it's about what she sees and how she uses it, how it feeds her advocacy work. She has the rare ability to sit down and spend hours with refugees, but she has an equally deft touch when she advocates for them with political leaders. I sometimes think she spends more time in the field than a lot of my colleagues." And certainly more time than the great majority of her fellow actors. Little-Boyer speaks with barely disguised disdain of the "massive circus groups" organized for Hollywood stars. "They stop at one tent and hold a baby," she says. "That's precisely not what these trips are with [Jolie Pitt]. It's just refugees and her in this intimate space. There's no place for anything Hollywood or celebrity."

She's sparse about what she says on the record about the UN: "I don't want to speak up just to be on record. I'm not somebody who believes that just to criticize is going to make a difference."

Brad on his wife's surgeries: "She's never been a person who hides. She's utterly forthcoming and sincere about who she is… I'll tell you this about her surgeries: Once the decision was made, she was on the operating table two weeks later. You have to understand that this is a woman who never knew she'd make it to 40. This is a woman who had watched her mother, aunt and grandmother become sick and eventually succumb, all at an early age. Her drive, her absolute value in herself, is defined by the impact she can have during her time here—for her kids and for the underprivileged and those suffering injustices."

Angie on the reminders of her wild-child past: "I don't mind. I mean, I think you just have to look at whether or not you can still be effective with what you want to do. And if anything gets in the way of that, then you have a problem. But I don't."

An amazing story about Hamsters of Doom. Equally comical is the image of Jolie Pitt, still in costume as her character Vanessa, joining the kids at the local pet store to acquire what ended up being "quite a few" hamsters. Pitt was out of town, and Jolie Pitt had been charmed by the sight of some chipmunks in the window, so she met the children there after work. "So I was Vanessa in the pet store, which was already a whole bunch of weird. And then I put my finger near a chipmunk, and it nearly bit it off. Then we saw these tiny little miniature hamsters, and somehow everybody wanted one or two. By the time Dad got home, they were running everywhere. And there are cats all over Malta, so we had the cats going after the hamsters and the hamsters escaping and it was hysterical."

What she wants for her kids: "I want to make sure my kids are never worried about me. Even if I'm going through something, I make sure they are very aware that I'm totally fine. I'll stop and make a joke, I talk to them. I never, ever want them to have that secret worry and feel that they have to take care of me."

On divorce: "When something happens in your life that's a dramatic thing, you either pull together or you go into your own. So many times, people divorce very quickly. To me, if this film has a message, it's that you have to try to weather the storm together no matter what. And that's a beautiful thing."
While I proudly wear my Brangeloonie Badge, I have to say that I think it's a bit rich for Angelina to say "So many times, people divorce very quickly." Gurl, you were divorced twice before you were 30. You couldn't get out of the marriage to Billy Bob Thornton fast enough. I get that she's now coming from a perspective of being in a solid relationship for a decade, but a little less judgment for those people with "starter marriages" under their belts, please. Oh, and Angelina also told WSJ. Magazine that the kids have three teachers on staff for home-schooling, but that no one stays overnight, it's just Brad and Angie taking care of the kids in the evenings. Do you believe that?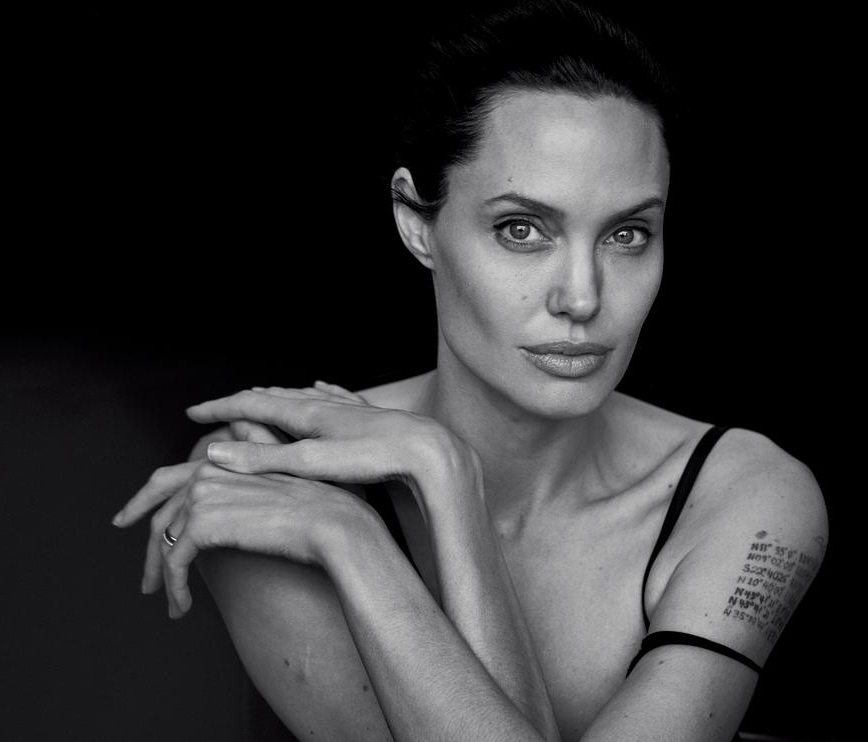 Photos courtesy of WSJ. Magazine.