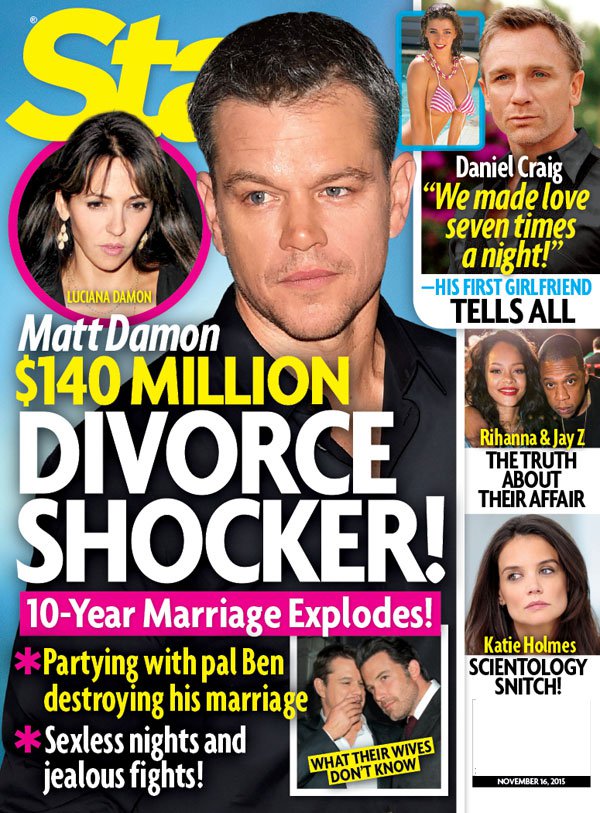 This is a first for teflon Matt Damon – his alleged marriage problems cover the upcoming issue of Star. Until now we haven't heard a peep about Damon having any issues in his ten year marriage, even when Matt and his wife, Luciana, had a lavish destination vow renewal in 2013. (Vow renewals usually signal relationship trouble to me.) Damon has been tainted by the same douche brush that's all over everything his best friend, Ben Affleck, does. Star jumps to the conclusion that since Affleck is separated and divorcing, Damon must be having problems too. They may not be far off, especially considering how Damon defended his cheating buddy. Here's some of Star's teaser article online. If they have any new-sounding details in the print edition we'll report on it tomorrow. They're not claiming so far that Matt and Lucy are divorcing, just that they're fighting:
The duo hasn't spent much time together over the years due to busy schedules and their wives' feuding, but once Ben Affleck's divorce announcement surfaced on June 30, Matt Damon wanted to play some serious catch-up with his bestie.

But that involved excluding Matt's wife, Luciana Barroso, not only from their constant hangouts, but also staying tight-lipped about anything they talked about behind closed doors.

"Ben, of course, was confiding in Matt about all his relationship problems, but when Luciana would ask Matt what was going on, he'd refuse to talk about it, out of loyalty to his friend," a family insider reveals to Star.

"That really ticked Luciana off, and she accused him of keeping secrets from her. Things started to spiral from there," adds the tipster.

Then, when Matt offered their guesthouse as a man cave for Ben, Luciana flew off the handle—their fights exposing Luciana's severe jealousy issues.

To avoid the fighting, Matt would slip out the back door every day to go spend time with Ben instead of his family. What's worse, the pair started going on their boozy binges together in the evenings, leaving Luciana to worry about the duo being hungry for attention from the ladies.

"Ben acts like a frat boy around Matt, which she finds obnoxious. And she knows his history as a ladies' man. She was worried his bad influence will rub off on Matt," a source tells Star.

Parenting four daughters leaves Luciana and Matt with little time for one another. "And now, with all their fighting, there have been more sexless nights than ever," a source says.
Why does Star always make it sound like it's the wife's fault and that she's jealous or whatever? Plus, if Matt and Ben were going out to bars together you KNOW we would hear about it. For what it's worth, Gossip Cop got a quote from what they claim is an "impeccable" source who called this story "ridiculous." Plus Damon, his wife and their girls are now in London as he films the new Bourne movie. (New photos from on set are below, yay!)
Damon gushes about his wife in interviews, but I don't doubt that they have the same issues as other couples, and that they argue. If anything Damon strikes me as controlling. I remember seeing him at an awards ceremony with Luciana and when she went to clap for him when his name was announced he held her hands down. That's just a small thing, but it struck me. So the guy seems a little intense, but I doubt these two are going to split up anytime soon. Damon has never had the same issues as Affleck that we know of – he's not into self sabotage and is more of a monogamist than a cheater.
These photos are from the Bourne set in London on 11-3-15. Matt and Luciana are shown at the premiere of The Martian at TIFF on 9-11-15 and outside the gym on 10-11. Credit: FameFlynet and WENN.com