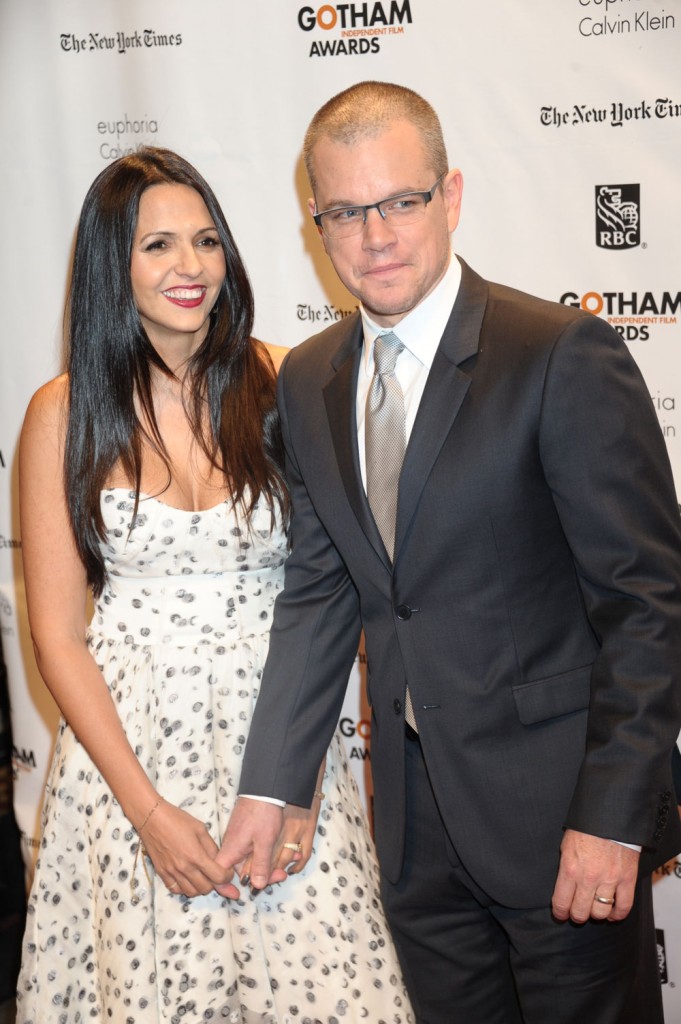 To start I'd just like to send congratulations to my parents, since today is their 45th wedding anniversary. This story seemed the best place to do it given the theme. My parents haven't renewed their vows at any point, and that's not really their style, but they should do it in five years maybe. It's a nice way to celebrate decades of marriage. (Sidenote: I once went to a vow renewal party for a sweet older couple, I believe it was their 40th anniversary, and the husband died a few years later of non-hodgkin's lymphoma. I know that's a horrible story, but it kind of brings it home to me why people have vow renewal ceremonies, to celebrate their love and life together. Gah I'm getting teary now.)
Matt Damon and his wife, Luciana Barroso, haven't been married a decade yet but they've surely gone through a lot since marrying in city hall in NYC in 2005. (I'm just making assumptions since they have four kids.) The two had a vow renewal ceremony, attended by their daughters and about 50 guests, at a five star resort in St. Lucia over the weekend. As we heard about a month ago, Damon rented out the entire Sugar Beach resort for a week at an estimated cost of over a million. He can certainly afford it, and the details make it sound romantic and relaxing:
Who's kissing Matt Damon? Luciana Barrosso, his wife of nearly eight years! The Hollywood couple said "I do" all over again Saturday, April 13 in a romantic vow renewal ceremony on the Caribbean island of St. Lucia, Us Weekly can confirm. The Promised Land star, 42, rented out St. Lucia's entire Sugar Beach Resort — at a hefty six-figure price — for the weekend in honor of the happy occasion, with around 50 guests, including Damon's BFF Ben Affleck and wife Jennifer Garner.

An eyewitness tells Us that Damon and the bride exchanged vows under thatched roofs right at sunset — with the groom wearing a tan-colored suit and flip-flops, and the bride, 36, donning a cream-colored gown featuring a sequined belt at the waist. The couple's daughters — Isabella, 6, Gia, 4, Stella, 2, and Alexia, Luciana's daughter from a previous marriage — wore light-colored dresses to match their mom. After the 15-minute ceremony, guests (all of them wearing shades of cream and ivory) were escorted onto the beach for a cocktail reception (completely with Tiki torches).

"This isn't a 'Hollywood' wedding," one insider tells Us. "Matt wanted it to be fun, happy and private. He felt like Luciana deserves this, first and foremost."

Explains another source of the locale: "This is the perfect place for this wedding. You can [go] here for serenity."

The actor, director and Oscar-winning screenwriter first wed the Argentina-born former bartender in a private civil ceremony in December 2005.

"They've wanted to do it for a long time," another pal says of the vow renewal. "They had a tiny ceremony the first time, and wanted to celebrate with family and friends."
[From US Weekly]
E! has the news that Jimmy Kimmel officiated the wedding! That must have been awesome and so much fun. They also have a more complete list of the famous guests who came, including Michael Douglas and Catherine Zeta-Jones, Chelsea Clinton, Robert DeNiro & Grace Hightower, Emily Blunt & John Krasinski, Don Cheadle & Brigid Coulter, Chris Hemsworth & Elsa Pataky, and of course Ben Affleck and Jennifer Garner. What I wouldn't have given to have been a guest at that party. As a consolation prize, I would love to see some photos, but I doubt there will be any. Damon doesn't seem like the type to release a photo of his wedding and you know he didn't invite the paps.
E! also lets us know that Luciana's dress was custom Naeem Khan, who is a personal friend of the Damons. I'm just wondering if Luciana wore her "I'm f*king Matt Damon" t-shirt at any point during the week. She's said that she has one, and that she wears it with pride. Congratulations to Matt and Luciana!
This photo is from January, 2012: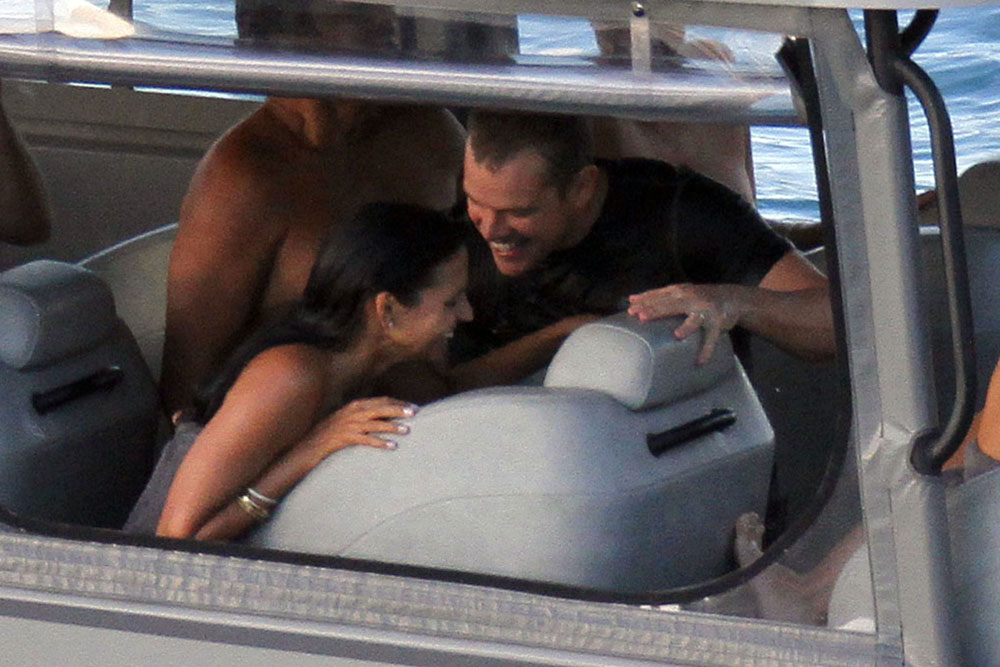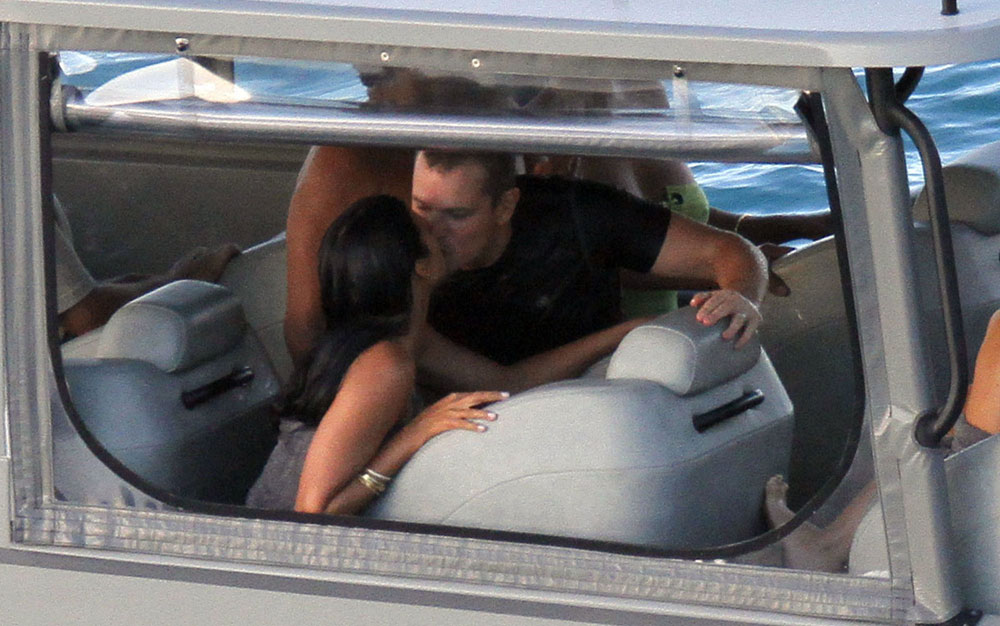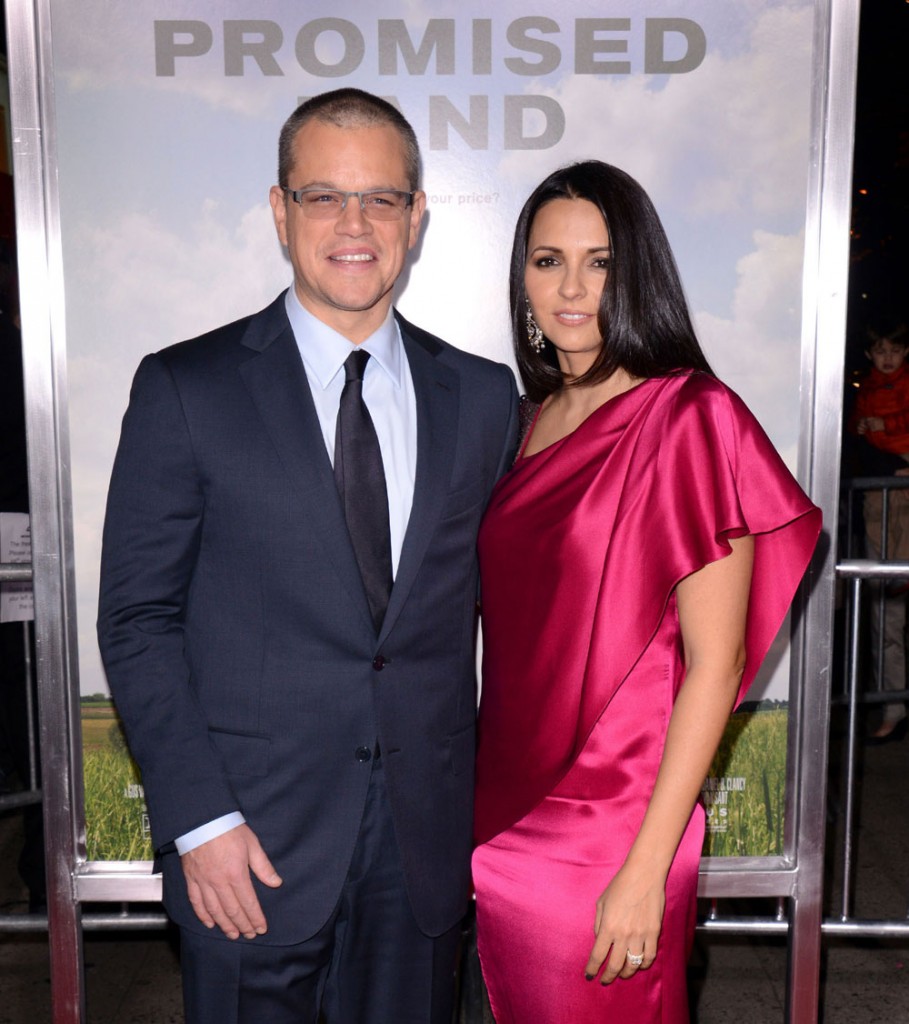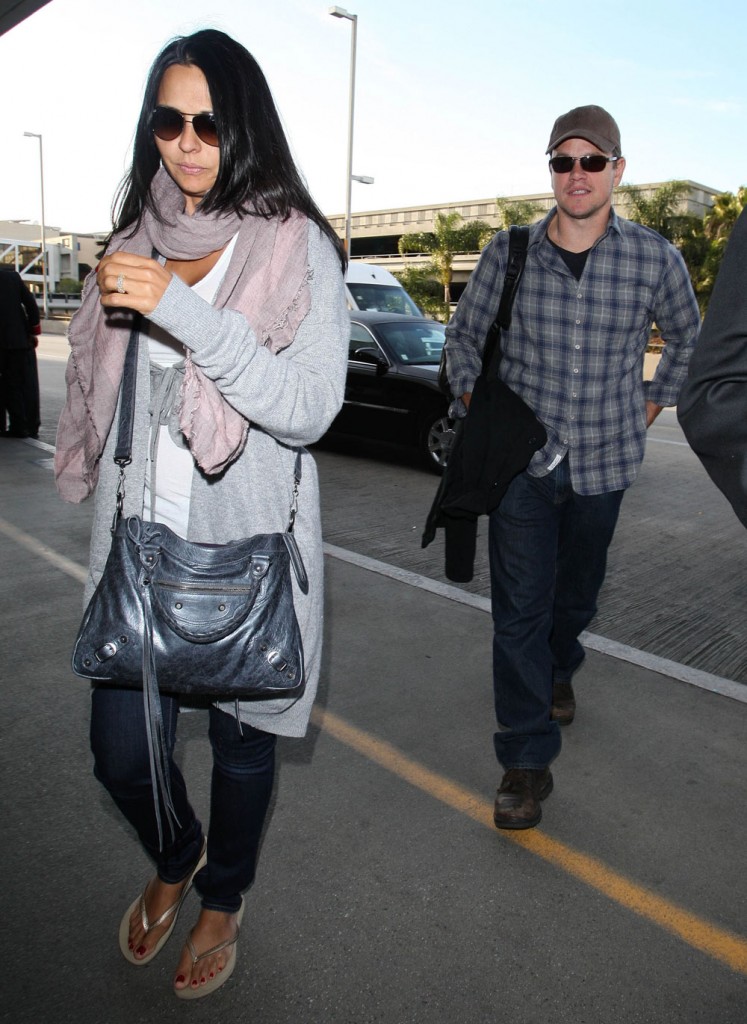 photo credit: FameFlynet, WENN and PRPhotos