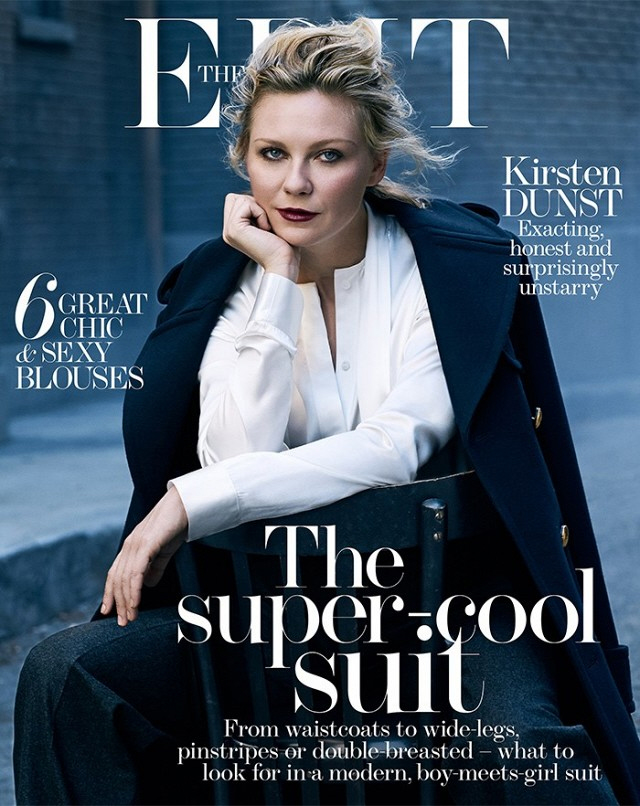 Kirsten Dunst covers the new issue of The Edit, net-a-porter.com's in-house magazine. While I've been a lukewarm Kiki fan for years, I have a renewed respect for her these days because of Fargo Season 2. Have you guys been watching? The first few episodes, I was like, "It's good but not as good as Season 1." But then the past two episodes have been absolutely phenomenal. Every single actor – from Jeffrey Donovan to Kirsten to Patrick Wilson to Jean Smart – is doing the best work of their career. I feel like Kirsten and Jean Smart are going to be up for a lot of awards next year. Anyway, I'm basically just covering this interview because I wanted to talk about Fargo! There are some interesting quotes here – Kiki is 33 years old, she's been in a stable relationship with Garrett Hedlund for years, and she seems happier than she's ever been. Also: did you know that Kiki and her mom live six houses down from each other? Here are some additional highlights from The Edit:
She's more sensitive now: "I feel much more confident in myself, in life… I don't stress as much now. I've grown more sensitive though. The older I get, the more sensitive I've become. I don't know why. I think it's that age where death is more around you… I appreciate things more. I mean, I've always been very grateful, but I feel far more grounded than I did 10 years ago."

How her view of her career has shifted: "When I was younger, I actually felt anxious when I wasn't working. Then there was a moment where I was kind of sick of [acting]. But then it shifted for me and I re-loved it in a different way." She would rather take a few months off, she says, than work on something unexciting. "Most things are crap and it's not like I get all the best roles. So you just have to wait."

Playing Peggy Blomquist on Fargo. "Making a TV show is long hours. Even if you're not in every scene of the show, all your scenes get compiled into intense days. And Peggy goes through all these emotions all the time so she's exhausting to play…. Acting, to me, yes, you live in the moment, but you better prepare for that moment real hard and know what is going on emotionally with that person. So I like to know [my character's trajectory] and it was difficult signing onto something where I didn't. There was a really good description of Peggy in the beginning, but once you're given a role it's yours; I know her better than anyone, even the creator."

She notices when other actors aren't diligent: "I notice when people don't put in the work. Actors can be really lazy."

The money: She's not a fan of action-packed blockbusters – "I'll go and see one when my boyfriend drags me there" – but is grateful for the financial security that Spider-Man afforded her. She is "smart" with her finances, but the projects that appeal to her are not ones that get accountants excited. "To be an independent artist, the only way you really make money is by getting a beauty campaign…I'm like, 'Thank God, they're the reason why I can do my art.'"

She'll sometimes pay for red carpet fashion: "I chip in for certain things because [studios] won't [pay]. But it's my job to look nice and wear a good dress, right? No one cares about a boy in a suit; they're like, 'He's hot,' that's it, done. It's all about dresses."

On being a female director: "Yeah. I think it's easier for mediocre male directors to be in this industry. As a female you can be a director, but you have to be amazing – that's the disparaging part to it. You have to be really great to get in there."

Garrett Hedlund is chivalrous: "I appreciate old-fashioned manners. I want a guy to pay for dinner and open the door for me. I love the masculine; I've dated men who had more of a feminine side and it didn't work."
The chivalry thing reminded me of that interview Kirsten did last year, where she talked about "traditional gender roles," and how she believes that the best relationships are based on a 1950s ideal, with the man going off to work and the lady staying home, barefoot and pregnant. She's 33 years old – I think she's old enough to find a better way of discussing her ideas about gender roles and masculinity/femininity. That being said, I appreciate when a dude has "old-fashioned manners" too. It's nice when a guy buys dinner and I love it when men open doors for me. I don't necessarily think of it as a gender role thing, but it IS about manners.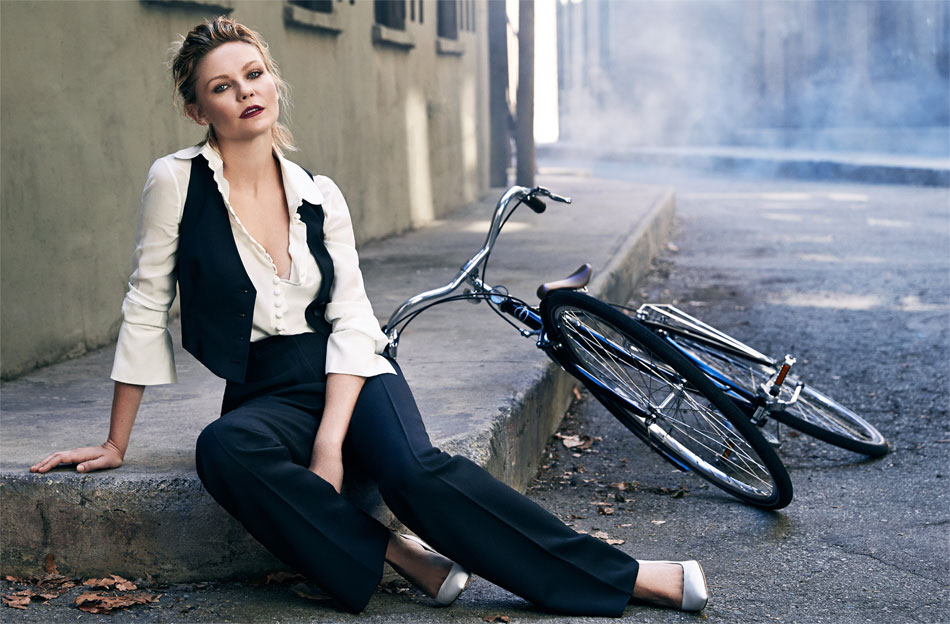 Photos courtesy of The Edit.